This is a country we have been looking forward to, this will be the first country we are going to try and see the big wildlife animals 🙂 Also, it means for us that we were going to finish Western Africa and start to Southern Africa part.
Do you need visa for Namibia?
We entered the country through Angola pretty easy and got a 30 day visa for free, finally not the crazy West Africa prices anymore. After a few days Gulcin called with a friend from Turkey who lives in Namibia and he asked her 'Where she got her visa'. She said 'just a stamp at the border' when he said 'impossible!' Huh, apparently Turkey passport holder does need a visa for Namibia and this would have been the most expensive one so far (150 Euro), I guess we got extremely lucky. No idea what we would have done if they didn't allow us in but we don't need to think about that. 🙂
Be careful to ride!
First of all after the border there are a lot of signs, drive left, keep left, yes we are going to ride on the wrong side of the road from here. Another big change in Namibia for us is that there are big supermarkets, shopping malls where you can find everything. The world totally changed!
Meeting Wildlife…
We went straight to the most famous National park from Namibia to Etosha. This place was recommended to us by our friends who visited the park before. Here we stayed just outside the park on a campsite, the most expensive one ever!
We paid 30 usd for the campsite, we did had our own spot with privacy for that including shower, toilet and kitchen. As it is winter time in Namibia it was getting really cold in the nights, we checked our shower and decided it was possible to sleep inside here to not freeze so much, it just fitted.
Next morning we went to the safari, starting at 5 am we entered the park and where really excited about what we will see today. We started with some antilopes, not so interesting as we see them a lot on the road as well and then there showed up some zebra's and giraffes. Yes that's a good start! The giraffes are not as tall as we thought they will be, but that is just our imagination, they can't help that 😉 We continue driving and suddenly over the radio we hear, we found number 3. So we rushed to the place, no clue for us what we can see there. We arrived at a small waterhole and there they are, 4 lions! Awesome, so we stayed there for a while observing them, there comes a group of animals to drink. The leader stops and looks around for a while and decides to try to drink, all of a sudden the lions start moving and showing, hello we are here this is our waterhole you are not allowed to drink. So the leader goes back to the group and wait a little bit more, but after a while they decide to leave and look for another waterhole, this was just a small thing to see how nature works but so interesting.
After the lions we spotted a rhino and 2 cheetahs, some more zebra's and giraffes and then I started to tell the driver that I would really like to see elephants. This is my favorite animal, so he changed the road to a place they are more often spotted and yes, there they are! Wow, I was so happy 🙂 this has been a beautiful experience for us and did see a lot of wild animals.
Meeting our overlander friends again and going to see Sun/Bush People.
On the way back to the campsite we meet Kevin and Emma who we met before on the road, they are self driving with there 4×4 and Emma's brothers came to visit them. We decided to meet outside the park and go a campsite together not so far away from the park but less expensive then ours. Of course we had a lot to talk about that night and made a plan for the next few days to do something together. We all wanted to see the original local tribes.
So we all decided to go to see the Sun/Bush people in the North-East of Namibia. This was a pretty long ride, 280 km on the motorcycle with the last 80 km dirt road and as a nice surprise 6 km of deep soft sand 🙁 we love deep soft sand especially after a long day riding NOT! When we arrived we find a spot to camp and had dinner, the next day we would go and visit the Sun-people and they will show us their lifestyle. Kevin and I made the most delicious pancakes for breakfast and we went to see the tribe. This was a really nice experience they showed us how they hunt, make fire, make their own medicine and they finished with a dance. So cool to see they really get in trance from their dancing and enjoying it for the best, after this we sit for a while and talked with them around a fire. A experience we will never forget!
Next day morning it was time to go our own way again, the first 85 km was the deep sand and a dirt road. Kevin who rides a motorcycle himself as well really wanted to ride a little and Gulcin was fine to sit in the car with Emma for this part so they switched, I ride with Kevin to the main road, there Gulcin got back on her bike and we said goodbye to Kevin, Emma and her brothers. We will see you again hopefully in Australia and Tasmania :)))
Traveling Namibia
We left Kevin and Emma and just passed the first city to find a campsite to figure out where we will go in Namibia and make a route to ride. The first day we needed to do some shopping, we needed some blankets to stay warm in the night, a SIM card and food for the road. The roads are long in Namibia and there is a lot off road, where you won't find a supermarket for days. We first went to Otjiwarongo….. Where we bought everything we needed and had a unpleasant experience in the night (see a thief try to enter our tent)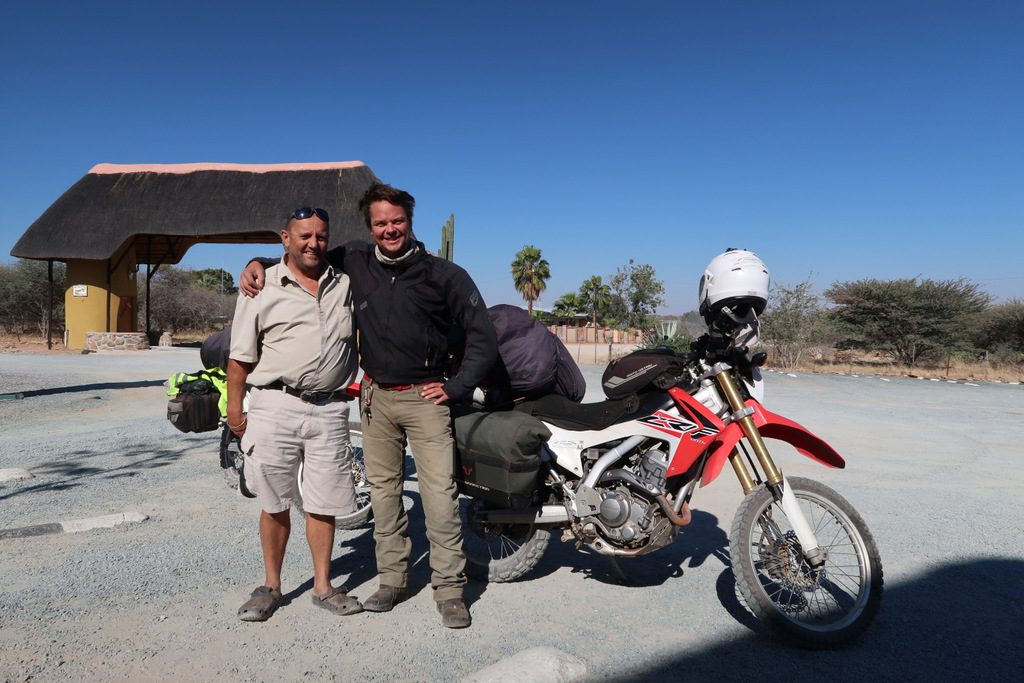 From there we went to a campsite owned by a former overlander who allows everyone with a vehicle from outside Africa to camp for free. The place called Oppikoppi, the owner is from Belgium and extremely friendly, we stayed 4 nights at his place. As we stayed for free we where able to eat in the restaurant a few times as well where they sold some really good pizza's, we love pizza 🙂 in the night mostly there showed up some porcupines which are pretty cool to see.
From here we tried to visit another tribe which is called Himba but unfortunately this was just a commercial thing.. After 4 days we said goodbye to Oppikoppi and started riding towards Twyfelfontein we will be on a gravel road for a couple of days ending in Swakopmund and Walvis Bay.
First serious accident for her
We ride 4 days on the gravel roads, passed some really beautiful places, passed some really bad parts with a lot of corrugation on the road. On some parts they where working on the road, this was the most horrible, trucks passing constantly with high speed leaving no view, just dust.
This is where Gulcin had her first real accident, she fall down with the motorcycle when she wanted to give a truck some space to pass and ended in a lot of gravel and soft sand so couldn't control the motorcycle anymore and this with a speed around 60 km p/h.
I got really scared when I this happen in front of me, normally I ride front just now I didn't. Luckily Gulcin was totally fine herself but the motorcycle had some damage, her screen was broken and the handle bar twisted. As it became dark we needed to keep going slowly to the next village where they had a campsite but this was still about 30 km. We managed to get there and the next morning we took a good look at the bike. It looked like she could continue the road but we needed to take care as the handle was not straight it will feel pretty different to normal and you are not riding on a tar road.
Going to Swakopmund-Walwis Bay
We left and just when we left the village another rider came in front of us, we stopped and talked for a while with Billy from Ireland who was traveling around South Africa, Namibia, Botswana, Zimbabwe and Mozambique to make a tour which he will do later with Charlie Borman (writer of the book Long way down).
After talking for about an hour it was really time to leave for us, as we had a long ride in front of us and had a damaged motorcycle. We ride slowly and after 250 km of gravel road we arrived at the salt road towards Swakopmund this road is in pretty good condition and sometimes nearly like a tar road, 80 km from here to Swakopmund and then another 25 km to Walvis Bay.
In Walvis Bay we had a place to stay in a house with Niyazi, finally a roof above our head in this cold. We where so happy, Niyazi really took care of us. We went a few times for a ride on a empty motorcycle, visited some high dunes, the moon valley (Namib-Naukluft National Park) and the city Swakopmund what they call the Düsseldorf of Namibia. I don't really agree on that because Swakopmund is a new modern city and Düsseldorf has a lot of historical buildings. But it was a nice city! Unfortunately, we had our first bad experience in there. People attacked us middle of the road and nobody help us!
The moon valley I recommend everyone to ride when they are around, it's a beautiful gravel road and it really feels like you are riding on the moon. At least I think it must feel the same 😉 no motorcycle trips to the moon yet, but you never know what is possible in the future.
Soussesvelei broke our heart!
Unfortunately we had another bad experience in Walvis Bay where we got attacked in the middle of the street (15 people attacked and robbed us middle of the road). After 6 days we said goodbye and left Walvis Bay to ride the gravel roads again for a few days, we where on our way towards the Soussesvelei, this was 2 days riding on some of the worst roads we ride on so far, all the corrugation is driving us crazy! Half way we found a nice campsite with hundreds of zebra's around in the night at the waterhole.
Next day we ride to the Soussesvelei, half way a 4×4 passed us really fast and stopped a few hundred meters in front of me, a guy jumped out and started jumping and waving in the middle of the road to me. I told Gulcin what's happening? When I came close I see it was our friend Nicholas from Australia who we met in Mali and Togo before. He was traveling with his girlfriend with a 4×4. It was so nice meeting Nicholas again. We talked to long, he give us some cold water and snacks as he is carrying everything now and knows what you miss on the bike. 🙂
When we arrive at the Soussesvelei we got a really bad surprise. After all this bad, bad roads we where not allowed to go there with our motorcycles, wtf! We have been riding all this horrible roads and now when there is finally a little bit of tar you don't allow us to go on, we where so disappointed that we immediately left the place and didn't enter.
Not happy at all we continued our road to find a campsite again. Of course at this moment nothing to find and we ended up next to the road, good thing is no one drives in the night so we felt safe enough to spend the night here. We looked our maps and find the fastest way to go to the main road, we where so much done with the corrugation on the road it was too much for us our brain was shaking in the night.
Going to Fishriver canyon and meeting Semih.
From there we went south towards the Fishriver canyon but before that we got invited to stay at Semih's place,
Semih was one of the first people who asked us to come and visit him when we told we where going to Africa, so we had to visit him and the family. He's working in Namibia to make a really big dam so the area will have water all year round. It is an amazing project to see close.
From here we went our last attraction in Namibia the Fishriver canyon. Absolutely worth visiting, it's beautiful to see, especially around sunset. We camped nearby, we got warned for the Baboons stealing food, so we where really careful.
Gulcin got a bit sick here and in the morning I prepared the breakfast, put everything on the table, made coffee when Gulcin asked me for tea. Ok no problem, I walked to the motorcycle and got the tea, turned around and see the ass of a baboon running away with our bread, f##k! Not the bread, take a banana, not our bread. But he did, luckily they know about the baboons stealing food at the camping and I was able to buy a expensive bread from them, now she's protecting our breakfast.
Bye Namibia…
From the Fishriver canyon we went to the border with South Africa to stay 2 nights at the Orange river.
Namibia it surely is a beautiful country, best way to travel is by 4×4 and stay in the touristic camping's, there is a lot to see. I think our stars didn't match with each other.
FS