This are 4 countries we basically passed through, so I will write them together in one article.
Mali
This country is at moment just not safe enough to travel through, it's ok to go to the capital Bamako and pass through the south. But the nice things to see are up north, we would have love to go to Timbuktu and Mopti but it's just not safe enough. So we entered from Guinea into Mali early in the morning to make it to Bamako in 1 day.
We stayed at the Sleeping Camel, a highly recommended place for over landers. We did some visa hunting there (Nigeria, Benin and Burkina Faso). When we arrived we met another motorcyclists traveling around West Africa (Luca from Germany) it's always nice to meet other riders. The next day Nicholas arrived, another motorcyclists this time from Australia he's already 5 years away from home and has a lot of experience, he taught us some things form the motorcycle as well for the maintenance. He's definitely a guy we can trust for this! Luca left after a couple of days but showed up new riders, William from French, Ricardo from Argentina, Daniel and Josephine from Germany and of course our friend James 🙂 This must be something really unique in West Africa 8 motorcycles together, 4 individuals and 2 couples. Time for a photo 🙂
We also met 2 over landing Dutch couples traveling by truck and a German couple in a 4×4 (Laura and Cemil), great place to stay a little and get strong again. We stayed 12 days at The Sleeping Camel it was really a pleasure staying there.
(Click a photo to slide show)
Burkina Faso 
After a nice break in Bamako it was time to hit the road again and we did, we ride all the way to Burkina Faso in 1 day we did 470 km including a border crossing! Next day, we just ride 70 km and we stayed in a nice city called Bobo, we only stayed 1 night but it would have been worth staying a bit longer.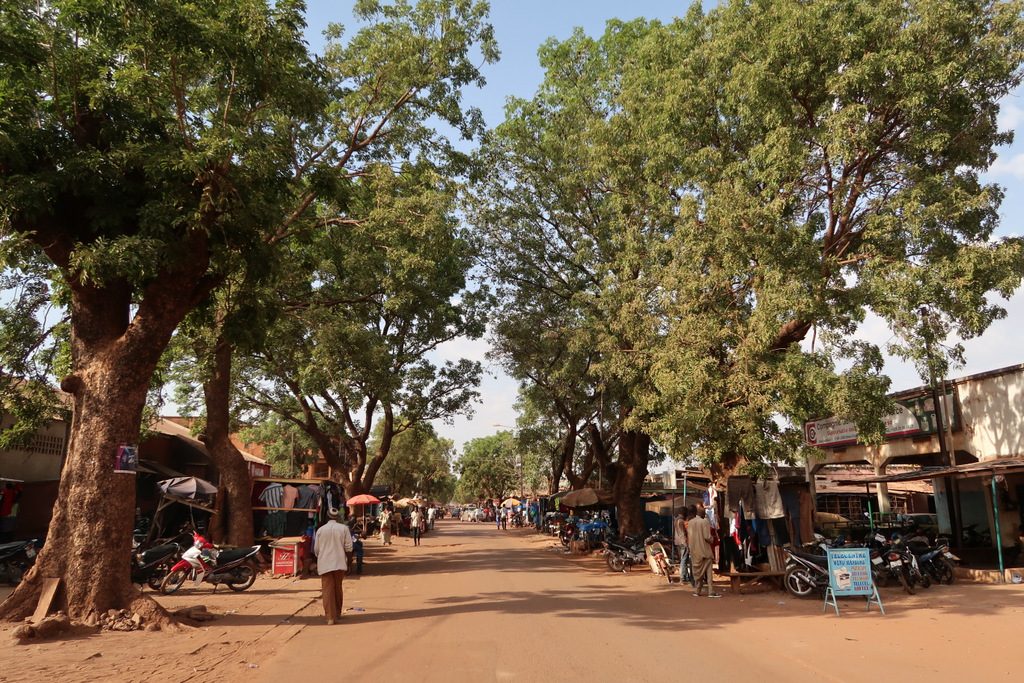 The road conditions where better in Burkina Faso so the day after we had a nice ride, took a long break to make some lunch. Because the weather was so hot and we couldn't ride motorcycle middle of the day. Asphalt was burning which I could feel from my shoes and when we stopped we couldn't touch our tires were burning as well.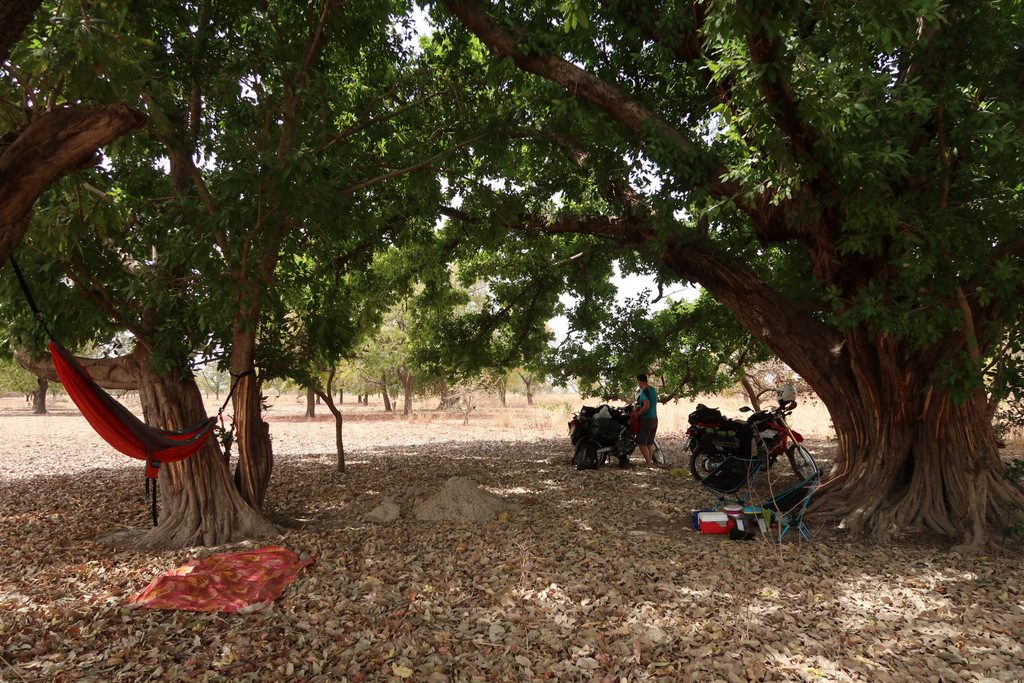 In the night we finally went wild camping again, we missed this after staying 13 days in a room. We found a great spot in a dry river; the night was nice and cold what is really nice as the temperature gets up to 40+ degrees Celsius during the day. The landscape in Burkina Faso is nice to seen the people are really friendly again, everywhere we stop they come to say hello with a big smile also big smiles when we passing villages.
We went to the capital city Ouagadouga, this was nothing special just another big West African city. We stayed two days there and hit to road again to Togo. The border is around 300 kilometers far from the capital city. Therefore we went to wild camping again before pass the border. It was so hot in the night. Suddenly started to rain a little and than wind. Funny thing was we put tent under the trees and no wind and it was still hot. In the morning we left quickly towards Togo.
Togo
This is a long country but only 50 km wide. The road conditions where only getting better and no speed bumps every 5 kilometres 🙂 Some roads were closed we needed to go a little dirty and sand road. It was easy to ride if we didn't have like tornados.
We passed a lot of traditional houses and wanted to go to a small Unesco village (Koutammakou) to see some more. They wanted 13.000 cfa from us to go there. And pay extra 6.000 CFA to the guide motorcycle for petrol. He rides only 30 km total how can be like that. They changed price in 30 minutes a lot and his behavior was strange. So, we skipped it. Anyway, we saw similar a lot from the road as well..
We continued our road towards Lome, getting some more visa's here (Congo Brazzaville and Gabon). Apart from that we didn't do a lot, just chilling out. We stayed Chez Alice and saw our friend Nicholas here as well. Also, we met an other rider from Belgium who is Olaf. When we were living to Lome our dear friend James arrived. West Africa so small, isn't it? 🙂
If you have plan to ride motorcycle in Burkina or Togo you should start early to ride and give a little break yourself on noon.
(Click a photo to slide show)
Benin
We went straight from Lome to Cotonou, finally we did some off road riding again. We went through the sand along the beach to nice place to stay called Chez Rada, we ate the best food in West Africa so far here and the had a swimming pool :).
In the meantime we got our Congo Kinshasa (DRC) visa as well. We did some more practice with riding in the sand on our motorcycles. I like it more and more, she said she didn't but I saw her eyes and smile seems she liked as well. I can see that she has been getting better and better to ride on the sand.
(Click a photo to slide show)
FS