Any route plan didn't work in Congo for us. Everything can change so fast in West Africa and we need to follow new rules and don't be there in rain season by motorcycles.
Where we read or listened a story about Ndende, Gabon to Dolisie, Congo road, which is 280 km off-road dirt road or mud, just a nightmare. If it has rain you can stuck the road and no option to finish in a day. We need to pass to keep continue on Western Africa journey.
Before start to read all details of  Congo  you can watch a short movie where we could make video fun part of the road journey;
We stayed a night in Ndende, Gabon and we bought a lot of food and water if we need to spend the night on the road. Our friend Nicholas passed to the road 10 days before us, he stuck there by motorcycle because of mud. 5 days before us, Kevin and Emma passed to the road to less mud with their 4X4. And last five days there was no rain so; we were thinking that Ndende to Dolisie should be ok for us.
First thing in the morning we needed to get our exit stamp from Gabon, we went to the office at 7:30 but nobody was there, we waited half an hour for the guy and got the stamp. Here we meet another rider, Alex from Spain. After a small talk we needed to say goodbye as we had a long day ahead. The Congo border is 50 km far from Ndende. First there is 2 km tar road and than when you see the Congo sign the dirt road starts 😉 When we started everything was fine. We arrived to the Gabon border and got our Carnet stamped and keep continue. After a couple of km. later started to mud. What do you think what happened? I lost to control and fell down 😉 Actually my motorcycle fell down I didn't but it was a little hard to lift it up because the mud is so slippery.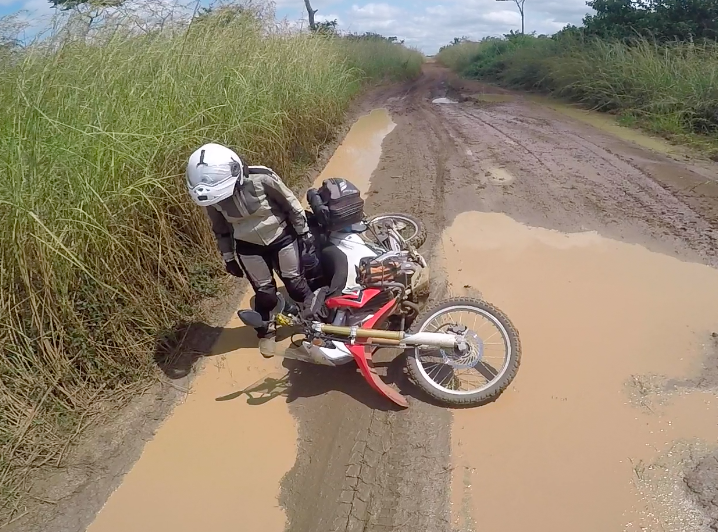 We arrived to the Congo border, they were so helpful and happy to see tourist. Procedures were slow therefore it took 1.5 hours. It was coming 2 pm and we understood that no option to finish 280 km for us. We just wanted to ride 3 hours more and look for a spot to wild camping before it gets dark. We could manage only 70 km more and started to look a place. In the road we saw a lot of small village but we didn't sure which one is so friendly and which one is not. Because when we were passing villages some of them was waving hand and so happy to saw us but some of them was just screaming and running behind. We don't speak same language so, we can't understand what they say and couldn't be sure that say good or bad things. It was a decision to go a village and ask a permission to stay there from chief or find a place, hide our self and set up the tent.
We found very small road and leaved from the main road. Just 100 meters and we were behind to bushes where nobody can see you. We don't make a lot of sound because the spot was just a few hundred meters far from another village. We waited a little to make sure the spot is safe after that we set up the tent and started to cook. The road is bad that's why no car is passing in the night or it's so much dark and nobody walking on the road. We just listened the village that kids where playing around and people were singing and drinking.
Next day, we woke up very early to hit the road again. We just went a few km and saw big trucks were working on the road to close a huge pothole. We waited a while and that they allowed to pass us. First a local motorcycle went, nice to see how they were passing after that Ferry passed. It was my time but I didn't ride 🙁 all workers stopped and got a cigarette to watch how a woman can do that. They were talking and laughing. Just they were giving stress. I said Ferry to ride my motorcycle as well. It wasn't good feeling for me the behavior.:(
The road was sometimes good or bad. We were just riding and focusing to finish the road. But we need to eat as well. 😉 Also, it's nice to get rest for a while. We were saying "no rain, perfect" but the sun was burning. Did we complain that moment? Of course not just said "More sun more sun, no problem to burn, just dry mud!"
It was 2 pm and we saw tar road started which means we managed it in 1,5 days to 280 km Ndende-Dolisie road. 😉
The plan was go to Dolisie and apply to Angola visa. It was a dream to the plan works! We connected with our friend James who tried to apply in Dolisie, he only made it to the front gate and got send away from there. He was told to go to Point Noire. It was afternoon and Point Noire is just 170 km far from here, it's a brand new tar road so let's go there! We arrived there around 6 pm and went a basic hostel what is close to Angola embassy. It was Monday. You can apply a visa only on Tuesday or Thursday. Perfect time, right! 😉
We applied next days and we saw Kevin and Emma are still there. Also, James and Alex were there. If you have only one place to apply Angola visa you can see all overlanders there who you met on the road before. It was nice to spent time together. Luckily we took the visa in 48 hours. Some of them waited 72 hours some of them a week. Depends on your behavior and how much you can speak French as they are not helpful at all, I guess they liked our smiles and behavior.
We spent a little more time in Point-Noire to relax and went for a ride around the city to see some places, the country is beautiful and as we didn't ride a lot through Congo we went north on the coast line to see something from the nature, we did just a day trip but it was really worth it. Also we went out for dinner at the beach in Point Noire, here we ordered the biggest pizza ever 🙂
Our Angola visa was 30 days and multiplies entry. 😉 We started to discuss which road we would take it. We wanted to go Brazzaville from Dolisie but we are in Point-Noire, which is 500 km from Brazzaville and also just 30 km from Cabinda, Angola border. If we go to Brazzaville we want to pass Kinshasa, DRC by boat and than go to Angola. But the boat is another terrible story. DRC border looks you visa where you get it. They want to see the visa is coming from your home country. If it doesn't they sent you back to Congo. (Other way around more okay, which is DRC to Congo.) So, if we can't pass Kinshasa we have to turn back to here again. We didn't want to get risk as everything is chancing so fast here. Also, we read news about Ebola north-east of DRC. After talk a little our decision was so clear to go to Cabinda and read more news about DRC.
On Sunday morning, we decided to pass Cabinda with Kevin and Emma. It is just 30 km to the border but we made 10 km in two hours. It was no way to leave from Point-Noire. We didn't know that Congo has a election very soon and the president was coming here on Sunday. 😉 You can imagine that all roads were close. We waited in a gas station next to the military for a couple hours. After that we could go to the border…
Do you have any idea how much your t-shirt can be dirty in 12 hours on Ndende-Dolisie road? 🙂
GS