We have been on a long distance motorcycle trip since July 2016. Our plan is to travel around the world and we made so far 17.000 km in Europe and 50.000 km in Africa. So, we tested some different motorcycle tyres during this motorcycle road trip. Of course we did our research before we left and we got a lot of advice from different people, but most of this people did not go on a motorcycle trip to Africa neither did most of them ride long distance trips by motorcycle. So eventually we learned it all ourselves and now we would like to share our experiences with you, hopefully it helps you a bit on the way with your choice to find what tyres for a long distance trip will be the best.
First of all you need to take a look into what kind of roads you want to ride, this is where you can make a choice for your motorcycle tyres. For those who want to ride a lot in the desert with all the loose sand you need something very knobby. For those who want to pass the fastest way you will need more road tires and for the last group what we belong too those who want to ride everywhere except the real sand dunes you need a all road tire. This is because we will ride on the tar road, gravel road, muddy road, rocky road and some sandy road (no deep desert-sand). We are looking for some adventure 😉
Which Tyre is best for a motorcycle trip?
Our original motorcycles tyre size 90/90/21 (front) and 120/80/18 (rear), we are both riding a Honda CRF 250L and you can look for why we choose the Honda CRF250L.
She has started our motorcycle road trip from Turkey and we met on Germany after that we went to the North Cape and travel around Eastern Europe until we had a little experience how we can ride motorcycle because we had zero ride experience in the beginning.
Our first tyres where the original Honda CRF 250L tyres IRC Dual Purpose. After that we had Heidenau K60 just before start our Africa trip by motorcycle from Morocco. We changed two times more our tyres in Africa and used  Michellin T63 and Mitas E07.
IRC Dual Purpose GP-21F / GP- 22 P  
This is the standard tire Honda delivers the Honda CRF 250L with. We started our journey with it and made 17.000 km without change front and rear tyres, this was a bit of a surprise as the tires are knobby.  It was our Europe journey and we didn't ride motorcycle before, therefore we were riding mostly tar roads and 'good' gravel roads in Europe. The tires is IRC dual purpose and we could ride on the dust and mud with it.
Conclusion, we where very surprised they lasted so long (for a knobby tyre), they did their job and we felt safe riding with them on all different roads also during the rain. Just use them till they are finished.
Heidenau K60 
We where very happy in the beginning with this choice Heidenau K60, before we only ride with the original Honda CRF 250L tires, so this was a huge step forwards. Especially as we started on the tarmac roads, we ride about 2000 km in Greece, Italy and Morocco before we started riding some off-road in Morocco.
We passed some amazing mountain roads in Morocco, they where all in pretty good condition and we where still very happy with our tires 🙂 Eventually we even try to ride a bit in the desert sands (or we can say soft sand)  but this was not a great success but I think our motorcycles are just not strong enough for this either when they are fully packed. When we ride further down south the rear tire begin to loose more and more profile ( it was so fast to loose in 10.000 km after IRC experience), so we started to look for new tyres. Unfortunately this is not a easy thing in Africa, especially with our motorcycles as they are small for Western standards and big for African standards. With a lot of luck we found one new and one second hand rear tires in Nigeria with a lot of help from the locals.
Conclusion, the Heidenau K60 is a good tire but doesn't last long enough for a long distance motorcycle trip also who we met on the road and used the K60 they were saying same thing like us. Anyway, we ride 16.000 kilometers with the rear tire, need to say the front lasted all the way to Cape Town (South Africa) 24.000 kilometers.  So, we skipped some off-road ride because of that.
Michellin T63
We got our 'new' tires in Lagos (Nigeria) and we changed them in Gabon, just before we started a 280 km long mud road from Ndende (Gabon) to Dolisie (Republic Congo) (Movie).  For this road you do need some profile on your tires as it can be very muddy all the way. They did a good job on this road but on the tar roads it's not the best tire ever but that makes sense as it is a knobby tire. We ride in total about 8.000 kilometers with the Michellin T63 tires.
Conclusion, the Michellin T63 is a good off-road tire for mud, gravel, rocks or small sand roads. When you are using it on a tarmac road it won't last so long as the profile is more knobby as a normal all-road tire.
Mitas E07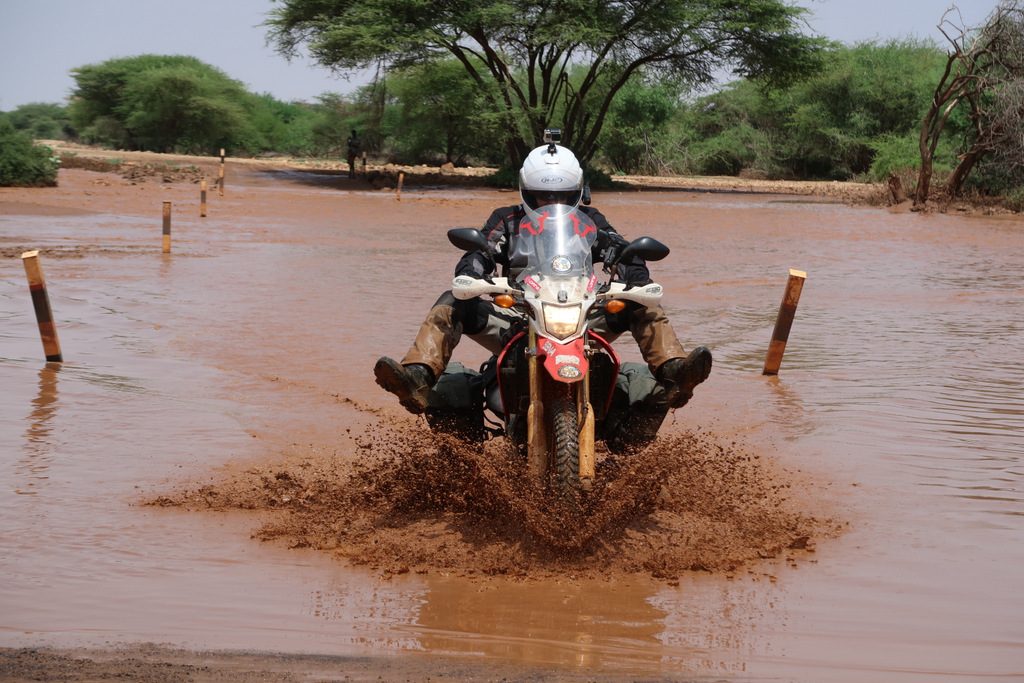 We arrived in Cape Town, South Africa during the winter time so it was a good place for us to take a rest and we decided to fly to the Netherlands from there to visit my family, my first niece was born and we really wanted to see her. Also this was a good moment for us to buy new tyres in Europe as they are much cheaper as in South Africa, by this time we learned a lot more from other riders on the road who we met or had contact with and also, we have learned how we can ride and which tyres is the best to motorcycle trip for us. 🙂
Most of them where using the Heidenau K60 (scout) or the Mitas E07, as for us the Heidenau didn't last long enough we decided to try the Mitas E07. Also we found a good deal for the tires and we could take them with us with our flight, we packed them really well so we didn't had a problem with the size of the package. Also we choose a bit bigger size for the rear tire, we now use 130/80/18 on our Honda CRF250L.
We started in Cape Town (South Africa) with the Mitas E07 and ride through all circumstances due weather and underground. In Africa we ride till Sudan, unfortunately our African adventure ended there (she couldn't get Egypt visa because of some political issue between two countries) and we air freight our motorcycles from Sudan to Turkey. At the moment I'm writing this article we are still using the Mitas E07 since Cape Town we made 26.000 kilometers with front and rear and I'm not thinking about changing them yet.
Conclusion, the Mitas E07 is so far our best tyre to long distance motorcycle trip and we will continue with them as they are lasting very long and we feel comfortable riding with them.
What we have been learning on the road we always like to share. You can find playlist to watch from our maintenance here :

FS