Before start travel around the world by motorcycles we were living in a nice house, which we sold to have money for our journey of life so, traveling nomad and living in a tent full time and feels it is a home.
We will be on the road five maybe six years until we find our home where we want to live. Stay in hotels can be great costs but a lot of money if the daily budget is fifty US dollars for two people everything include. We can make it if we stay in a tent. So, it means, "We must live in a tent!" In the beginning it was scary especially for him. 🙂
Think about it: You never stay in a tent before or go to camp. Okay, you went a couple of time some festival and stayed in a festival tent. Now, you are talking about to live in a tent for five or six years. How can be possible to find a comfort similar a home comfort?
I was traveling in South America and spending most of my time in a tent. I was solo women backpacker and felt freedom when I went to bush camping. 🙂 So, I have a little experience how I can live in a tent. But I wasn't   hundred %  sure how can be for two persons and feel a tent is our home.
Before keep continue to read you can watch our funny video to how we have learned live in a tent full time 🙂
We must find a way to make really happy our self to live in a tent full time and feel it at home when traveling nomad. So, we made a list separately. What do we like to the in the home? Which thing we can skip? What we must have with us?
After that we decided: What do we not skip when we live in a tent full time?
-I like to cook a lot. I was going restaurant rarely. Now, we are going to world trip, we must cook well to be healthy and also enjoy.
-We need to sleep well after ride motorcycle all day.
-He likes to lay down and read book sometimes.
– Who can skip a chair or table in their home? Need to sit, eat, use computer…etc.
-Our tent need to be comfortable and look like a little big so we can feel that we are not in a small room and have no space to move.
-I am fine with instant coffee because I got use to it. But he loves to drink coffee with fresh coffee beans. This can be hard because we cannot do that on the road. 🙂
-Watch a movie. Who doesn't like to do that sometimes? We must have something comfortable to watch a movie and enjoy.
-Also, if we stuck inside the tent because of rain, cold or wind what can we do inside, lay-down all day? No way for both of us!
-If we go to bush / wild camp we need to shower as well. I suppose we can't live without shower more than a week. We will see on the road.
Which kind of list were we making together? We travel with motorcycles. How many kilos can we carry? Because our list was about how to feel comfortable in our new house. We need living room furniture's, nice sofa and dinning stuff. We must have very comfortable bed and sheet. Buy kitchen stuff to make dessert, salad, food…etc. Also have a coffee machine!
End of the day, we searched a lot and figure out to make our tent like a home and live inside. Really, we go to a hotel after long time stay in bush camps or have a crazy rain and cold. Funny thing, we always miss our bed and home, our tent, after a couple days. Because we love our lifestyle, which is living in our little tent.
I suppose some photo would help to explain it our life in a tent;
If we stuck to tent we can still enjoy eating and working.
We can watch movie like in a cinema. 🙂
We can sleep well in a nice bed.
We can cook almost everything. (Just we don't have oven yet to make a pizza :))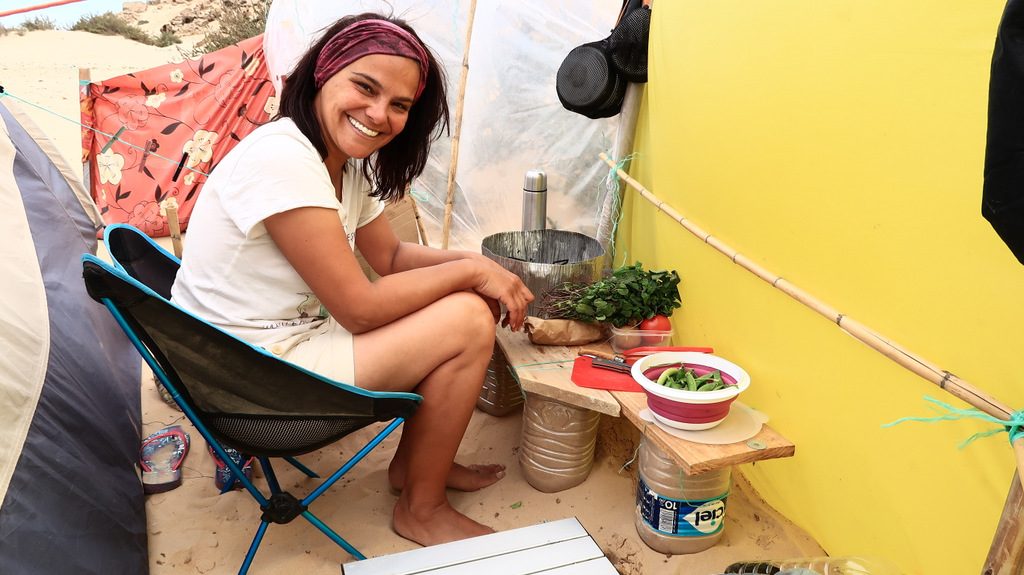 He can lay down anytime outside to read book our sleep.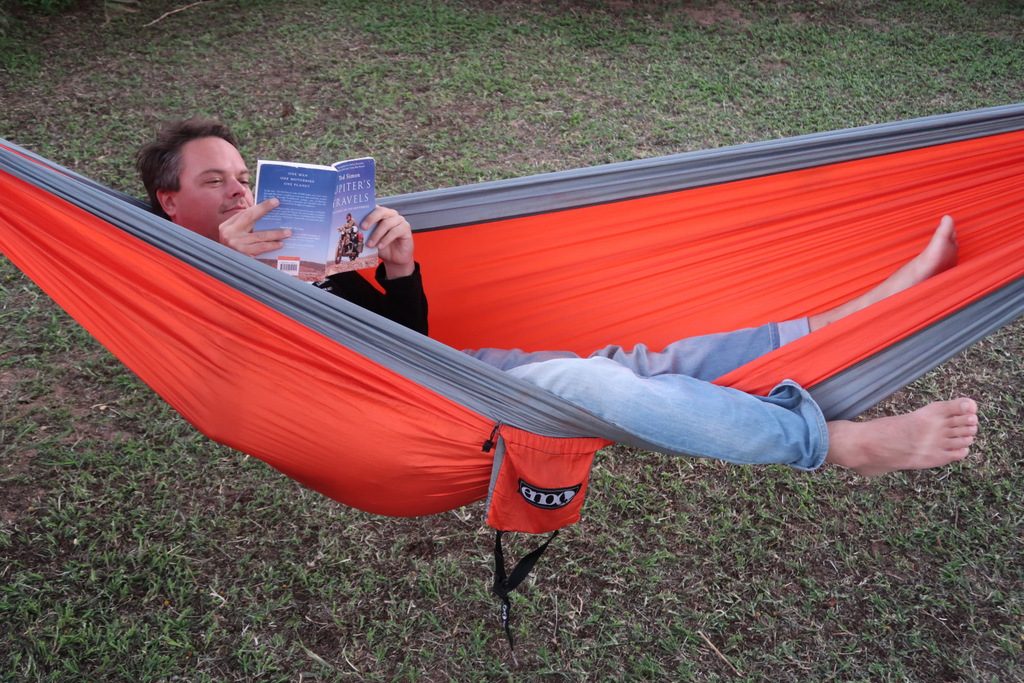 We can also enjoy with coffee.
Sometimes, we need our own bathroom to shower. 🙂
So, a journey of life to travel around the world by motorcycle and live in tent… 🙂 It is amazing feeling to be honest!
GS