We were planning to go to Livingstone from the Zimbabwe part of the Victoria Falls but we couldn't get the Kaza visa, we had only Zimbabwean visa, which was single entry. So, we travel in Zimbabwe to see how the country looks like and how people life is. After we entered to Zambia.
Going Lusaka…
We passed into Zambia from the Kariba lake border. And ride trough to Lusaka. We must go there because of the Malawi visa for her. We rode 200 km from the border. Everywhere was green and landscape was nice. But it was so hard to ride inside to city center because of the crazy traffic. We broke all rules to escape from rush hour because it wasn't fun to wait one hour in the traffic with all our motorcycle gears when it was so hot.
Lusaka is definitely different then other African countries capital cities. First of all clean and it is safe to walk around, we didn't need to check our back all the time. We stayed in Wanderes Backpacker, which was so close to the Embassies and a big shopping center. And cheap for camping 🙂
To be honest, we didn't do that much in Lusaka. We were tired after our Zimbabwe journey and all the rain we had. Therefore, we prefer just get relax and enjoy with good Wi-Fi. 🙂
Nice to see Mpongwe, North/East of Zambia. 
A while ago, we got an invitation from someone who is living in Mpongwe and is building a primary school. Jennifer is from Holland. She was there a long time for a voluntary job and than decided to stay there and help the comity. After that she got married with a Zambian guy, Terry.
Mpongwe wasn't on our road. We had to go 300 km to the north of Zambia and turn back to Lusaka. On the other hand, we love to see local life, learn a little culture and talk with local people. So, we went there.
It is small village but they have everything there. We were saying that Lusaka is so cheap after Zimbabwe but Mpongwe is cheaper than Lusaka. We set up our tent inside a classroom. The school was going to be open in three weeks so, nobody was there yet. 🙂 We ate dinner with Jenifer and Terry. Of course, we asked many questions to Jenifer about her life, education, culture…etc . We also walked around with her to see around, talk with people and play with kids. It was a really nice experience for us for two days.
After said bye to them, we turned back to Lusaka and stayed at same place again. We made 600 km in 3 days. That's why we decided to stay two days there to get rest and do some shopping. The Malawi border is than 600 km from Lusaka; we need to go bush camp somewhere. At the same time, if the rain comes a lot there is a possibility to we can't finish the road in two days. We always want to be sure that we have enough water and food for that.
Really we are going to Malawi!
We packed our motorcycles and hit the road. In the morning it was nice to ride motorcycle but in the afternoon It was hot. Anyway we made 290 km before sunset. We found a spot for bush camping next to the road and we set up the tent and slept well.
Next day, we would ride only 280 km to the border. We came to Chipata and we had only 20 km to the Malawi border. We were putting petrol our tanks and talking at the same time.
GS :" We are living the county now. But I am thinking we didn't see that much."
FS: " What would like to do more here. We are almost on the border."
GS: " Maybe, We can go to Mfuwe and stay around South Luangwa National Park. We don't need to go inside. We can camp next to the river and see wild life a little more."
FS: "Are you sure, you want to do that?" He looked to map and told me that we have 130 km more to go there.
GS: I looked the time it was 1.40 pm. "So we don't need to stay Chipata. Let's go know Mfuwe."
We were on the road 6 hour already and made 260 km. Another 130 km means, we made almost 400 km in a day with our Honda CRF 250 L. We have 250 cc so; we don't go more than 80-90 km per hour. 130 km for us 2,5 hour more ride with crazy sun. He was thinking about me if it's a good idea to ride more. I told him I can make it. So, we turn to Mfuwe road.
****Normally, if you ride or drive from Lusaka to The North or South Luangwa Natioanl Park you have two option to drive. First one, From Sinda to Kapamba and than Kakumbi (Mfuwe) It is some kind of gravel and dust road but don't take the road in the rain season. Because road is going really terrible condition. Second option, from Chipata to Kakumbi which is tar road and easy to ride in rain season. Just be careful with potholes.******
Luangwa national park and Mfuwe.
Mfuwe is a small village but you can find basic things to buy. They have a lot of Lodges and camping sites around. We went to Wildlife camping.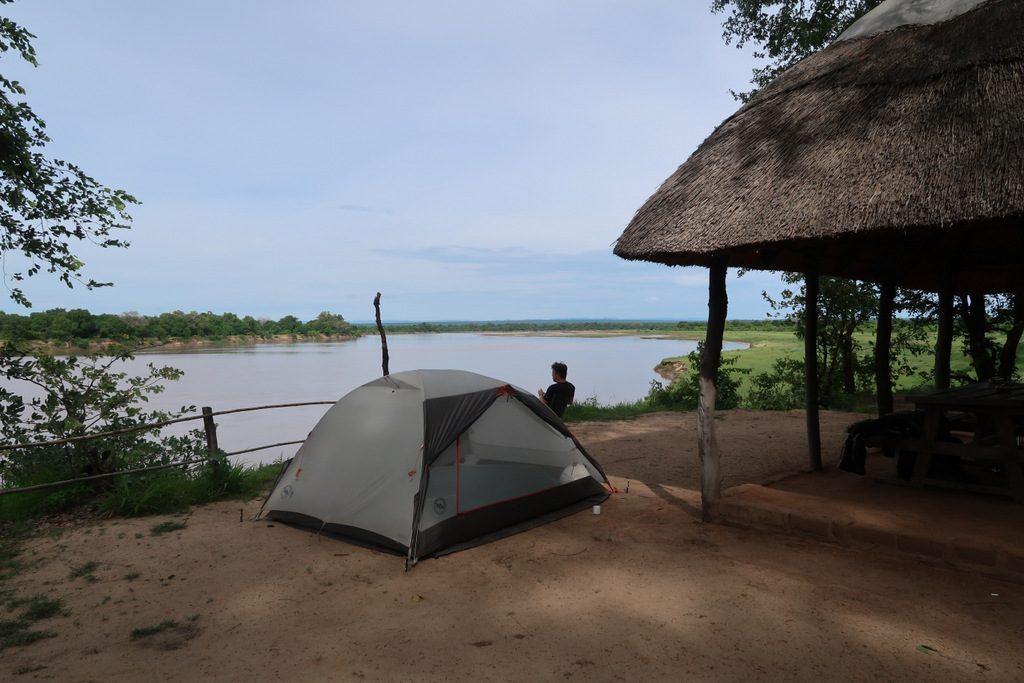 The place is next to Luangwa river and you have a good chance to see wild life next to you. Elephants were next to the reception also they passed from our camping side. Hippos and crocodiles were everywhere. Every night we heard lions. 🙂
We don't go so much national park because they never allow us to go in with our motorcycles. We must pay a lot of money for a safari and enter fee. We already see a lot. So, don't spend money! But our neighbor in the tent was Forest from the USA and working in Harare, Zimbabwe. He is an international math teacher. He was going to the park and said that we can join him so we only need to pay enter fee, which is 30 USD pppd. It was good deal for us.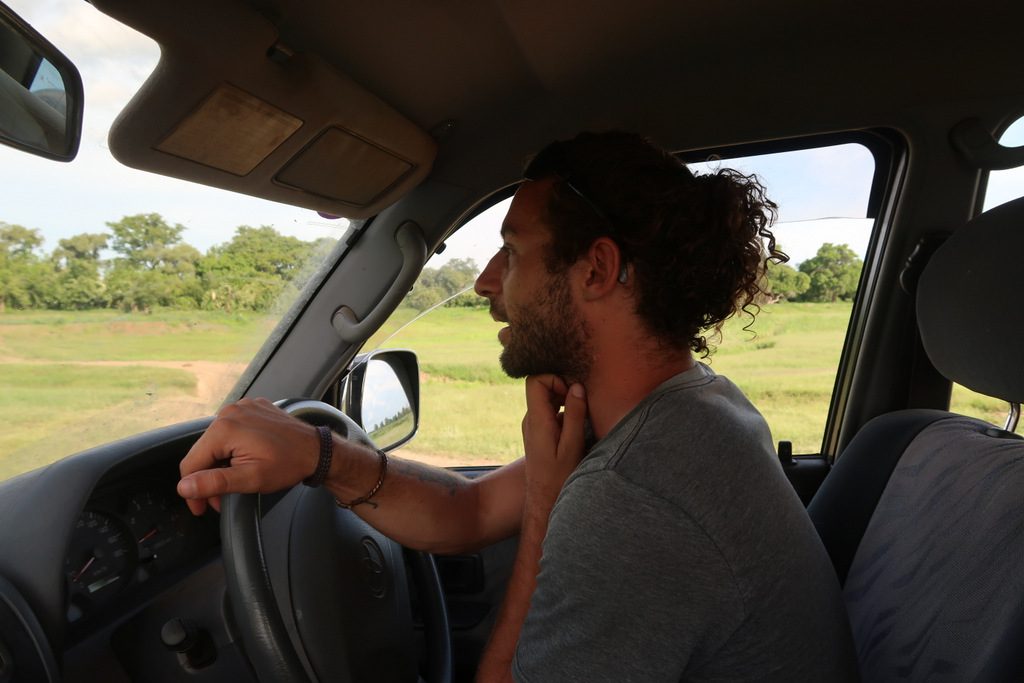 We didn't see leopard but we saw what's the meaning of a national park. We went to Etosha and Kruger park before. They were so organize with roads, rest side, camping side… etc. Here just jungle. They don't have fence around as well. If rain season most of the park area is closed.   After see the park we saw why, easily. So, if you want to visit the park in the rain season you should be careful with the road.
Luangwa is nice and really big park to visit. Maybe good idea is to be there June to October. Because it is dry season and more chance to see leopards. Because in the rain season the bushes are so high. Maybe, you are passing next to a lion or leopard but you can't see it. On the other hand, it is so nice to see the park so much green.
After stayed three days in The wildlife camping we turned back to Chipata to go Malawi.
GS