After writing an article about how to pack your motorcycle for a trip now it's time for your road trip packing list. I will not write down every little detail about what we took with us but just a list of things what for us are absolutely essentials to take with you on a long distance motorcycle trip. Like I said before as well, we are not traveling light. We like our comfort, we are camping most of the time and we cook our own meals. Of course this things matters with what you want to take with you,  also the time you will be on the road. If you go on a trip for 2 weeks in the summer you might consider taking a chair and table with you, we are on the road for multiple years so for us it's like our way of living. There are moments we literally live in our tent so you can imagine we need some comfort as well at that moment.
Road Trip Packing List
Let's start with the basic needs camping equipment essentials packing list;
You don't need to carry so much winter stuff to make yourself warm. In Africa we hit cold just few countries and we bought blankets to keep ourself warm after that we gave them to local people in villages who need them.
There are some things you can add to this list like;
Small hammer for the hooks (or find a rock on the road and put it in your pocket)
Small pump for your mattress if you don't have automatic air one.
Ropes to make your tent windproof if necessary or hang on clothes or tide something.
A tarp shelter, we used it a lot; under the rain can be a roof for us or motorcycle, a footprint to protect our tent from needle or sharp stones.
Extra hooks, you will loose them sometimes and you need them if you want to make your tent windproof in a storm. Also you can use them if you use your tarp shelter separately.
Extra to carry to make your life comfortable;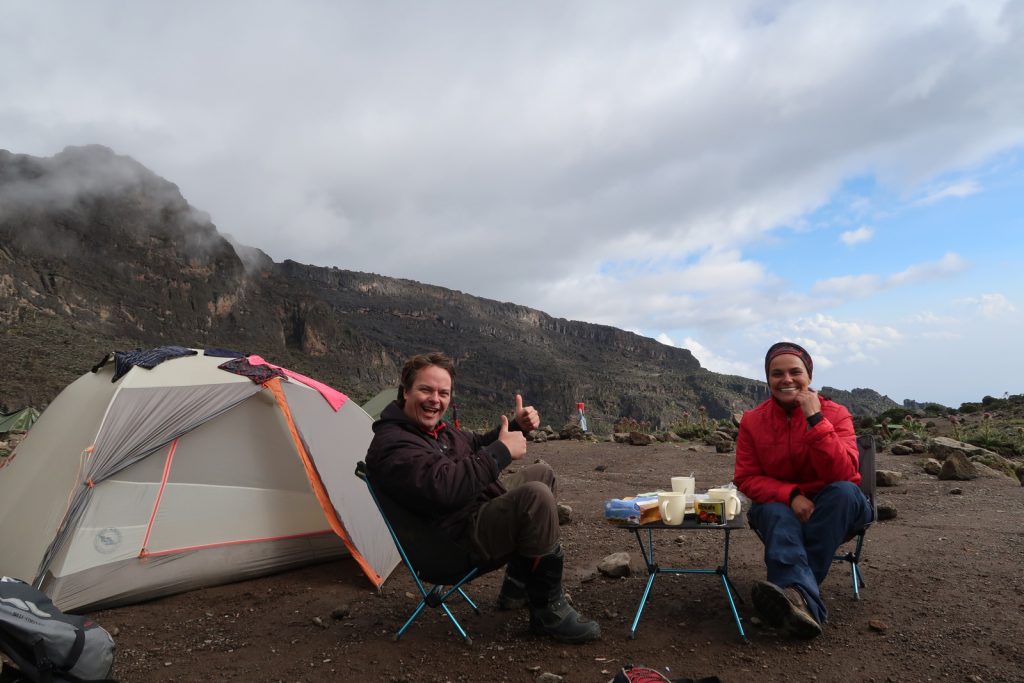 Cooking set essentials for motorcycle camping;
Stove
Plates
Fork, spoon, knife
Sharp big knife
Pans
Coffee/Tea cup
Lighter
Little wind protection shield for stove
Extra cooking equipment; ( if you have plan to cook almost everyday like us.)
Bowl for salad or soup
Wooden spoon
Cut board
Little grater 🙂
Emergency cooking food;
Also you always want to carry some food with you so you can cook something if you end up somewhere you won't be able to find something. Your motorcycle can break down, the road conditions are so bad you won't make it to your planned destination etc. There are multiple reasons to always carry some basics with you. We always had this with us and after we used it we bought it as soon as possible again.
Pasta or rice
Onions and garlic (very small)
Salt & Pepper
Tuna in a can (or vegetable)
Tomato paste
Cookies (as a back-up snack)
Water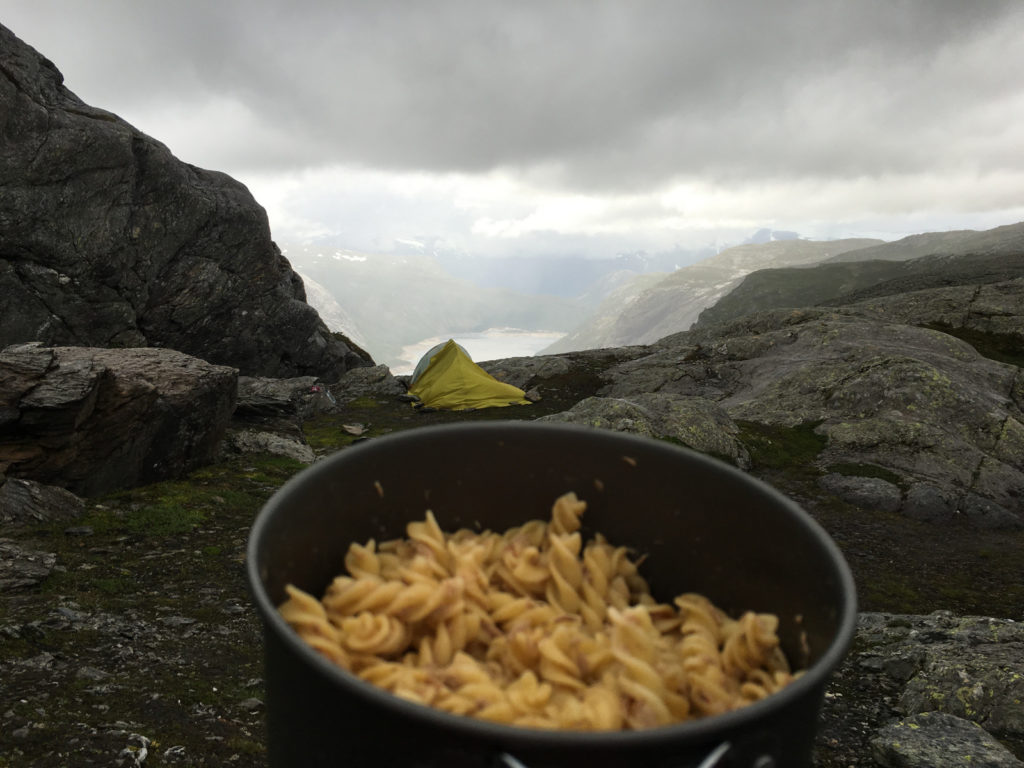 Clothes:
Don't take too much you can wash and wear your clothes multiple times no worries;
3 or 4 underwear
3 t-shirts
1 short
1 swimming short (what you can use as a normal short as well)
1 jeans
1 sport outdoor walking pants
2 pair of socks (excluding riding socks)
1 jacket to keep you warm or protect from wind and rain. We have been carrying our motorcycle jacket inside for multiply use.
1 pair flip flops
1 pair of shoes (walking/running)
1 set thermal clothing
When we need extra warm clothes we bought from bazaar or second hand cheap. When we were leaving the cold we gave who need it.
Another essential part for packing list;
Your toiletries some things are the basic ones and you can add a few things that are always easy to carry;
Wet tissue (you can use them for everything)
Bar of soap (for dishes, hand, body and face)
Toothbrush
Toothpaste
Small towel (easy dry)
Shaving stuff
Electronics, you want to take nice photo's and keep in touch with the world around you 🙂
Laptop
Camera
Phone
Cables to charge everything (more then 1)
Good external charge (ours is 20.000 mah so we can charge our camera as well)
External hard disk (if you go for a very long time like us 3 TB)
Multi usb plug (so you can charge more when there is electricity)
Extra SD-cards
SD card reader
Extra battery for the camera
Batteries (extra for head light etc.)
Earphones
Other things that are essentials on your road trip packing list for a long distance;
Sunglasses
Headlight
Water purification tablets
Sunscreen
Hand sanitizer
Mosquito spray (a good one)
Bandages
Blisters
Pills against diarrhea
Painkillers
Paracetamol
Malarone malaria pills (as a anti dose against it) if you come in risky areas
Drugs what you need to use daily or what you need to be on the road for you and your body.
Small sponge and soap for cleaning your dishes
Pen and paper
I think we have quite a list so far, it looks like it never fits on a motorcycle but if you pack it correctly it does 🙂 We are traveling as a couple so we have more space as when you travel alone but still it's possible to take it with you, just make your own choice and take a look what you think is essential to you. A lot of stuff you can buy small nowadays as well, like a tent or mattress you will pay a bit more but if you use it a lot it's worth it as well..
Of course you need to bring extra spare parts of motorcycle to long distance as well, you can read here what we all carried with us.
You can check all our equipment  for long distance motorcycle road trip packing list
And here also you can read the riding gear for our world trip by motorcycle.
FS