How to get your motorcycle out of Sudan to Europe or Turkey, a lot of people riding the East coast of Africa and end in Sudan for multiple reasons.
In this article we will try to explain the options you have; shipping or airfreight from Sudan how easy or difficult, what are the costs, which country you can go or cannot go to ship or use airway for motorcycles, if you use airfreight to Ataturk Airport, Istanbul, Turkey what is the procedure in Turkish customer service and Turkish Cargo service. Also you can find phone numbers who you can contact for detail and help, the GPS coordinations for all places. 🙂
Let's start with a little info about the countries around Sudan…
Egypt, for Egypt you need a Carnet de Passage (CdP). A lot of people travel without a CdP as it is to expensive or they bought the motorcycle in a different country as their nationality and could not find a country to support their CdP. If you don't have a CdP you cannot cross through Egypt. Unfortunately for us it was another problem, she couldn't get the Egypt visa as there is some political issue between Turkey and Egypt at the moment.
Saudi Arabia, it is nearly impossible to get a visa when you travel with a motorcycle also woman are still not allowed to ride a motorcycle in Saudi Arabia so this was not an option anyway. With a car you will be totally fine to go to Saudi Arabia as long as it is a Left hand drive (LHD), they do not except RHD vehicles. We learned from other overlanders you can get a Saudi Arabia visa in 2 or 3 days if you travel with a 4×4 car, truck or camper. For motorcycles they let you wait 30 days or more to response and then they still can refuse you for a 72 hours transit visa
Libya, this country is simple said not safe enough to travel through in our opinion.
Eritrea, this country is also not safe enough in our opinion to travel through.
Here our shipping adventure video. Before continue you read you can check if you like
What is the cheapest option to leave from Sudan by motorcycles?
Our trip ended in Sudan because we didn't have any option to go another country. We didn't want to ride all the way down again to Kenya and ship the motorcycles from Mombasa. The cost could be so much to apply visas, fuel, food…etc. So, We started to look for how we can ship our motorcycles from Port Sudan with RoRo / container or find a cargo to airfreight from Khartoum, Sudan.
We searched ship from Port Sudan to go Europe or Turkey but they didn't have an option with RoRo, which is the cheapest way (around 400 USD) because you don't need a container to rent or pack the motorcycle. We wrote some companies but couldn't find any.
Some companies said that we can have a container and ship our motorcycle but the price was so high. Small container was around 1500 USD if you don't have anybody to share container. Also you must pack your motorcycle and pay extra for it. On the other hand all ships go to Saudi Arabia first and than some stops. It means that we can have our motorcycles in Europe or Turkey more than a month later.
We had only one option more to fly with our motorcycles, means look for airfreight for it. Sudan doesn't have a lot of option for direct fly or cargo to and from Europe.
For us the best and cheapest option was to fly the motorcycles to Istanbul (Turkey). From Istanbul it's only 200 km to the Greece border or Bulgaria border. We contacted Turkish Cargo.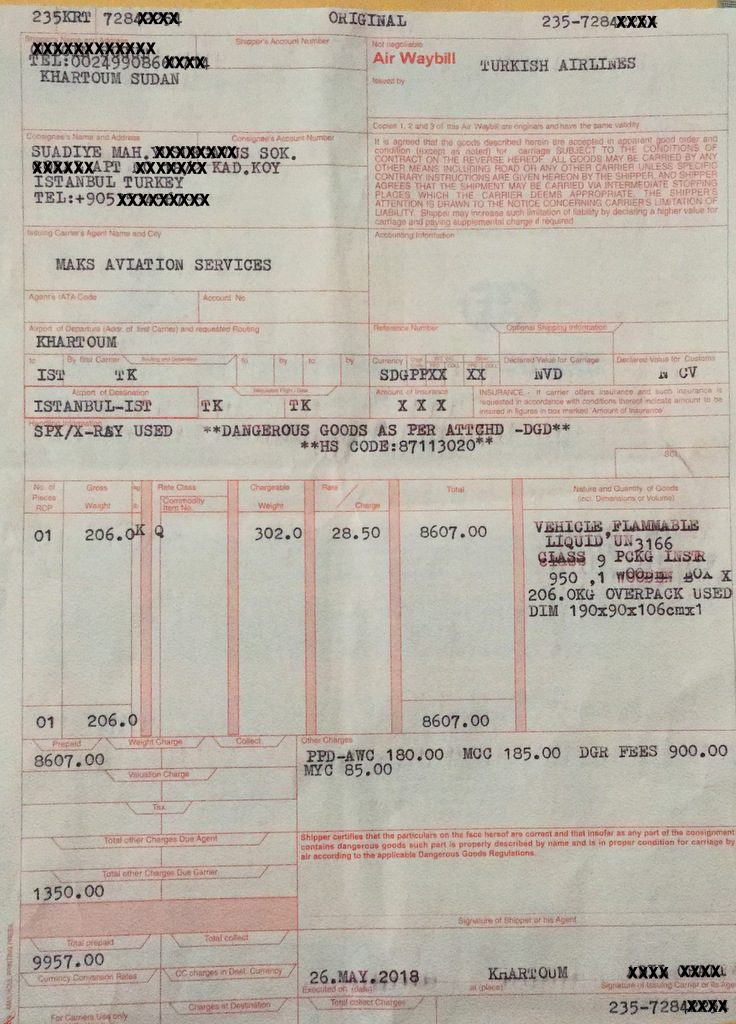 Going to talk Turkish Cargo in Sudan to airfreight Khartoum to Istanbul.
Most cargo companies don't work directly with a customer, they work with companies. Turkish cargo works with Maks Aviation Services. We went to Khartoum airport and found the cargo service. We meet with Adil who help us for all procedures. (If you need help to airfreight your motorcycle you can contact Adil : +249 91 234 90 73 he speaks English very well)
Unfortunately, Turkish Cargo doesn't fly directly to Istanbul, Turkey. They have big cargo flight every Monday. It leaves from Khartoum around 1:30 pm to Nairobi and leaves from Nairobi around 8:30 pm. It arrives Ataturk Airport at 2:30 am on Tuesday (so you have a full day to pick up your motorcycle at the airport).
The price for airfreight motorcycles? To be honest it was a surprise for us!
If you ask how much cost for a motorcycle to airfreight? It is depend on your pack size. We had two different prices for the same motorcycle because of the package size. I want to give an exam; my motorcycle pallet was 190*90*106 and it was 206 kilos after packed. Cargo weight came 302 kg.(DC) Rate was 28.5. So one motorcycle airfreight price was 302*28.5 = 8607 SDG (Sudanese pound)
And some extra cost for the fly, which was 1.350 SDG. Turkish Cargo air way price was 9957 SDG for 1 motorcycle.
You can quick check your cargo weight and calculate your cost easily: http://www.turkishcargo.com.tr/en/e-cargo/applications/volume-weight-convertor
We need another agency as well to custom service in Sudan.
Mister Adil told us we need to worked with another agency who can do all custom service and dangerous goods paperwork. Actually, we didn't go anywhere when we were inside the Maks Aviation Services office he came there. When you bring your motorcycles to customs you are not allowed to enter somebody official has to do all paperwork.
He got a price for custom service 1200 SDG and 1500 SDG for dangerous good to each motorcycles. But we paid extra 500 SDG extra to each motorcycles because custom service wanted to we paid something more. They started 2000 SDG but after negotiating the price came 500 SDG. We saw the note from the custom service who wrote on the paper we have to pay.
So we paid total 13.157 SDG to Maks Aviation Services, Turkish Cargo Agency to carry our motorcycle to Istanbul, Turkey.
If you ask how much USD it depends on the black market rate in Sudan. We exchange 1 USD=37.50 SDG. It means 350 USD.
Note : If you enter Sudan with your Carnet de Passage make sure that you have an exit stamp as well. When you give your CdP to the agency you should tell them to don't forget exit stamp.
We need to find a place to pack out motorcycle the cheapest way!
If you want to go to an agency and ask them to make a pallet and pack motorcycle for you the costs will be really so high. Already, mister Adil said that if we can do it with our self it could be so cheap. We knew a Turkish person (Asim) who has a little furniture company who help us a lot when we were in Khartoum. We called Asim and told him what we need it. If we gave the size to him he said that he could make a pallet for us in a half day because he wasn't so busy when we were asking. 🙂
He had some wooden in his place he made it from them so, we didn't pay anything for it. But to make a pallet like this could cost around 2.500-4.000 SDG depend on the how much big and strong the pallet needs to be.
We paid 700 SDG for two clamping straps to stabile the motorcycle on the pallet. Also we paid 1.000 SDG for the truck to carry our motorcycles from Asim's place to customs at Khartoum airport.
Asim couldn't speak English but if you need to help you can contact with him with text message. You can write you took his number from 'Gulcin and Ferry'. He has a worker who can speak French and when you meet him he can find a person who can speak English to help you. Asim phone number : +249 91 050 6295.
So, Airfreight cost, packing  and transfer motorcycle to the airport price were for one motorcycle total 387 USD in Sudan.
Note: You should check your Airway bill (AWB) well. If anything wrong or missing on the AWB it can cost a lot to you in Ataturk Airport to wait and pay storage.
Check AWB number on it,
Shipping name is correct, which is your bill name
Consignee name must be writing because Cargo companies make documents with the name. They forgot to write on our bill and we spend a few extra hours for it.
Consignee phone number is correct because they will contact you in Turkey
By the way, we transferred our motorcycle our self. So the agency help us to enter the export cargo area with them. Therefore, we could check all our documents in there if anything was missing. Also, we told with Adil after finish custom service pack our motorcycle with plastic.
Get motorcycle from Turkish Cargo/Custom Service in Ataturk Airport, Turkey
If you use air way the procedure is same for any flight or cargo companies in Ataturk Airport. The custom service procedure is the same for Turkish people and other nationalities. I am from Turkey and he is from Holland but we had the same procedure. If your motorcycles register write your name everything is easier and you can take your motorcycle yourself. Otherwise, maybe it is nice to look for a fixer.
You should have three copies of your passport, motorcycle register, driver license and also the original documents with you. You must have a green card traffic insurance. I don't know the insurance cover which countries when you have it in your own country. He is from Holland and his insurance covers Turkey as well. You should have a copy of that as well.
First of all, you must check your air waybill number (AWB Number) to tracking. The statue must be RCF – Shipment Received from flight. http://www.turkishcargo.com.tr/en/e-cargo/cargo-tracking. After that you can call customer management to learn your AWB – Ordino is ready or not http://www.turkishcargo.com.tr/en/about-us/contact-us
Second, you need to go Turkish Cargo office in Ataturk Airport and take your AWB – ordino. It will be cost 250 TL.
Third, you must go to Custom Service building (Turkish: Gümrük Binası) with your AWB – Ordino paper and with a letter. You need a Turkish letter, which can be hand write.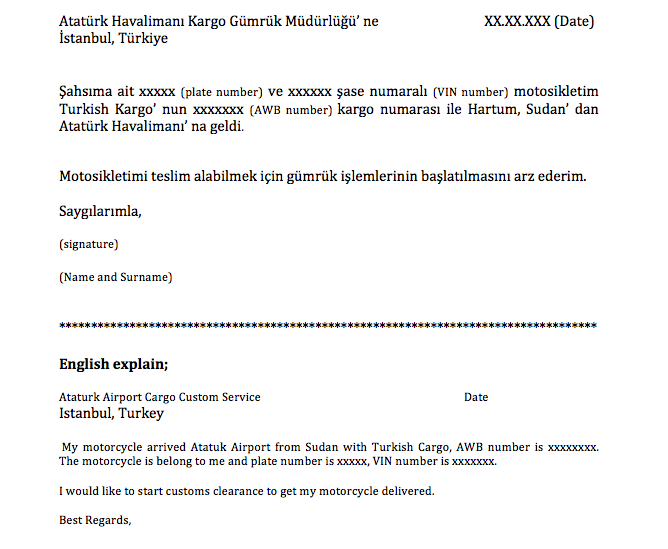 You need find director or assistant director (Turkish: Müdür Yardımcısı) room in the Custom Service building. (The room is second floor on the right) He will read your letter and check your original documents. He will signature your letter and writes a custom officer number on the letter.
Fourth, go to ground floor to the Paperwork office (Turkish : Evrak Kayıt Bürosu) because they must enter your letter in the system. They want to have a copy of your AWB – Ordino and letter. You can find the copy machine outside next door in a coffee place.
Fifth, Turn back to Turkish Cargo office and go to Turkish Cargo store and find guard officer, I don't know exactly English name. 🙁 Anyway on the door writes Turkish " Muhafaza Memuru". You need to give an id card (drivers license) to them and have a card to enter the storage. You don't give your passport because you need it inside the store.
Then, you will enter from the store door where your motorcycle is. They will ask your AWB number. They look in the system where the motorcycle is. And then they will carry it to you. If your motorcycle is inside a box or closed you need to open it so the custom officer can see plate and VIN number (Vehicle Information Number, chassis number).
Sixth, After that you need to go custom office on the 1st floor. It is inside where you are. 🙂
He will come next to the motorcycle and will check plate and VIN number. After that you will with him to the office. He wants to see your original documents passport, motorcycle register and green card (Traffic insurance)
He will enter everything to the system and write on your passport custom service info. They want all documents copies there. Depend; they will open a file there or not.
Seventh, You need to turn back to the custom service building and find director or assistant director again because he needs to see all documents again and they will signature again. They want to have you documents copies there or sent you back paper work office again to give copies to them.
Eighth, Turn back to Turkish Cargo store area and find a office where you can give your ordino paper, letter…etc. You will have door number there. (Turkish:Kapi numarası) The office is next to the guard office, which you went on the fifth step. 🙂 They will take your copies there for passport and motorcycle register.
Ninth, You will go back Turkish cargo main office, where you get a ordino and pay. Time to pay your store cost. The price changes every 24 hours. So, if you cannot finish all paperwork and take out your motorcycle in 24 hours you will pay again for another 24 hours. Note, they work until 5 pm.
Short explain; the motorcycle-tracking RCF (Shipment Received from flight code) time is 8 am in the morning. You will pay until next day 8 am for 24 hours. But if you can't take your motorcycle the same day until 5 pm the work time starts next day at 8 am. So, you never finish paperwork in 24 hours and have to pay again. Therefore, Khartoum to Istanbul fly was good because it arrives 2:30 am and you can get Turkish Cargo Ordino AWB around 8-9 am. You have all day to finish the paper work and get your motorcycle out. 🙂
We paid 565 TL to Turkish Airlines Storage.
Tenth, after take your bill to payment you will turn back the store area and show you paper to somebody who standing in front of the door. They will carry your motorcycle to the door and they will ask you where they will put it.
Finally, You should enjoy ride motorcycle in Istanbul, Turkey a while or ride around two hours to Ipsala border for Greece or Kapikule border to Bulgaria. 🙂
So we paid total 815 TRL to Turkish Cargo in Istanbul. 1 USD= 4.5 TRL therefore we paid 181 USD.
I will try to write all detail step by step if you want to do it with yourself. It took 3 hours for us all steps. Maybe speak Turkish was easy way. If you think so many things to do you should look a fixer. Maybe it can be nice to know all steps when you negotiate with them. 🙂
Khartoum, Sudan to Istanbul Turkey airfreight cost was total 567 USD for one motorcycle.
If you have any question feel free to ask. You can send e-mail or write a comment under the article.
Note1: Turkish Custom Service does not take any money! You will pay only Turkish airlines for the AWB – Ordino paper and storage.
Note2: Some cargo companies don't charge a storage price for first 12 hours. If you have plan to use airway for your motorcycle to send Turkey you should ask the company about it. We took our motorcycles in 12 hours but Turkish Cargo is charging. It doesn't matter for them 5 minutes, 12 hours or 24 hours, all is the same price. But ask for a discount at the office.
GS – FS