We have been traveling around the world by motorcycle and sleeping in a tent so, camping comfortably is one of the important thing for us. Because we are living in our tent.
After many hours ride we want to sleep well. When the weather so bad we must stay in the tent and make more comfortable in. If we go to hiking camping stuff need to be light. So, if we make the tent our house the camping comfortably is really important.   We start to search everything light, easy use, long term warranty and comfort.
In this article we are writing about our sleeping pad. If you like to quick check all our world trip camping equipment you should check our all camping gears please.
You can watch little video how we have learned to live in a tent 🙂
Sleeping in tent comfortably : One of the important thing for it is sleeping pad. 
For it we bought 'Thermarest NeoAir XLite Mattress' and paid 165 USD each of it. Actually, i was thinking a lot of money in the beginning. Because also I bought the "Thermarest trekker chair" is 50 USD each of them and "Thermarest pump sack" is 20 USD.
 What is our Thermarest

 Neoair Xlite 

review

? 
Thermarest neoair xlite is three season mattress, so light (500 grams)  and the pack size is so small (28x11cm). Still, I dont know how I can understand 2-3-4 season mattress. If the weather is under 15 degrees I always feel cold. Because of tent, mattress or sleeping bag. 🙂
After all day hiking, carry backpack, ride motorcycle I just want to sleep comfortable and feel I am in the real bed. Neoair xlite really good for that.
The material is sturdy. I had one little hole in 2.5 years. Because of the barbed trees. Who open the tent there had same problem 🙁
They have size option which is good. I choose a large size to have more space to turn and sleep well. This was a good choice.
When I was buying the camping mattress I didn't think so much about the shape. Mine has a mummy shape. If you are back sleeper you can think that it doesn't have enough space for my feet. I didn't have problem for it because of my tall (170 cm) and large sleeping pad. The problem is for couple. Mummy shape two mattress can't really get a one bed when we want to lock them with straps.  I didn't know that before. 🙂 Therefore, I can recommend to have rectangular pad.
Our biggest problem with the mattress is noise. When I was alone I couldn't understand but if you sleep two and one person wants to move the other person can wake up because of that. Also, in the wild camp where is so silent the nature now where we are. I don't know maybe only this model like that.
You need to careful for made in as well. I bought mine from USA. We bought other mattress in Europe. Therefore, one is made in USA other one in Ireland. Of course same size and same company 🙂 The problem is their expansion different for the temperature. After bowl up them they are exactly the same size until 35 degrees. After that Ireland one is getting more expansion then USA one. If you are in a small tent you can have a little problem for it or when you use straps.  So, if you buy more then one please check that they are made in the same country.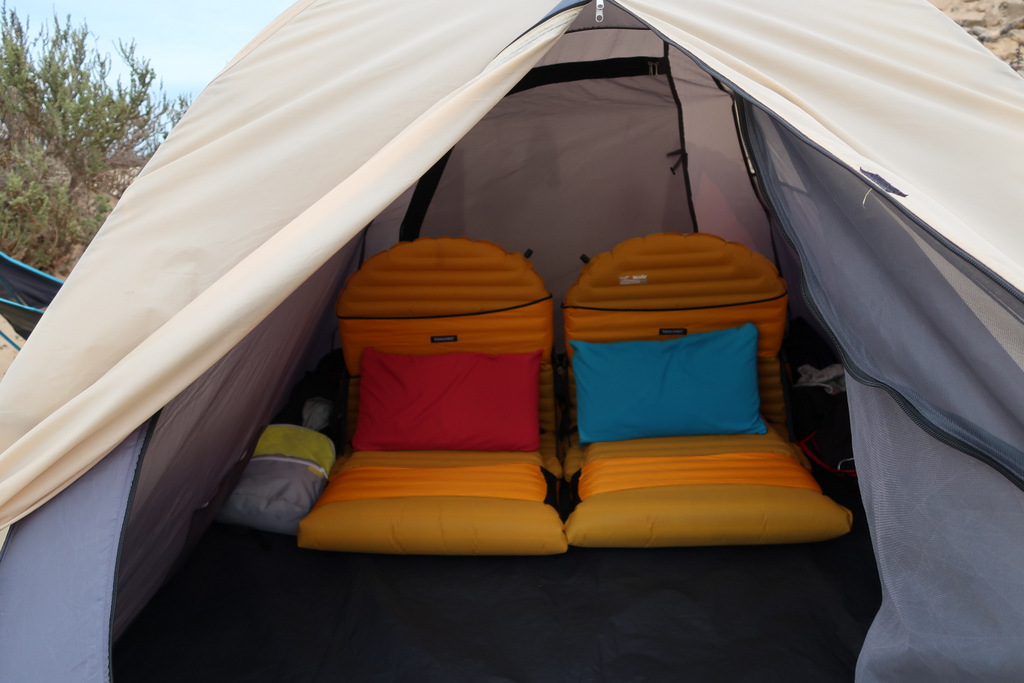 Thermarest Trekker (compack) Chair :
We have been living in a tent in our world journey by motorcycle. Sometimes we can't go out from the tent because of the weather. Lay down or sit without any chair we could have back problem. We bought trekker chair to make our camping mattress get a chair. We are so happy for that. We didn't use outside that much. We are going to wild camp and ground is not safe to put out our mattress because of sharp stones, needles, glass… etc.
Thermarest pump sack :
After ride many hours motorcycle or hiking we don't want to give effort to bowl up our sleeping pad. Also, we don't have space to carry something big for that. We saw the pump sack and bought it. Bowl mattress in 2 minutes, we like that. We haven't tried yet but we read to pump back can be a chair as well.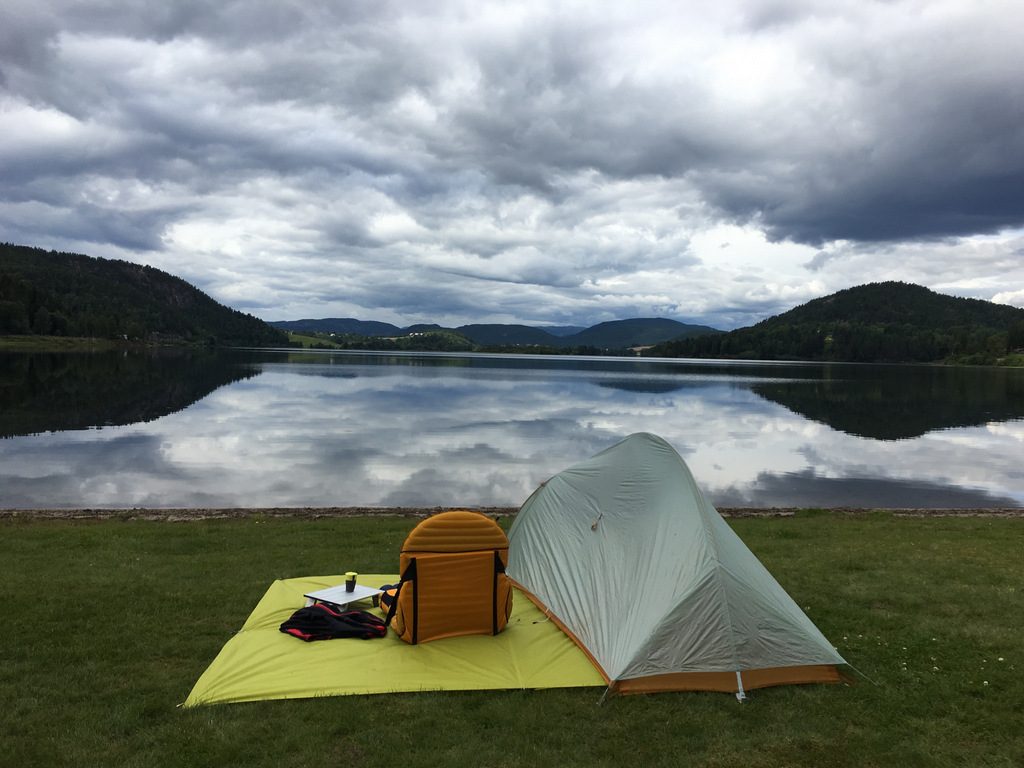 GS