Overlanding Africa – motorcycle trip is starting! We have no experience to ride motorcycle but who cares we just want to live our dreams!
We have no idea why we choose to start one of the hardest roads in the world. Our plan is turn around Africa so will ride motorcycle west, southern and east Africa. We would like to share all our overlanding Africa journey on our website; African visas – safety- border crossing and bribes, our West Africa, Southern Africa, East Africa trip, all costs, about motorcycle and camping…
Overlanding Africa – Motorcycle trip : 1- Morocco
This is where we start our adventure in Africa! We arrived at Tangier Med port around 9 pm after a 28-hour boat trip from Barcelona, it's already dark and we didn't have a place to stay. When we booked the boat it was saying we would arrive at 3 am in the morning, we need to do customs when we arrive at the port so we thought we could go slowly through the process and start riding when the sun comes up. 🙁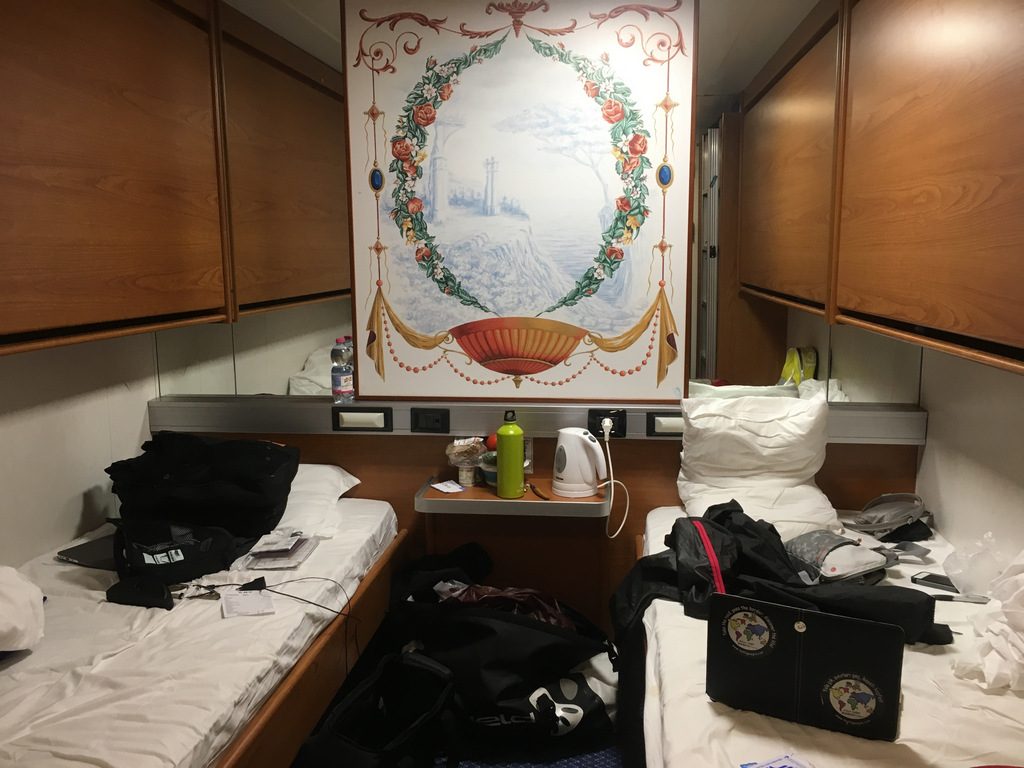 Journey just started and we already have a friend
While waiting to board in Barcelona we meet another rider Christopher from Germany, he will be traveling in Morocco for 3 weeks with his motorcycle. We didn't book accommodation on the boat as we found it was too expensive, but lucky as where Christopher did and invited us to his room for a few hours of sleep. We leaved the boat together and find out our passports need to be stamped on board, we missed this call and need to go back. I took  her passport and go back on board with Christopher to stamp our passports and she stayed with 3 motorcycles. We went pretty smooth through customs  but took two hours.
We decide to ride together to Asilah.
There we went to a campsite, Christopher to a hotel. But our first night 'overlandig Africa- motorcycle trip' wasn't in the tent because they said that sleep in the tent 4 USD in a room 5 USD. Okay, take the room because it was November and cold outside.   and we decided to meet the day after again to walk a bit around the city centre. The next day we get a bit of the taste of Morocco, we are enjoying together and making a plan what road to ride the day after to Fes on of the bigger cities in Morocco.
Next city is Fez
We found a nice road through the mountains towards Fez and all of us were really enjoying the landscape and mountain roads. Arrived Fez and we tried to find an affordable campsite what is much harder as we expect and eventually we end up in a hotel near the city centre. We walked a bit around the maze of Fez, it was really beautiful to see but all those sellers want something from you. After Fez we decided this is the last city we are visiting in Morocco. We wanted go to the Atlas Mountains to enjoy nature and the local life.
Time enjoy on Atlas Mountain…
From Fes we were heading south and passing some beautiful roads around the Atlas mountains, we were enjoying so much and looking for more challenging roads in the mountains. We found some mountain passes around Tinghir so that's our destination. From here we crossed into the Atlas Mountains and ride with our motorcycles through the Gorges Toudra (gorges du todra), it's all very impressive to see and with all the lovely curves it's a true motorcycle paradise. We took a lot of breaks to enjoy all the amazing views we were seeing, I never expected this from Morocco.
But it's amazing we ride all the way to Agoudal where we find a cheap hotel to spend the night. We didn't try to camping because it was already degrees was below zero. We don't think so that clever idea camping with summer gears.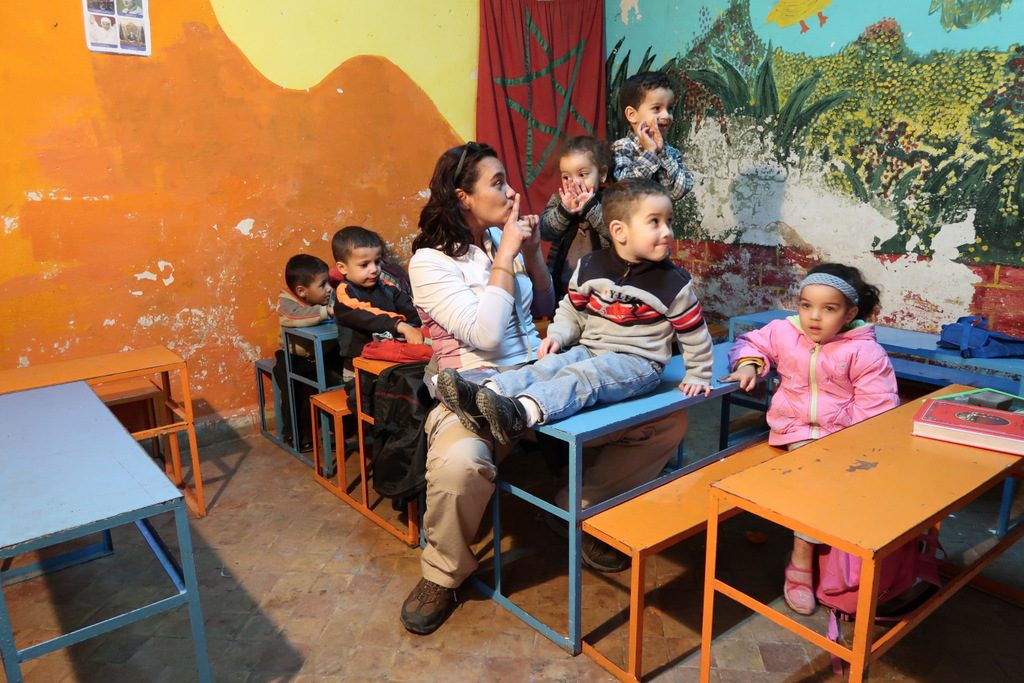 During the last hours of daylight we walked Agoudal village to have a better taste of the local life. We spent time with children and the local life. The owner of the hotel was very friendly and maked us the best tajine we ate in Morocco also he played music for us and his friends who were hanging out in the restaurant. We woke up early in the morning for breakfast. The owner warned us would have started snow when we ride. This means the village is not reachable anymore for the outside world. So we need to start riding soon as we have a long gravel road ahead of us.
We ride again through some amazing mountain passes on all the gravel roads, these were the first for me to ride and I was really enjoying. While riding we could see the weather changing and it will start to rain soon, we were not so high anymore so snow will not fall here. We arrived at one the highlights for motorcycles in Morocco the Gorges de Dades, it's beautiful to see and even more nice to ride it. It was wet so we need to be careful but still we were enjoying a lot. After passing the Gorges de Dades we started to search for a hotel and soon we found one where we can put our motorcycles inside a garage so they could safe. There are some walking trails near the hotel to the mountains where we can visit some very old villages. December is not clever idea to ride motorcycle around Atlas mountain.
Do you think we can ride motorcycle on desert? 🙂 Going Sahara desert.
From here we decided that we want to go towards the desert, the biggest desert in the world the Sahara desert. We were riding through Ouarzazate to M'Hamid where the desert begins and we found a beautiful camp spot at the edge of the sandy desert and we were watching an amazing sunset, in the night we sat outside and watched an amazing sky full of stars.
We wanted to try and pass some part of the desert with our motorcycles; there was a short cut to a gravel/rocky road, which will bring us to the high sand dunes of the Sahara desert. Full of courage we start our adventure the lesson is you need to keep up the gas so you can fly over the sand, this was easier to say then actually do.
She fells of the bike a few times and I need to turn back to help her, all of this under the burning sun (around 42 degrees), after a few kilometers we decided this is not doable for us. So we returned and took a longer way around to find the gravel/rocky road to our destination. We followed the road but it leads to a dead end? I tried to ride a bit more to see if I could find another road but unfortunately I didn't find anything. So we turned back again to follow a different road, which we could see on our map.
We had about 200 kilometers in front of us, the road started pretty smooth we were enjoying but getting tired as we were riding already 7 hours. When we need to turn right at one point the road get worse and much more rocky so this slows down our speed a lot, also we need to pass some dry rivers with loose sand in it. Night started to fall and we were exhausted so we decided to stop and set up the tent somewhere. We didn't see a single car for a long time and there were no houses around us so we didn't need to hide ourselves. This has been one of the most amazing nights so far, between the mountains and the desert with literally nothing around us it was so silent and so pure. We had our own million stars our camping site :).
Next morning when we woke up and took a look on the map we saw we have more than 150 km in front of us to reach Sahara desert dunes, we tried a bit more but after 30 km later we decided to turn the road was not getting better, just worse and we were tired of our brain shaking.
We turned our road to Atlas ocean.
We will see a lot more of the Sahara desert in the Western Sahara and Mauritania. We ride through Foum Zguid to Tata where we found a campsite in Tata, as we were here in the mountains it gets pretty cold in the night so the owners offer us to opened our tent in the kitchen, which nobody was using so we had some shelter.
We decided to stay for a few days as we like the city and we wanted to explore a bit around with the motorcycles. We ask around to find some nice roads and quickly we are on the motorcycles and riding in the middle of nowhere was we could make some nice photos from us with the motorcycles.
In Tata we celebrated my birthday as well, we pick a nice road to ride, which brings us through the mountains and some very nice oases. It was a perfect day for riding and we were enjoying a lot, what a beautiful country this is.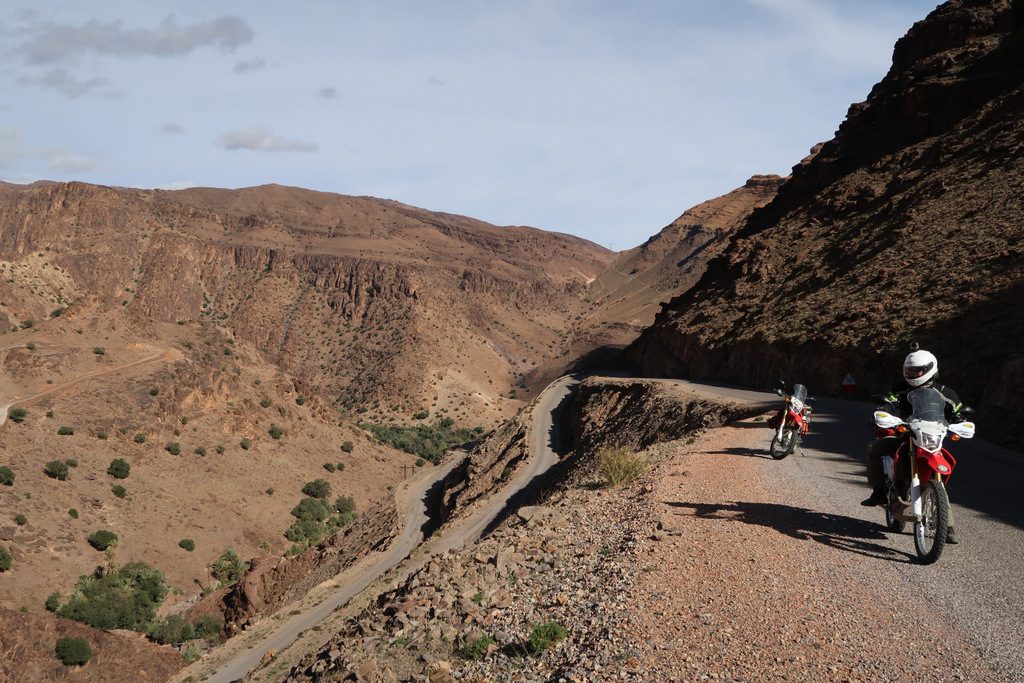 After 6 days, we leaved Tata and heading towards the coastline which we will follow all the way to Mauritania. But first we were again riding through the Anti-Atlas mountains (aka Lower Atlas mountains) again this was very beautiful. We did wild camping again at some nice places if we meet someone they didn't bother us just gave a big smile and asked if everything is fine.
When we arrived at the coastline we tried to find a place to spend the night around Tarfaya, there is only one campsite but they asked too much money for nothing at all so we decided to find a place ourselves and wild camp again. We followed a narrow road along the sea where they actually have small fishermen houses everywhere but in the dunes we could hide our self a little bit we thought. We found a nice place, but it was still pretty close to one of the fishermen houses so we went there and ask permission to set up our tent for one night.
They said it's ok and we opened the tent, we were watching a beautiful sunset and when it got dark some policemen's arrived. They didn't like the idea we were camping there and they wanted us to pack up and go to the campsite about 30 km back, we told them we cannot ride in the dark and we didn't want to leave here. The policeman asked me to go with him to his post where he can call the chief and explained the situation. It seems the problem that all people living there are refugees and they cannot guarantee our safety in the night but they understand we cannot move anymore. The solution was to move next to the policemen house and spend the night there. There was a small house where nobody is right now, we opened the tent inside there and we need to cover the motorcycles. This was ok for us only this means we need to pack everything again but that's the way it was. We had a quiet and good night. In the morning we went to the police officer his house and drunk tea with him before we leaved, another special adventure like this 🙂
From here we are riding into the Western Sahara. For us Morocco is a true motorcycle paradise, also the food is amazing and the country is very cheap to travel in.
FS