Sometimes, we can check everything a hundred times when we are on the road to don't have any problem. We wish that nothing happens but it always find you!
When we were Cabinda they told us please take a military fly to Luanda from Cabinda or take a boat to Soyo in Angola and follow the road from there. (More info just click and open new page) They can be good option but we want to pass from DRC. We already couldn't go to Kinshasa. 🙁 Nice to see some village on the road and learn a little their behavior even if it's only a 330 km ride in DRC. We asked all overlanders who met on the road and they already passed it about information. And we had the visa already.
Before start to read all details of  DRC  you can watch a short movie where we could make video about the journey;
We arrived the DRC border and a police came us to help. They were so friendly and helpful more than what we were expecting. One soldier took our Carnet de Passage and showed a building where he was going to get a stamp for us. Another police came next to us and showed us where we need to go for passport stamp. I didn't want to leave motorcycles alone there, wanted to stay. A police stayed with me if anything happened, the other police went with Ferry. And than we switched it 😉 They were screaming each other to hurry up for "we need to ride again motorcycles as soon as possible and arrive to a hotel before it gets dark" Of course we didn't understand why we must ride until we get to the road. 😉 I suppose it took one hour to finish all paper works in the border. Any case, we exchanged a little money there as well.
We turned to the road and welcome to soft sand. I have no idea why we didn't ask details about the road anybody; all info for no mud 😉 First 40 km we were so slow after that we arrived to more hard and easy road and followed to ride on gravel.
They blocked the road for tax which price are so different for tourist. We started to complain about it to don't pay. General a motorcycle doesn't pay anything on the road in West Africa. After 10 minutes negotiating they allowed us to pass without any payment. I suppose 50 km later we came another one and same conversation and no pay!
Border crossing, stuck soft sand… etc we knew that we can't go to Boma to find a hotel. Actually, it wasn't our dream to go wild camping as well. But I wrote in the beginning sometimes you wish for nothing happened and always something happens. 😉  It was coming dark and we couldn't find any spot to hide. We really started to worried. Ferry saw a small road what looks like trucks working there to get out sand. We don't think so they work in the night. We turn there to look and we found a spot just behind a hill and no track from any tires but very close to the road. We can hear everything from the road where people were walking. Must be so silent! We set up the tent and decided to don't cook because of fire and smell. We slept well in the night. 😉 we collect everything very fast in the morning and followed our road.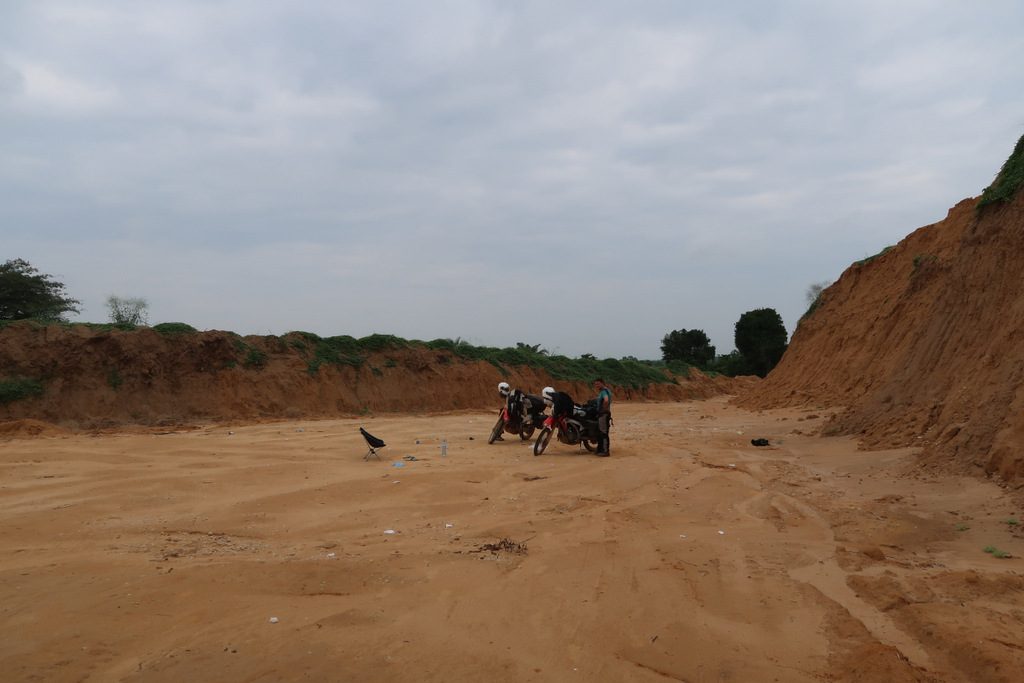 The plan was to finish the road fast and don't stop if it's not necessary. We didn't think people were dangerous but when we stop they can come to talk a second and started to say have food or money. DRC is really poor country and they don't have enough food. We were trying to share something with them if not a lot of people around.
We were very close to Matadi very early. Really!
We just turn one of the main road and came a big village or city. Ferry said " wait, something wrong. No! I have flat tire again." Looks like we would have interesting story.
I saw a little place what has a lot tires in front. Let's go there and try our luck. In the beginning, they said no but help us. Ferry started to work with the guy to get his tire out at the same time the village started to come around us as well. Ferry told me to careful with all our stuff because all his papers and electronics in bags, also money. Do you have any idea how I can do that? We have more than 70 people around and coming more. One group was around Ferry's motorcycle other group around me. No option to look two motorcycles at the same time just I can keep my eyes there. We saw that people didn't interest with bags or something else. They were only looking us, some girls touching my hair or hands, trying to talk. I suppose 10-15 min. later one man came who everybody showed respect to.
They said he is chief for the village. He was so helpful to ask what happened, we need more help, we are hungry, want to drink something… etc. and he saw the camera and said that take photo please. Wowwww, it is great to that 😉 They were like watching a live movie, I was making a movie from them. We were so different and interesting for them who behavior were so interesting and different for me as well. After 30 minutes later, we were ready to leave. We said bye everybody to hit the road again.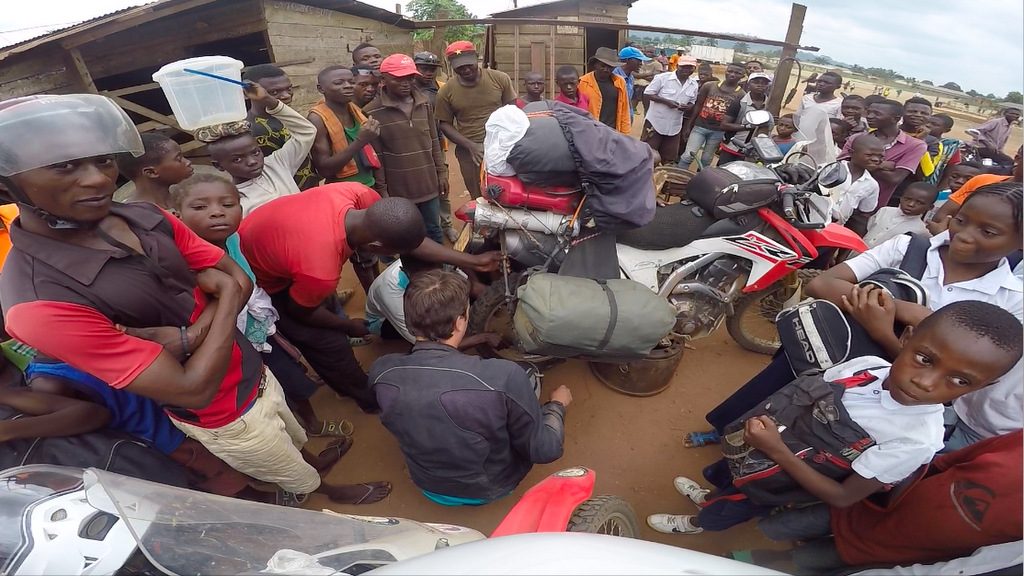 Of course, we were more comfortable because of the welcoming behavior. We arrived to Matadi around 2 pm. The traffic was so crazy there and so hot; also road is so bad inside to city. But the city view is really amazing. We looked some basic hotel and saw that the prices are crazy. It is still early, let's go to Songolo and find a place there. Songolo is the border city to Angola. We bought some food and turned back to the road.
Our first break. We just stopped and started to eat something we saw a lot of kids were coming. Where we stopped must be close to a school. We wanted to wait to see their behavior and give some candies to them. We spent time with them a while and enjoy a lot. When I was wearing my bandana they started to scream "Ninja! Ninja!' Pardon….. Ferry was laughing and saying to I can show something to them. Make kids happy is the best there is.
When we are on the road if we find something, which is so interesting for us we always forget about time and where we are. Yes, it was coming to sunset and we were too far from Songolo to arrive in the daytime. Again, we must look a spot to wild camping. That time, was so hard because no space to hide or no road to leave from the main road.
Water pumps were keep continue all the main road and every 5 km they have a little enter to check pumps, I guess. No option more, so we turned one of them. So hard to somebody see you from the road, should be fine. It was almost dark, we wanted to set up tent as soon as possible. I saw a shadow on the hill, yes looked like somebody was walking. Ferry already saw as well. No idea what we need to do because we saw his rifle. He is a soldier but look like a little drunk soldier. We tried to talk and explain why we were there. Show the sky to dark, show is to no hotel, show motorcycle too dangerous to ride, show tent to sleep there. He said okay and than leaved. Almost one hour later we saw a light where was coming must be soldier again. Yes he was now more drunk and more talkative even if we can't speak same language. He wanted from us cigarette and than leaved again. We slept a little early because of tired and wake up early.
Middle of the night, a big light was coming close to the tent so I wake up. It was a car. They didn't stop, just went slow down and then followed to the road. I was thinking we were fine, don't wake up to Ferry. I saw the car which went to the up hill and stopped there. I was hearing, they were talking. I suppose with the soldier who saw us there before. 20 minutes later, the car turn back and that time stopped in front of the tent to see us. I pushed to Ferry to wake up and I opened the zip so they can see me and talk. Ferry was telling me "Close to zip, mosquitos are coming in!" Really honey, I suppose you didn't wake up. 😉
4-5 soldiers in the car and one of them must be a commander. They were look like angry until saw a woman. I suppose to be a woman on the road most of time advantage.  We tried to explain same what we said the first soldier. He just said that please leave early. Don't worry, we will….
6.30 am, just alarm ringed, the soldier was screaming "Bonjour, bonjour…" means really wake up time, I suppose. We waved hands and started to collect and get ready. 6.45 am, another man was walking. He got really surprise when saw us there. I guess he couldn't find a word to say therefore he went. When he turned back we understood why everybody told us to leave early or so serious to check area.
We opened to the tent next to water pipes which goes all the way to Kinshasa. They have one rule: if you get close to the water pipe and any soldier see you there no question why you are there. You are going to prison. And we are there! They were telling us to leave soon because big boss searching around in the morning. If he sees us he can't be so polite and we can go to a prison. Yes, we leaved as soon as possible. And we need to say all soldiers who saw us and allow to stay there. Thank you!
We ride to the border of Angola and leave the country…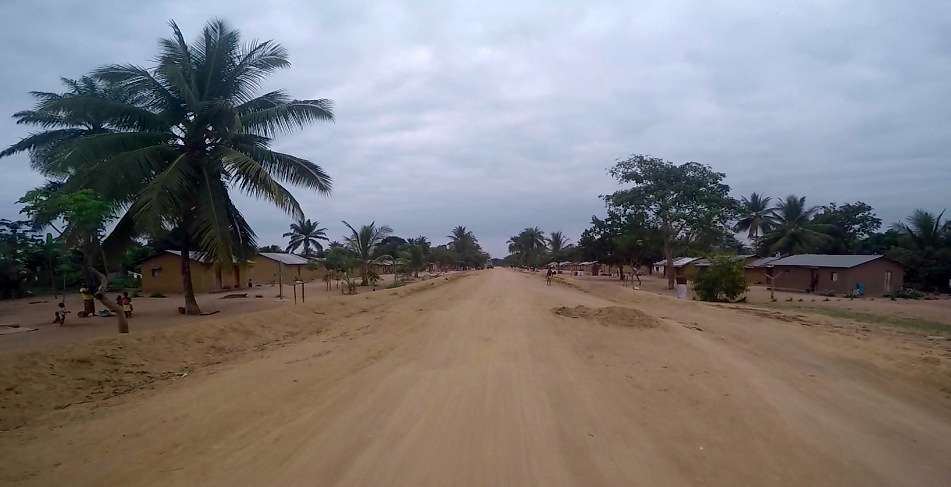 GS