I suppose that Namibia wasn't our country. Because this is our second robbery experience in Namibia after somebody tried to enter our tent when we were in!
When we were on the road a person invited us in his house. When we arrived to Walvis Bay we stayed with him. He is really so nice and friendly. It was amazing to meet him. Our plan was stayed two days. But fixed my motorcycle, see around and spent time with him means 4 days. Our last night, he wanted to show us around because we didn't go out any night. In Africa, if it's not necessary we prefer to not go out in the night.
First we went to Swakopmund for dinner after that we walk around. It was 8:30 pm, he said that let's go to Walvis Bay and look around as well. When we were passing close to the house I wanted to go home but Ferry didn't allow me. He wanted to see together. We came a place where everybody is out and looking like Western Africa for us. We stopped the car and went to a bar just a few meters far from the car. Everybody was dancing and enjoying the night. Some girls came to me and showed how I can dance. We stayed there 30 minutes and than leaved. It was 9:30 pm. He told us to walk around and look how the life was there. I asked him 'safe to walk here?' he said that he went there a couple of times before and nothing worried about. Fair enough for us…
We were passing the next street from a big square. They had a lot of street food and nice people around. We just came the corner of the next street three guys came to us to talk. They look like drunk. They told a little with our friend and than came to Ferry. I saw Ferry's face that he was not happy with the people. At the same time, he told me that they were trying to open the zips from his jacket. I told him maybe happened accidentally. They leaved in a second and we kept continue to walk. Maybe we walked 15 meters suddenly came seven guys around us. They were trying to separate us. At the same time I have no idea that they blocked Ferry. They were touching him more like controlling his pocket. I jumped between them and pulled ferry back. I remember that I was screaming to go away!
I turned our friends and said 'It is good idea to turn back to our car. I am not sure here really safe with those people.' We were far from the car 70-80 meters. We need to turn back to the square after pass it we have just a meter to the car. I was looking around to find another way to go the car and if something happened how we could escape. At the same time I was so calm, talking with our friend and Ferry.
We just came to the corner 15 people blocked our road. They pushed me out and 7-8 people turned around our friends others were around Ferry. We were in the middle of the road. The traffic stopped because our friend was on the ground and no way a car can drive around. People were on the street and just looking what was going on. Also they had some bars a few meters from us and have security but nobody was coming.
Nobody was touching me. Everything going on in front of me and I had no idea what I should do. I just went down and look for a glass or stone to protect myself but I couldn't find anything. I was so lucky I couldn't find anything! I heard Ferry's scream to HELP! I jumped between the guys and tried to push them back to give a little space so Ferry could run. I hit a guy, scratch another one. One guy was keeping Ferry's jacket and I bite him. It was crazy because when I was doing this I was thinking at the same time 'the can have aids or some other virus be careful'
Anyway, Ferry had a space to go out from their circle. I saw a taxi and tried to open the door to jump in. But he locked to door and tried to move away. The traffic wasn't moving well because our friend was still on the ground and people up him. I tried to open another car door but same thing he locked the door. At the same time some people came next to our friend. I wasn't clear that they came to help robbers or help our friend.
I was looking around, trying to be calm down and think. I could have time to that because even when I hit guys nobody was hitting me. They were looking me a second and than keep continue to take out Ferry's pants and jacket.
Of course, they didn't stop they made a circle around Ferry again and they torn his pants pocket. I was still trying to open car doors. I opened a car door finally. I was going to jump in with Ferry. That moment the scream took my mind. I never heard a sound like that before Ferry. 'Somebody help! Police!' I felt that I lost Ferry. Somebody used knife or something. In a second I closed to the car door and I started to hit people. I wanted to kill them in a second because I didn't know what happening to Ferry between them. Finally, some people move and Ferry escape between them again. Nothing was clue anymore for me. I saw a car and open the door before he locked (it was red polo). I jumped in and pull Ferry in as well. The car was going but definitely wrong direction. I told him to stop. Ferry was saying that our friend behind us and we need to help him. No reaction from the driver.
Where were we going? Who was the guy? I told him to stop again but he didn't stop. I opened the car door and told him I would jump if he doesn't stop. Suddenly he turned a street that didn't have any street light, nothing, totally dark. Nooooooo! He stopped and two cars stopped behind him as well. I closed the door and locked it. The driver was screaming get out. Get out where? Who were behind us? What could we do? I was just trying to think but I almost lost my brain and can't focus anymore. I just saw Ferry opened the door and went out. Cars were behind us, their light on but nobody moving. I told Ferry to RUN! I was running behind him. When we came to main road he almost crashed a taxi. The taxi driver couldn't understand what was happening. We jumped the car and said him 'please drive they are trying to rob us.' The taxi had already a customer in it as well. The red polo driver came and tried to take taxis key. Taxi driver hit his hand and kept the key. We were just saying drive and go to a police station. He drive a little but had to turned back to go a police station. It means we had to passed again where the red polo was. The polo's driver tried to close the road and stop the taxi. But got around.
Actually, we didn't know where the taxi driver was going but we were sure that he was on the main road. We explained everything to him. We really wanted to know what happened our friend. Ferry said 'F##k! I don't have my wallet' which has motorcycle register, driver license and our bankcards. At the same time my phone was ringing. It must be our friend! Yes he was. He escaped from there and asking where we were. No idea. The customer said that we were going to xxxxx police station. He said he was coming there, meet there. We arrived at the police station and taxi driver asked 10 R. No wallet, no money. We told him if he wants he could wait our friend and we could pay him. He didn't wait and left (big thanks for him).
When we entered the police station it was 11 pm. It means we fight to run away more than one hour. Polices were looking me so strange what we were doing there. We explain about the attacked and robbery. Of course, they were asking where it happened. We didn't know. Finally our friend arrived and told other details what the police need.
We were so happy to see him in one piece and he was totally fine. After that we he jumped in the car. The persons left from the area. Just a few people were up to him so he could stand and started to run. 3-4 guys run behind him and hit his leg to fall down. He fell down but stand again and arrived to car. When he was leaving by car they tried to break the window and stopped the car. But he didn't stop and drive towards to them.
After here I will try to cut stories a little because If I want to write all details It looks like I need write more pages;
The police said we were fine so no case. I got really angry for that. Yes, maybe we just needed to say Thank you GOD! And turn back to the home. If I do that I know that I never forget what happened today and I will always be scare to go somewhere. My life will never be the same again….
I told the police about our register and driver license. If we can't find them we have to go to our Embassies and explain all. We need papers from them about the case and than they need to think the next step. They said ok to help but they didn't have a car to go back to the robbery place. I said we have car. 5 police can sit in and Ferry and I can sit bag. They said how can we find them it was a crowded attack. I told them I saw three of them well and will remember their face. If I see again I can recognize them. So, we went back to the area. Police told with somebody and said that hard to find. No way! I took a police with me and went to all bars and street to find them. They were disappeared. Some people were coming next to us and saying 'we saw what happened we were looking at. If you give 400 R we can show you where they are' No comment!
Police wanted to stop looking. Therefore made me mad… I just started to scream middle of the road that 'Nobody can touch us like that. Which country this is! You can't help tourists in your country! Which kind of police you are! Which kind of people you are!….etc.'
It was unbelievable the red polo came and stopped. I saw the driver was flying. I have no idea what he took. It was look like living in another world at that moment. I showed the police this is the guy who took us. The driver came and said us "He saved us we have to pay him for that. When he was running he hit a car and has damage. We have to pay for that as well'
Anyway, I am skipping some details now. It was 4 am and they found the guy who started everything first. Who in the beginning tried to hug Ferry and opened his jacket zip. The police said that go back home and come back 8 am in the morning. They were going to talk with him to learn where our register and license is.
We went home but no way to sleep. We went back to the station at 8 am. Of course the shift has changed and three women inside. They looked us so strange and asked why we were there. Serious! We explained the story again. They had no idea about it. Just said that they have two person in the prison maybe one of them is ours. They took them out and we pointed who is ours. Which street it happened is not their responsibility. We had to go to another station. Really! All night your police were with us, and our suspect is in your prison. They didn't want to open the case because we were tourist. We were going to leave from Namibia soon and they would have more robbery cases in their hand without witness.
Our friend called somewhere and than the phone ringed at the police station. Suddenly everything changed. They opened the case and wanted help us. But end of the day, they sent us to another police station because the case must be there. We went there. I came face to face with the guy again. The police allow to me talk with him. We talk for 2 minutes and than he didn't want to talk with me I suppose I have a little sharp tong. 🙂
The other police station got only our friend and Ferry's story. The investigator said that they must have mine in the case as well. Ok, no problem. I just started to talk with the police, when we hear a gun shot outside. They left us inside and they went out. We saw one guy was keeping his shoulder and everywhere blood. One police took the gun from other person's hand. We heard he shot him for only for 10 R. We were scare enough. Of course, it was a serious problem therefore came more police to the station. Some of them got surprise to see us there and read our case. And then he asked us what we were doing there, not a safe area for tourist. First of all it was 9 pm. Second we were on the main road. Third, we didn't know safe or unsafe area. Just local people were around. We didn't get drunk or do something wrong. We were coming from DRC, Congo, Angola…etc. where the life looks like same as there. We were in Africa more than a year and never happened something before. We saw always people were so friendly and learn a lot about culture. So, if the police told us that not safe how can you see local life. After he listened us he agreed with us. He wanted to keep open the case and help us. He made some phone calls when we were there. We told him that we didn't want a case just want to have our register and license to leave from Namibia. He said he would find it and the case stays open. When we were leaving the police station the police said that they have a place, which is called 'crime watch' and just 2 km. far from the station. We must go there and check our wallet. I didn't want to go there alone so I wanted the police call here and learn info. He said no! We must go. OK….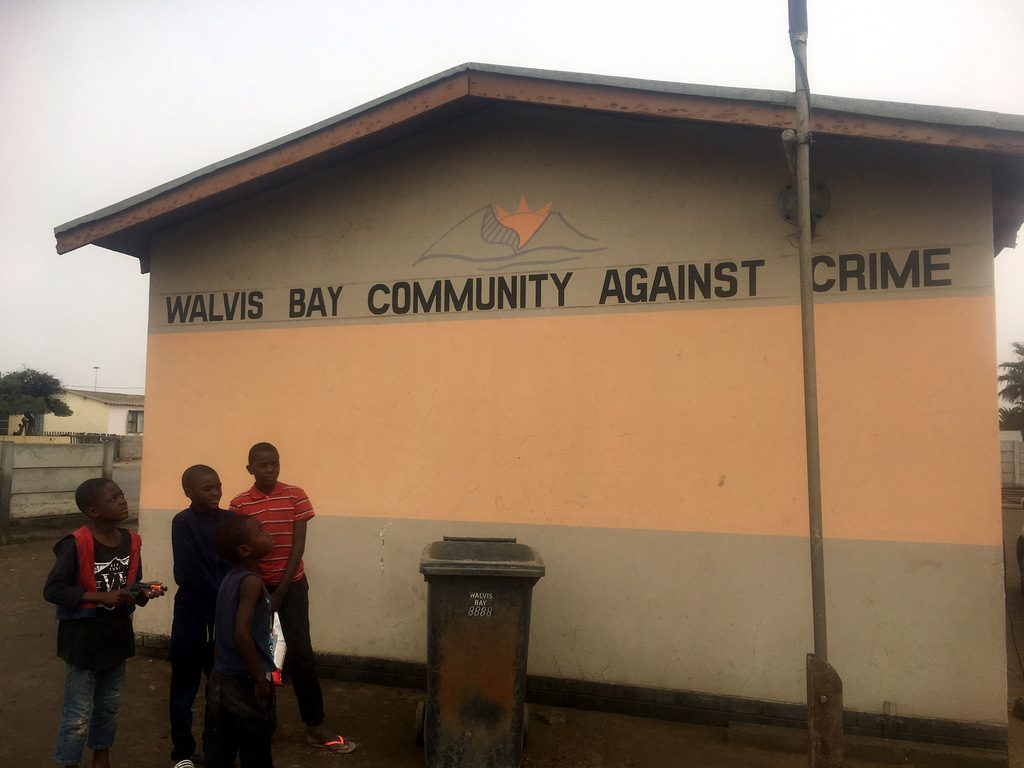 Our friend passed from there and we went to the little house. We just entered from the door and who was sitting inside gave Ferry his wallet. Ferry's driver license, register and bank card were in it. No money and credit card. I suppose the police knew our wallet was there.
On Monday morning we had our case on the court. They said that 9 am in the morning and we wanted to be there. But it was coming noon and no news. So, we decided to leave before it gets to late. We were looking for our case to what happening. 3 months later the court found him no guilty!
We were so lucky that nobody used a knife or gun because everybody was carrying something. A while we talk about it what we felt what should we do… And we decided to keep continue our journey. I hope that we never have something like that again.
GS