We would like to see east, south, west and north of Madagascar in our journey. But rent a car or fly inside to Madagascar was so expensive which is definitely out of our budget for the world trip. So, we skipped the beaches and islands and we choose west, a little east and south. We booked our flight from Johannesburg and went to Madagascar for two weeks.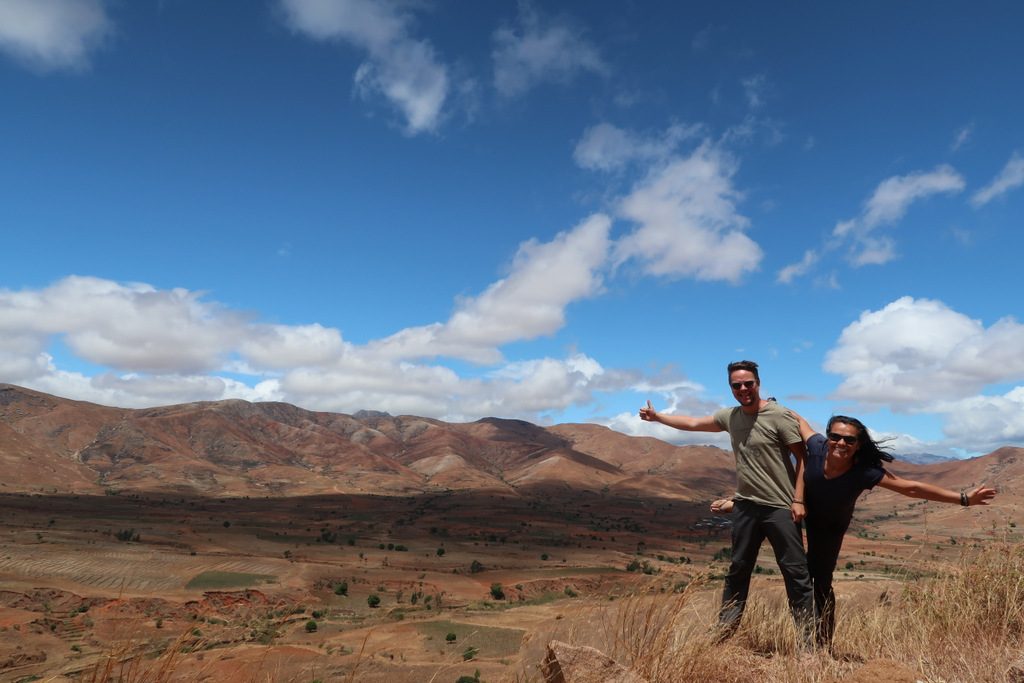 (1)We arrived to Tana around 4 pm because of delayed. After passport control and exchanged money we went to out to meet our driver. (rent a car and price detail) He already said that we were late to go Antsirabe because of rush our in Tana and a little dangerous to be on the road after sunset. Dark is really dark on the road; you can't see well that you pass a village, where people, kids and animals walking on the streets. Also, truck drivers and taxi busses are so crazy and they don't have enough light to see them. We arrived to Antsirabe around 9:30 pm. After dinner we looked a place to stay but most hotel was fully booked others were so expensive. We stayed a hotel which is you don't want to stay. No shower and dirty. We entered our sleeping bags to sleep.
(2)Next day, we went to Morondava. The landscape was amazing. We couldn't decide left or right had more nice view. We were in the car 8 hours to go there. We arrived afternoon, found a hotel to have a shower and get rest. Our driver took us a local bar to drink and eat. It was so nice taste and cheap, after that we passed out.
(3)We woke up around 7 am and started to drive again to Bekopa where The Tsingy de Berhama National Park is. It's a 280 km dirt road with gravel and a lot of sand, which means you are going slow and bump in the car all day. We passed from Baobas avenue but didn't stop because we must be in Bekopa before 3 pm to buy our park tickets before the ticket office closed. Maybe the road took around 8-9 hours but was so beautiful the see around. Also, took two little ferries to pass rivers.
We arrived there 2.45 pm and bought our ticket and met our guide for the park. We wanted to camp there. (camping price detail) Camping stopped and local people were so friendly. Our driver looked a place for dinner, which was 4.000 AR to rice and chicken. It is cheap price! When we went to the restaurant they saw us and said that we are white therefore we must pay 6.000 AR. They put chicken for three on one plate to we share with our driver, Tahina. He paid 4.000, we paid 6.000 for the same food. No more option to look for other thing. 6000 AR is 2 USD so still not expensive but we didn't feel good that the price changed like that.
(4)We want to see Big Tsingy. (Madagascar national park enter fee and guide price) That's why we woke up 6 am and picked our guide up from the village we went to the hiking spot. It was 17 km but took us one hour. I suppose that you can imagine the road condition. It was amazing and so much enjoyable half day for us to be in Tsingy and see it. And we see Lemur there. We saw a brown and a white one. After finish the tour we were planning to stay one day more in Bekopa but we didn't like behavior of the restaurants and bars. Because it is touristic area and when they see you they want to double price. We told Tahina to go Belo. The other day we stopped there for lunch. We liked the restaurant and also wanted to spent more time there. We went there, find a hotel, walked around and than jumped to the same restaurant. 🙂 when we were leaving it was closing time. The owner was so happy to see us again because not many tourists come there. Ferry went there in the morning to buy coffee and bread as well and they had a big smile when he came. 🙂
(5)After a couple of day Madagascar finally we could sleep till 8:30 am. We visit some villages on the road. We had break to see oldest baobab tree and love of baobab trees (2 baobabs hugging each other). Also, we saw white black Lemur there with babies. And then we arrived to Avenue of baobab. They said that sunset time is so nice but it's very crowded that time, so for us noon was better because we wanted to fly with our drone there. Perfect nobody around only some local people. We could take a lot of photos and spent time. We could wait sunset but it was more interest for us to go back Morondava early to walk around. This time we stayed a hotel, which is more close to the beach. We walked around, went to bazaar, try to communicate with the local people. They were so kind and nice. In the night, we went to the same bar for dinner and drinks.
You can also watch Avenue of baobab how looks like.
(6)This was the west of Madagascar. We wanted to go Ranomafana and Isalo National Park. It means, we need to go south of Madagascar. (Madagascar national park enter fee and guide price) They have only one main tar road. Therefore, we turned back to Antsirabe. Again we were 8-9 hours in the car. Good thing is the view. Maybe we were passing the same road but it looked like different landscape to enjoy again because of weather. This time, we found a nice hotel and stay there. No dinner because Ferry had stomach problems. So, nice to stay in the room get rest and don't eat so much.
(7)Next day, we were on the road 11 am. He got rest. Also, our car had some break and tires problem on the road. We waited Tahina to fix it. Normally our plan was go to Ranomafana Park first to be in the rainforest. When we were on the road we decided to skip it because we where also going Andasibe National Park which has a rainforest also and the biggest lemur. It doesn't make sense to pay two times enter fee to see rainforest. (Madagascar national park enter fee and guide price) After 5-6 hours drive we arrived to Fianarantsoa. Ferry wasn't feeling good so we just stayed basic local hotel, which we found first. We went to quick shopping and turn back the hotel. Fianarantsoa is crazy city on sunset time because of mosquitos. I don't remember how many mosquitos we killed in the room but more then 30!
(8)In the morning, first we went to pharmacy. It is a big city so we could find a pharmacy and buy pills for stomach problems. After that we were on the road again to go Isalo National Park. Before that we stopped on Anja reserve to see most the famous Lemur. We knew that we had a chance to see them in Isalo if we are lucky. In the reserve, we don't need luck J We saw many Lemurs and some other special animals. When we arrived to Isalo village it was 4 pm. We stayed Chez Alice. Nice place to see Isalo Park landscape.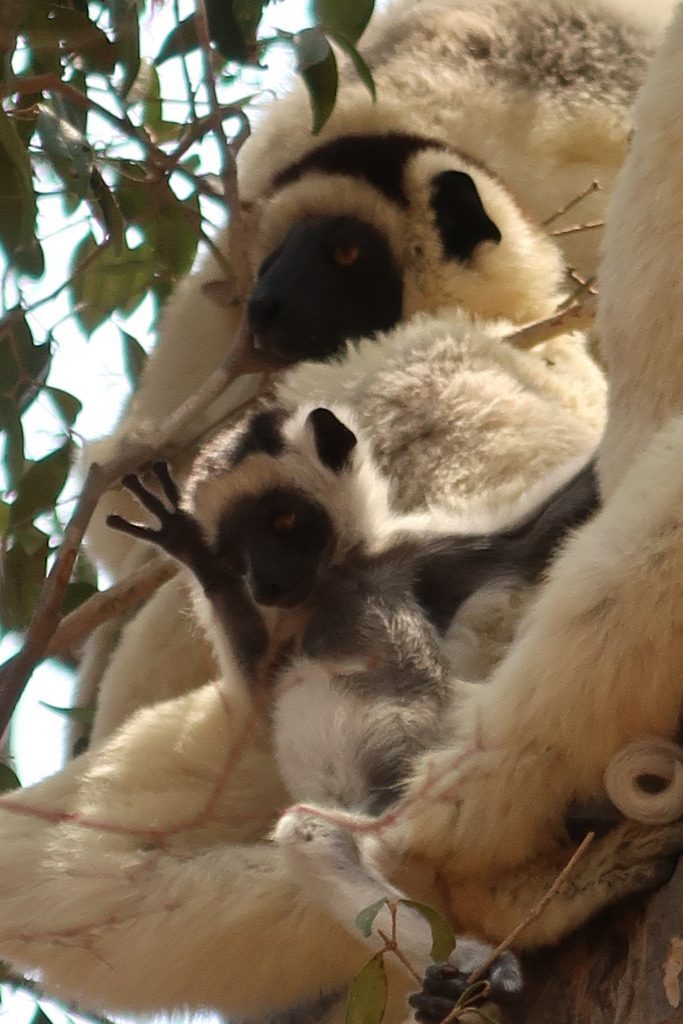 (9)Our Isalo Park tour stared 8 am in the morning, which was 12 km trekking and around 5-7 hours. It depends how much you want to stop for photos or swim in oasis. It is nice park but we like more Tsingy. We were luck to see three kind of Lemur there. We didn't want to swim first three oases but when I saw last one I couldn't keep my self and jumped to the water with my clothes. 🙂 It was so beautiful. The water was so cold but the weather is so hot. My clothes get dry in 30 minutes. End of the day I didn't get sick… We turned back to the hotel around 2 pm and wanted to stay there to enjoy with view and get some rest.
(10) After Isalo Park, more people go to Ifaty for beach. We wanted to see parks and Lemur. Therefore our next stopped was Andasibe park. We must go to east of Madagascar. So we have to turn back Antsirabe again. Maybe Isalo to Antsirabe is not so far from each other when you look at the km but it takes so long because of the road. We first went to Fianarantsoa. We stopped many places on the road for photos and enjoy with landscape. We also walked in Fiana to see around. This time we stayed another hotel, which was much nicer even a bit luxury.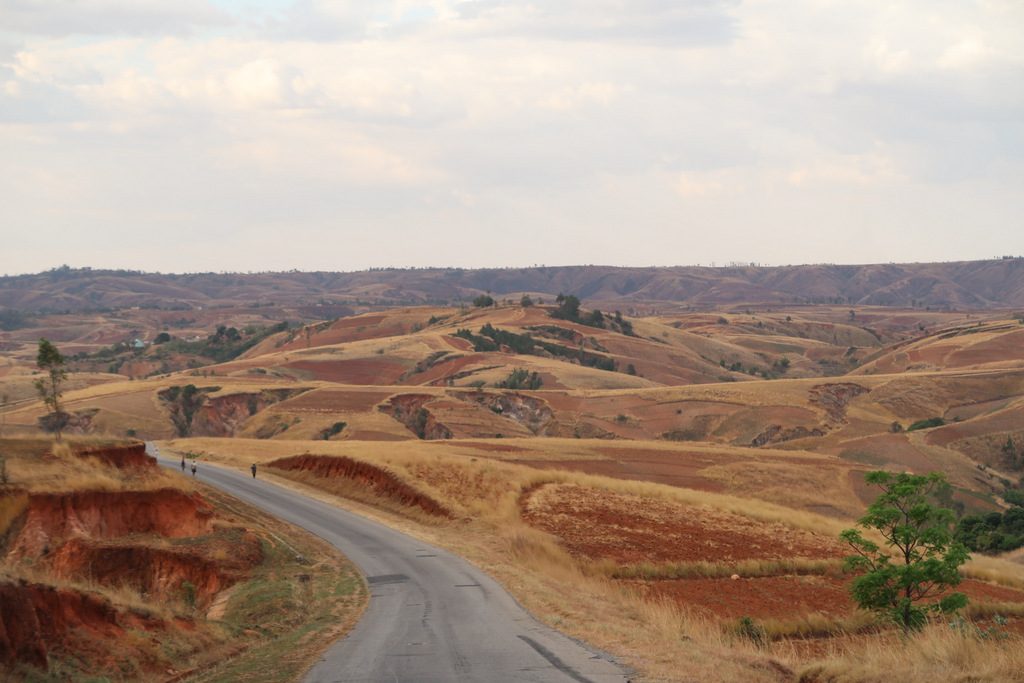 (11) Turn back to Antsirabe from the same road but the weather was different. So, we felt that we didn't pass the road before because the landscape was nicer. This was our third time to be in Antsribe. Finally, it was early and we didn't have any problem. We could walk around the city a little. Nothing special but you can find a lot of nice restaurant and really good food.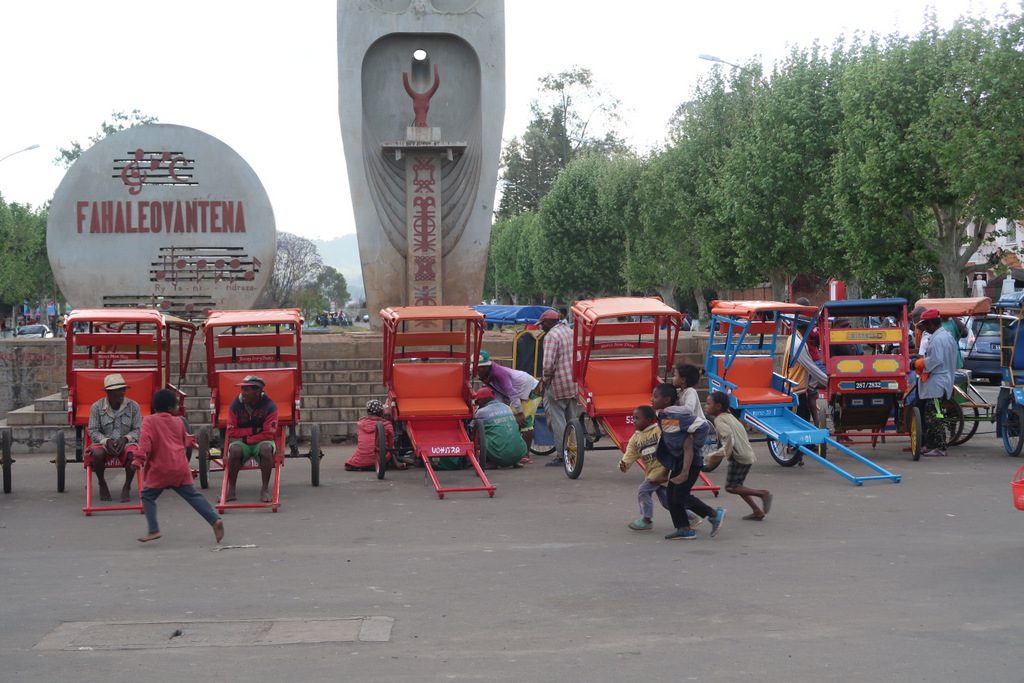 (12) Normally, we were going first to Tana after that Andasibe . But this year blade was more bad, started early and more people dead because of that in Tana. We decided to go directly Andasibe and don't stay in Tana. After 7 hours drive we arrived in Andasibe national park.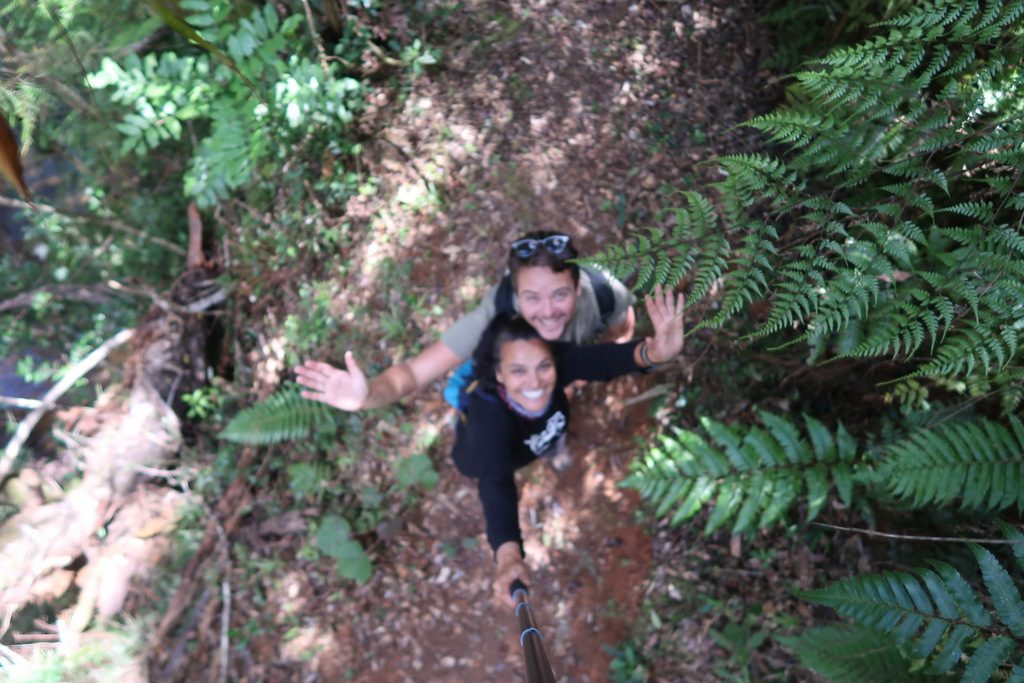 (13) In the morning very early, we went to the park to see Lemurs. It's a nice walk in the rainforest to see some animals and of course the biggest Lemur. After that we went to another tours to be more inside in the rainforest. They made a lot of different option. If you want to mix some tour together in one time you should ask your guide. We paid for oasis tour to trekking but at the same time we walked to the Sacred falls as well which was you need to pay extra normally 🙂
(14) It was time to turn back to the airport but our flight was next day 3 am in the morning. So we took our time in the morning and left around noon. Tahina drive very slow and we stopped some village to walk around. Also we had very long lunch but Tana to Andasibe Park is max 3-4 hours drive. Therefore when we came to Tana we drive a little around to see the city. After that Tahina said let's go to a local bar to eat and drink. Good idea! We were there 5 hours.
Finally, it was 10 pm and we went to airport. We were thinking that we can sit somewhere inside and wait. But we couldn't enter check-in area. No sit around. Wait, wait and wait like time didn't passed. It was 1 am and we could check-in and than went to gate for our flight.
We like so much Madagascar. We saw first time people works a lot in a African country. I suppose because of where they came from 🙂 Middle of Madagascar had immigrated from Borneo Island. So a lot of Malaysian and Indonesian people came to Madagascar and they look more like Asian people with a little dark skin. You can imagine why they like rice a lot for all meals and have a lot of rice fields. We didn't go to the north of Madagascar but they said that more Arabic people living there who moved many years ago and stayed. South of Madagascar has more African people therefor they don't have a lot of rice field. All part has different culture and life. Also, it has different landscape and weather. If we had our motorcycles there we should have stayed more in Madagascar to discover.