I don't know where I can start to write about our Zimbabwe adventure, which was one of our amazing African journeys to meet culture and have another experience with motorcycle.
Border Crossing
We arrived to Zimbabwe border in Kasane. They said that no "Kaza Visa". We got a little upset for that but we didn't have any option more. So, we got single entry 30 days visa after wait 1.5 hours.
Before start to read all details of Zimbabwe you can watch a short video about the journey;
Victoria Falls
We went to see the Victoria falls and stayed a couple of days there in a backpacker area. Which was expensive and not that much space for camping. 10 usd pppn and wifi was 3 usd pppd. It is touristic area what we waited of course it can be expensive.
First time we went to the market we figured out that Zimbabwe is so expensive. First of all, their currency is USD. 1 liter petrol is 1.45 USD, an egg is 0.50 USD, 1 kilo tomato is 3 USD…. etc. Everything was too much for us to stay longer. It was good idea to pass Zambia as soon as possible. But it didn't happened 😉
As we had a single entree for Zimbabwe only we want to see more!
We were looking the map where we can go, what can we do or see in Zimbabwe. We wanted to turn around the Kariba lake, go to Binga and see a little bit of the local life in Zimbabwe. But we were not sure about the road at that moment we met Mark who has been working in Chizarira national park. So, he knows the road well. After talk with him we decided to go there.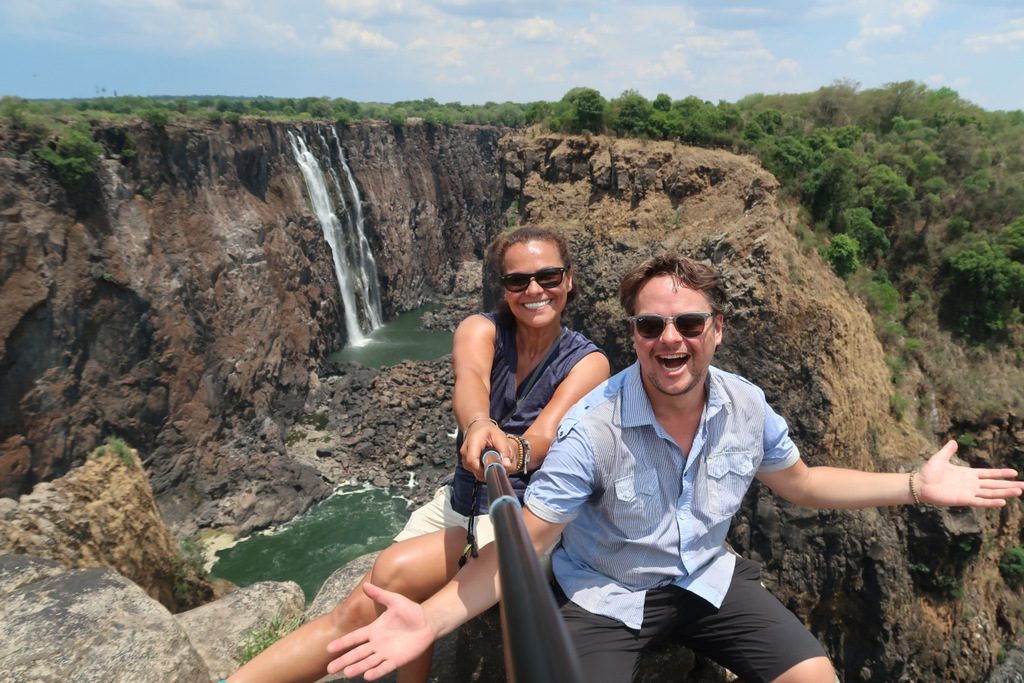 From the Victoria Falls to Binga to Karoi
First 100 km was tar road. Before turn Binga road we went to the last petrol station to have a full tank. We had the information that sometimes Binga run out of petrol. We filled two 5 liters bottles with petrol to take with us. The road is 500 km. We can go 350 km with our tank and rotopax.
We turn the road after 40 km later gravel road and soft sand started. We stopped to talk because the road was look like going nowhere. 😉 both of us knew that we miss the challenge and adventure. We had enough petrol and had enough water for 2 days. So, why not! Let's do that…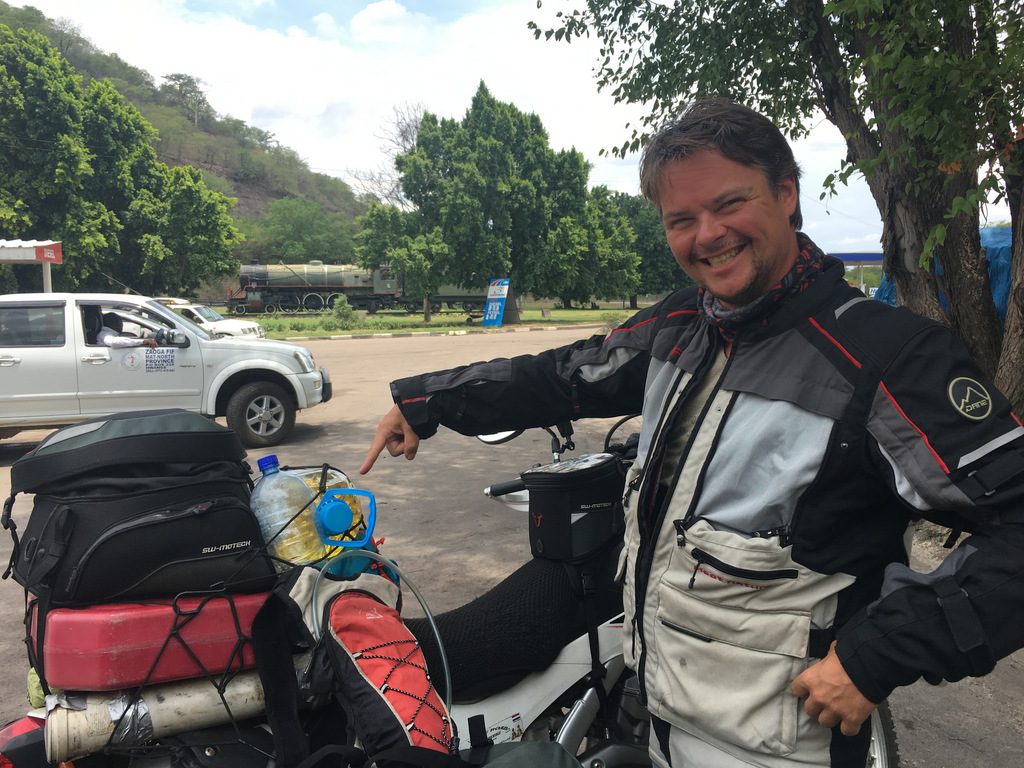 Welcome to the African rain season!
Our plan was to go to Binga first night and find a place to sleep. But, the rain started suddenly like a shower. We were on the gravel road and can't see very clear in front of us. Therefor, we leaved from the road and went inside the bush until nobody can see us. We opened very quickly our footprint to make some kind of roof for us than we could be safe from the rain. We waited a couple hours but the rain didn't stop. It was already dark. It was looking like that we couldn't ride anymore so don't wait more just set up the tent. Terrible thought, to set up the tent under the rain because we don't want that the inside gets wet. We got wet but the tent didn't. Well done to us. 🙂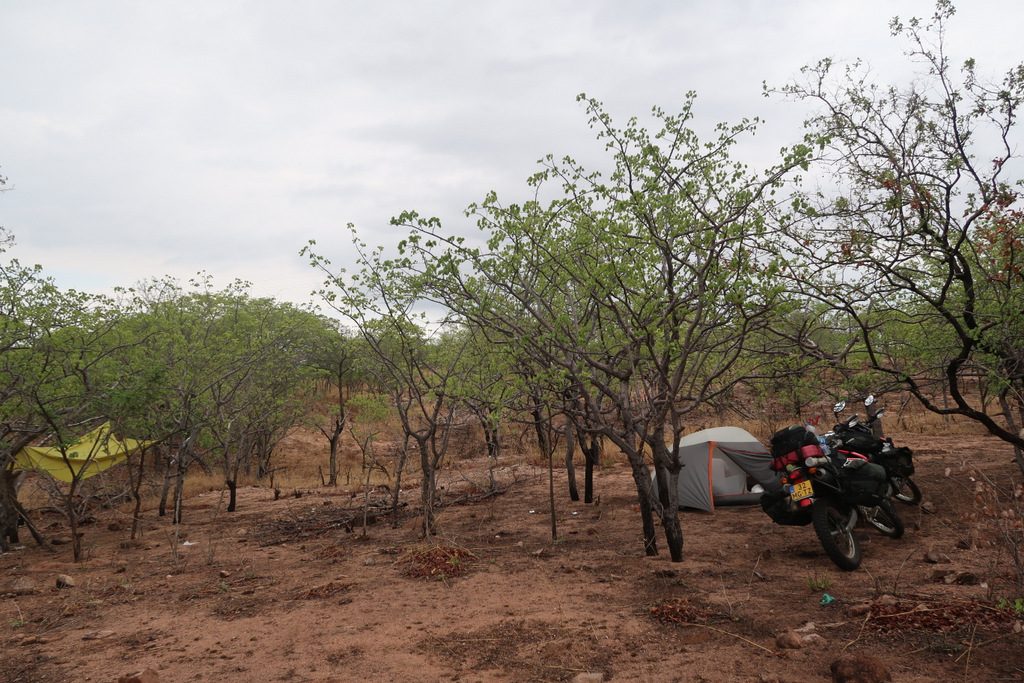 Finally, the rain stopped around 5 am in the morning. So, let's get ready to hit the road again. We arrived in Binga and learned that they don't have petrol. Yes, we had enough petrol to finish the road but any case nice to have 2-3 liters more to make sure we are safe.
We went to the Masuma River Lodge which we heart before from Mark that we can buy petrol from them. The manager was so friendly. We got petrol same price also bought water from them. The weather was so hot and he gave us cold soft drink to refresh. 😉 It was still early morning and we couldn't ride yesterday. Clever idea to keep continue our road.
Meeting local people
It was our second day but was enough to see how much Zimbabwean people are so friendly who were shaking hands, smiling and every stop they were coming and talking with us.
On the road we saw a lot of village and houses that looked so beautiful, we wanted to go inside to see their life and learn a little about living there and culture.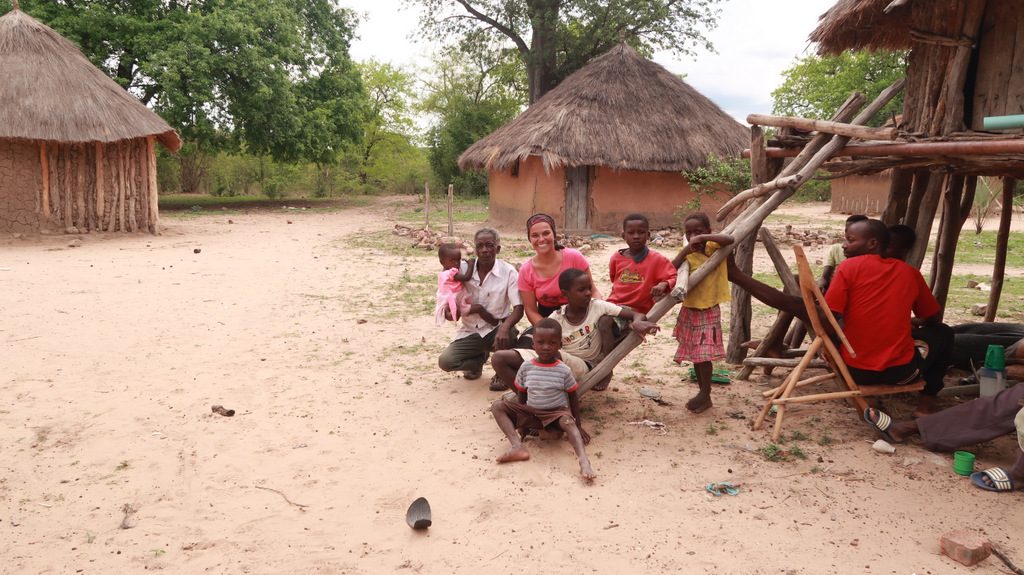 First we stopped at a place were one woman was living with her 5 children, they showed us around and we talked a little bit with one of the daughters who was speaking a little bit of English. Unfortunately we where not allowed to take any photo's and we respect them.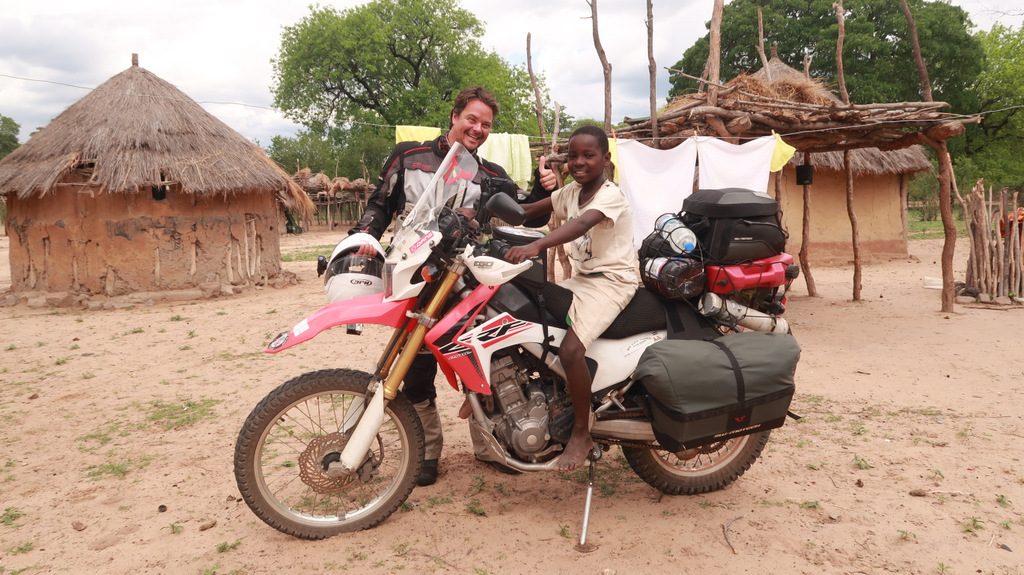 We went to another village and got invited with open arms. The people who lived here called the Tonga tribe. They where so proud to show everything around to how they live, what they grow, what they have around…etc. There were 47 people living in this village. The oldest woman was 120 years he told us (we don't know how long a year is in the Tonga tribe).
Rain again…
As the clouds where getting darker and darker we decided to jump on our motorcycles again and make some more kilometers. This was a nice thought that didn't work out. After another 10 km it started raining again, we stopped next to the road and opened our footprint again to keep us dry.
We hoped it would stop raining so we can ride a few more hours as it was only 2.30 pm. Unfortunately this didn't happen, but we couldn't camp here either! So we packed started the bike and went looking for a better spot which we found in a few kilometers. We set up the tent, put the footprint up again so we could sit dry and cook our dinner. After it got dark the rain stopped and we actually had a nice clear sky to see a lot of stars.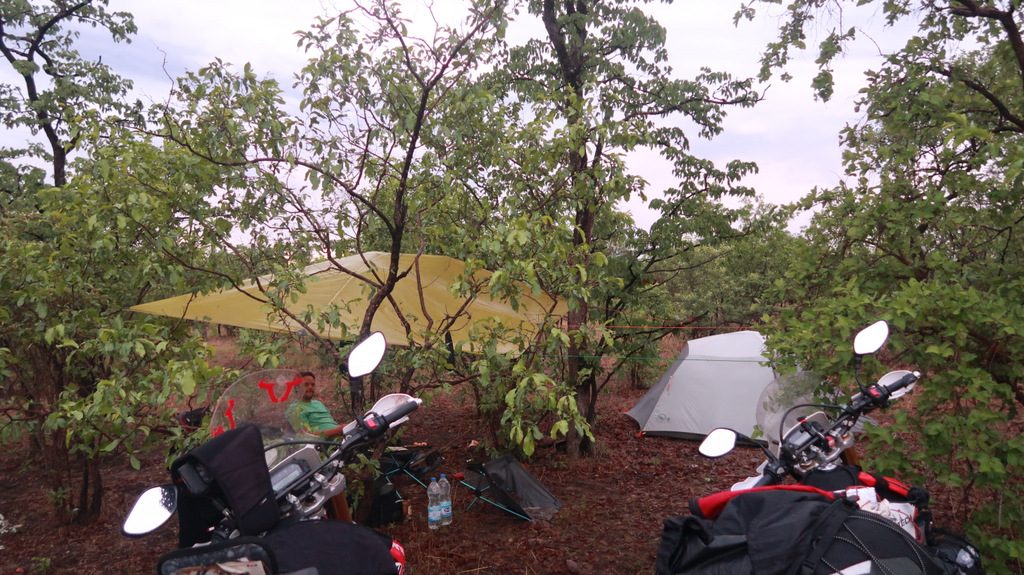 When the sun came up at 5.30 am we woke up and got ready after a good breakfast with pancakes. We started riding 7 am in the morning to see if we can make it to the end of the road. We started to run out of water at this time, so this was our priority to find now. We asked some people on the road where we can find a waterhole to get some water. They all send us the same way and eventually we found a waterhole where I could fill our bottles.
After that we saw another nice houses and went in to meet them. Only one family was living there with 5 kids. They were so friendly. They show their land what they grow there. Also, we saw their kitchen how they can cook and safe their food. Told little kids and than we said bye them.
We skipped to continue the road!
When we came half way there was a turn to the south towards Gokwe on a tar road. We didn't take it and kept continue our road. We ride about 10 to 15 kilometers but the road got worse and worse. As our water sources are running out we talked a bit and decided to turn back and take the tar road to Gokwe. Because we didn't sure that we can finish the road in a same day. If the rain comes a lot We could have hard time to ride on the road with mud, sand and gravel.
Stay a local house garden…
We put some air in our tires again and started to fly over the road again, there were some potholes but we are passing them easily sometimes it's like playing a video game. A while later, our opinion that the road was thinking itself that It is a tar road. 🙂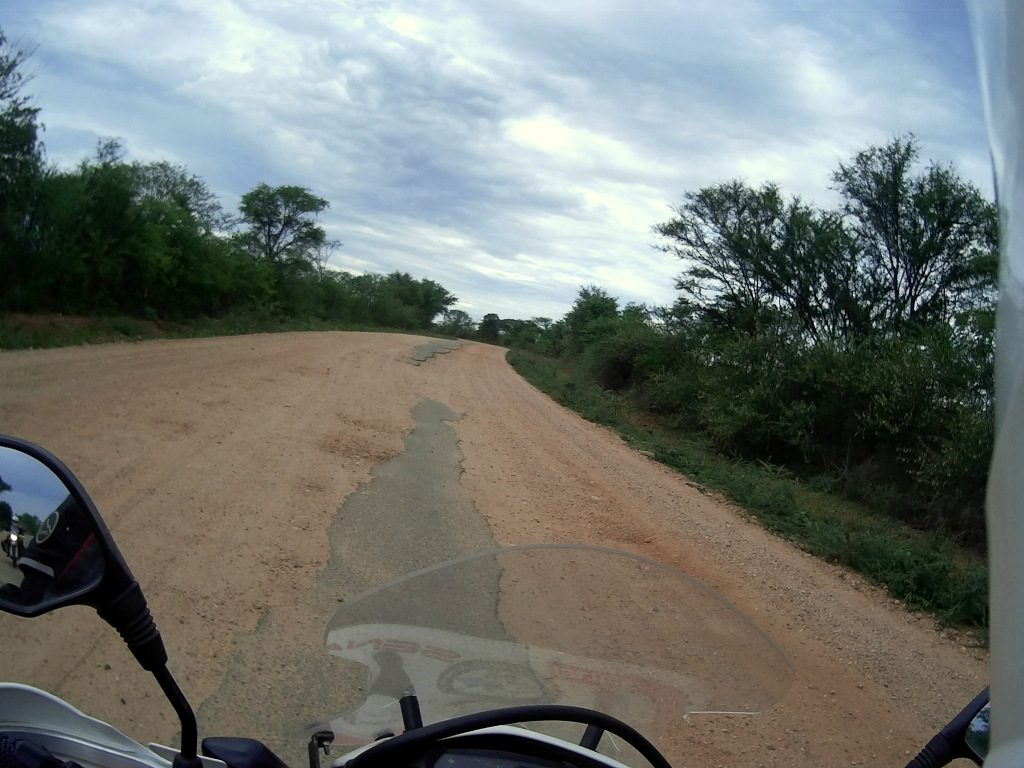 When sunset started to come we where looking for a place to camp, all we see was people on the road and houses everywhere. Not good at all for us. At 5 pm I said to her let's just go to a house and ask if we can camp, this is what we did. We asked if we could open our tent for a night on big plot where they are building a church (probably already for many years). The owner was a little bit surprised but was happy to let us open our tent for one night. When we set up our tent the whole family came and visit us, they where all so happy and welcoming we really felt great staying on their plot.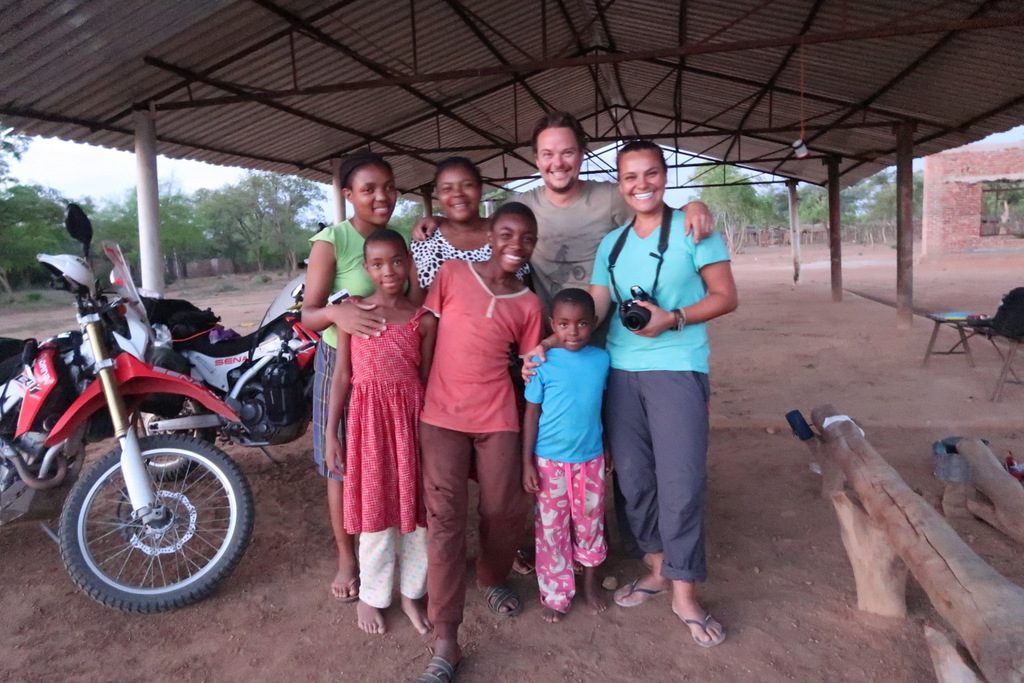 Visiting Chinhoyi Caves
In the morning we paced our tent early and left towards the Chinhoyi caves one of the 7 wonders of Zimbabwe, there was a campsite next to the caves which was again way to expensive but if you stay at the campsite you can go to the caves for only 3 USD which is normally 10 USD. We arrived on a Sunday so it was really crowded with local people at the caves but also at the campsite what they use as a pick nick site during the day. It was nice to see how the locals spent their Sundays using a braai (bbq), listening some music with their friends or family.
Going Kariba Lake
From the caves we went to lake Kariba, before we went there we passed the city Karoi where our normal road would have end and now we needed to get our last petrol there in Zimbabwe. No petrol in Karoi, we went to 5 different petrol stations and nothing to find.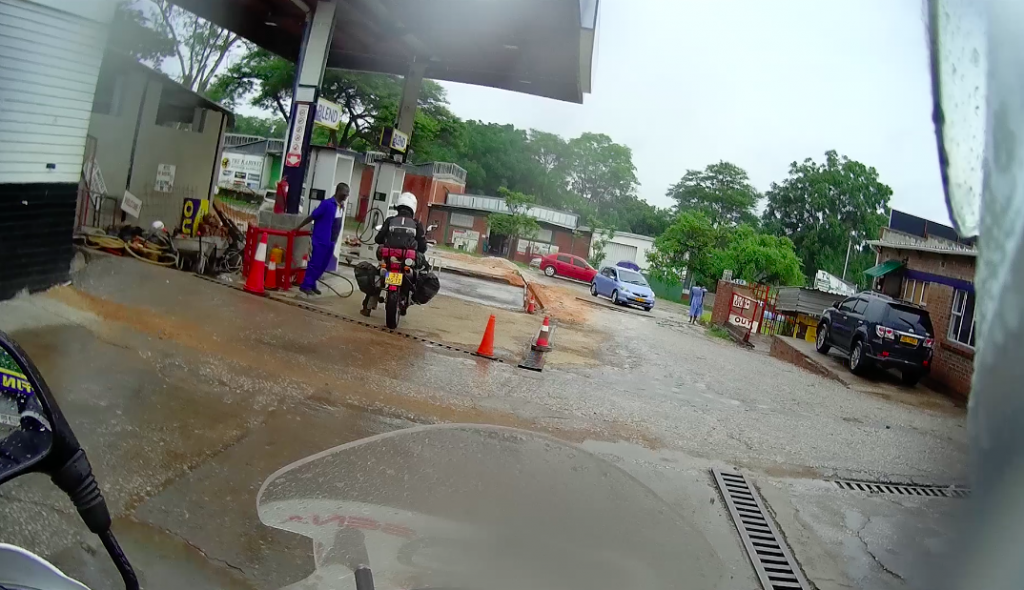 We asked where is the next petrol station, they told us 85 km on our way. Ok, we can make that. When we arrived in the next town where they should have petrol the only station was closed for years, what can we do now? I found a lodge and went there to ask where I could get petrol, they told me in Kariba another 80 km away from here. No way we would make that I told them. There was a lady in the back listening to the conversation and she smiled and told she would help us with a few liters (we only need 2 liters). She filled a jerry can and gave us the petrol we needed. That was lucky! We continued our road to Kariba what turned out to be a very beautiful road, on the way we stopped and made a little movie with our drone from the surroundings. And arrived at Lake Kariba.
Here we found a simple but affordable campsite to stay 5 USD pppn, they had a nice place to sit and with a little view of the lake but more important there were a lot of hippo's in front of us in the water. We love to see the wildlife. After a while a few zebra's visit them as well, we had a great time looking all of this. Then sunset came, unfortunately this was not visible from this site. We walked a little bit towards the lake to see it and it was a beautiful sunset, but we needed to keep a eye on the water as well as the hippo's where there looking what we where doing.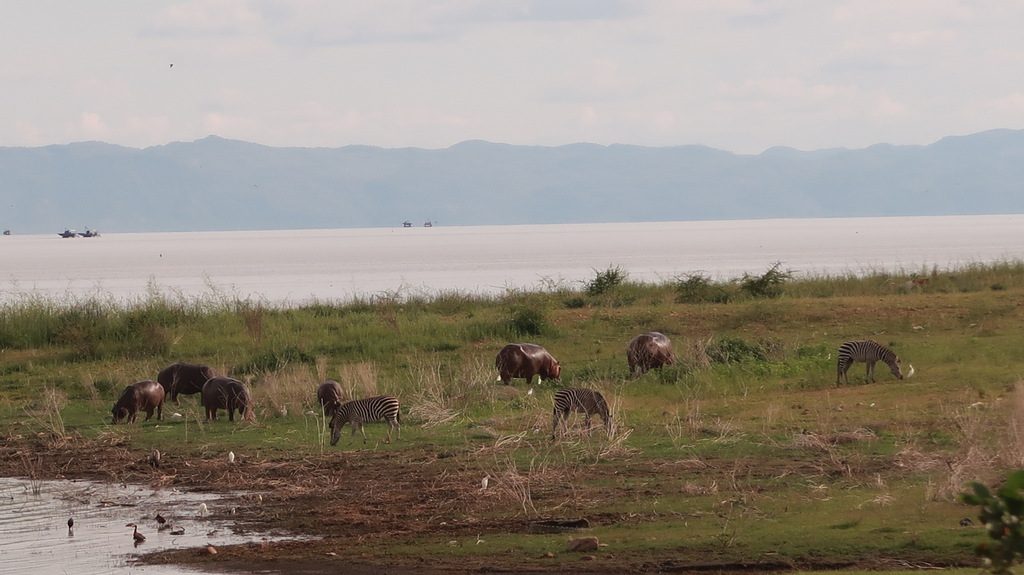 Flat tire.
We woke up early to pass the border as quickly as possible, after breakfast I figured out her tire was flat. Damn, that needs to be repaired. This is the first time we repaired the tire by hand with only our equipment available. I think we did a great job together and after 1,5 hours we where ready to go!
We had changed her inner tube. First time, we were in Gabon a tire repair (some king of shop) shop had a big hole on the inner tube when he were changing the tire. This repair open in Mozambique and we repair again. 2.000 km later again flat tire and the problem was coming again same torn. Therefore, we decided to good idea change the inner tube. We were carrying extra one with us. 🙂
 Let's see what Zambia will bring us 🙂
Would you like to watch Zimbabwe motorcycle trip to see all what you read here.
FS-GS