We stayed in Norway a month. I wish we could stay more but it was so cold. Normally best time to be there in July and August but we were unlucky for the weather in 2016. We were on the north so we never understood when the dark was coming and how much time we could spend on the road. Each road was so enjoyable therefore we ended the day mostly around 10 pm.
In this article we wanted to write amazing motorcycle roads or scenic roads in Norway also a little about hiking points as well. Maybe it can help your journey to ride in Norway;
Our first day in Norway, we ended up around Moss. It was light rain sometimes during the day and we didn't bother so much. When we found a spot the set up our tent the rain started crazy. In 5 minutes we were totally wet. We were trying to set up the tent but rain and wind were so much to do that. First time, I saw first time Ferry broke down. He stopped and said that "Go and find a hotel. I can't do this any more." Maybe, it was good idea but collect everything, go back to the road and start to look for a hotel could be take more time. We could get more wet and I didn't want to do that in the dark. I told him "stayed under a tree I can manage everything." We need to help each other. If I broke down like him who can help us? I opened the tent and put everything in. Tried to cook inside, made a coffee and calmed down. The rain didn't stop all night. Good thing was our tent didn't take water in….
We woke up with a lovely day. After breakfast we were on the road again. When we arrived to Lavik we found very nice place to camp. We wanted to enjoy in the camping. So, we made only 70 km in a day.
When we started our journey in Europe to the North Cape we promised each other for "Nobody push to ride more and more if we find a spot to enjoy just stay there. This is our journey…" Therefore, it doesn't matter to make 50 km in a day or 300 km.
Next day, we were on the road to Skien. We arrived at a nice lake. We saw a sign that was writing, "You can camp here but not more than 3 days." We could stay 2 days. J It was really lovely place we love it. In the night we met 2 local guys (Gisle and Tore), one rider and the other one just walked all the way to the North Cape. We learned a lot for the road from both of them.
One thing is so nice in Norway you can camp everywhere just don't get closed to a house less than 150 meters. And if you are staying in a private property more than 2 days go and get permission from the owner. So, we didn't think so much when we started to ride each morning when we would be end up.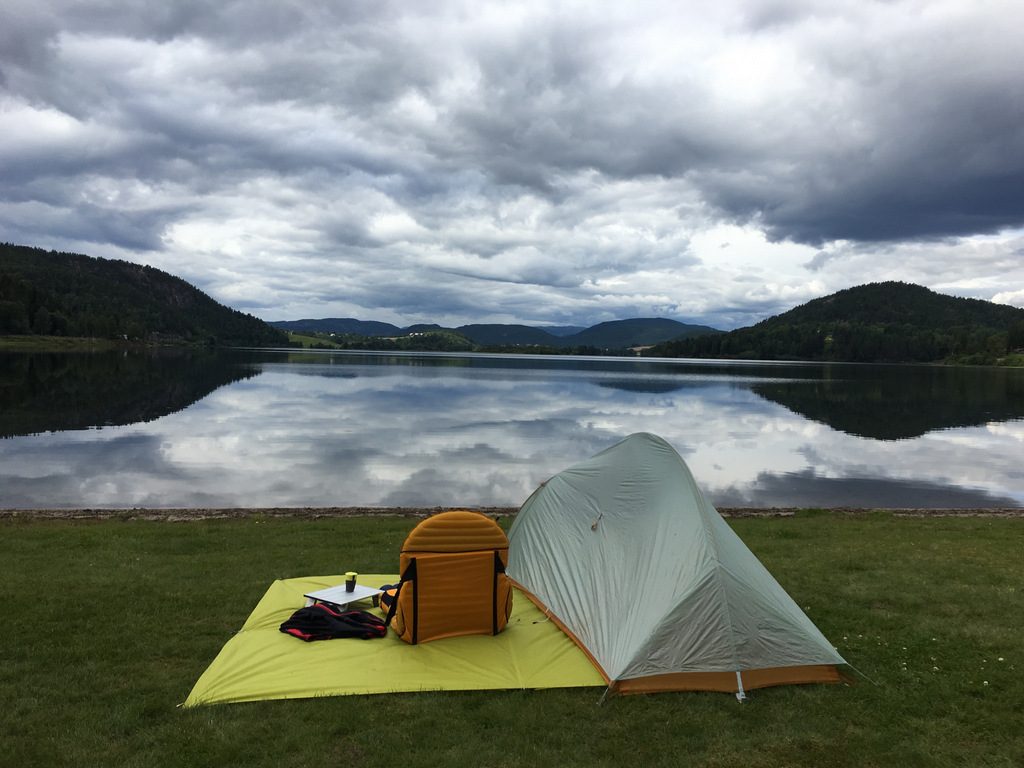 We were going to Kjerang but suddenly the rain started crazy. If we have rain it means so cold for us because we were riding mountain road. We called a person who invites us to stay with him in Stavanger. He said that we could come anytime. So we turned to our road Stavanger and arrived his house totally wet J We stayed with him 4 days. If the weather was nice we were going somewhere to ride around. First time, I understood that amazing feeling to ride motorcycle without bags. When we were staying there we went to Pulpit Rock with one motorcycle but we where not so lucky with the weather. It was too much foggy and we couldn't see down 🙂
Our next destination was Trollturunga. They were telling us to we couldn't finish in a day because of the weather and mud. We didn't want to put our motorcycles in the parking area and go a couple of days. Why? If something happened them J We arrived around 9 pm and it was still day light. We had a plan to start to hiking go to the top watch sunrise and turn back next day. All our plans stay on the table. We have learned about it….
We started to hiking but when it was 2 am, the rain and wind started again. Therefore we decided to open the tent somewhere. Next day, we arrived to Trolturunga rock to see view under the rain. We waited to the weather change a little for photo but no way! Ok, stay one day more next to the amazing rock and view and turn back next day. The weather was crazy. We woke up in a lake. It wasn't like that when we set up the tent. J We turned back to the motorcycle under the rain. Everything was wet on the motorcycle after 3 days rain. It was 5 pm. Nothing around to stay cheap. We looked a basic hotel that is 30 km back on our road but 25 USD. We went there and found the owner. We were lucky because they had only one room with share bathroom. Also, they have a room to where you can dry your clothes. Of course, we liked to place so much. Everything got dry in a day but the weather got worse. What could we do? Stay in the room, got rest and watched a lot of movie to wait next day? Yes, that might have been a good idea but we didn't do that 🙂
After that we went to Gjendesheim to hiking again but rain, a little snow and cold didn't allow us to do the hiking for 3 days. We just made Bessengen path and than turn back to the fjord to find a less windy spot to set up tent. I wrote before about the weather that we where not lucky about that for 2016.
We had a lot of things in our mind but we couldn't. We were checking the weather all the time and changing our road. We knew the weather wasn't good but we didn't want to skip Greiganger Fjord. It was so cold and we were just thinking how we could open the tent. Suddenly, we saw a sign before the Fjord. A house was renting their room. The price was 450 NOK which is not too bad because we could sleep in a room. 🙂
Greiganger Fjord and area is really so nice to see. We spent a couple of days there to enjoy tracking and landscape. We are riders so we always look for a nice motorcycle road to ride. So, we choose road 63 after that 650 and 661 (towards Eisdal to Linge than Vestnes). We were going to pass Atlantic ocean road and the view was amazing on the road. Means for us "Camping! Camping!"
From there we went to Bud and than started the famous Atlantic ocean road and passed to the drunk bridge. Yes, the bridge shape is so exiting but when I was riding on it, it was just a bridge. When we arrived to Trondheim it was camping time for us because of the landscape. When we woke up we saw kids around us. The place is their play area. They were so curios of course what we were doing in their game area. After breakfast we were on the road again. We were really looking forward to ride on road number 17, which is one of the most beautiful scenic roads in the world. The road is total 650 km and has 6 ferries. If you can't catch the next ferry find a spot to camping and enjoy the view. (Until now, we passed more than 45 countries and still road 17 in my top 5.)
We spent a couple of days on road 17. Because a lot of place means for us "Camping! Camping!"
And of the road we got on the boat from Bodo to Monkenes for Lofonten Islands. We went directly to A which is very famous with the view in Lofonten Island. Of course, we can't miss the view, we need to stay minimum one night to enjoy.
We didn't ride main road (E10) in Lofonten islands. We went small roads to see villages and find nice free camping spots. We went from A to Andenes because we wanted to see everywhere in Lofonten. Andoya road has really nice landscape and an amazing spot next to the beach for camping. We where not lucky with the weather to swim but maybe you can be lucky for it.
Time to go Nordkapp(North Cape) We took a ferry from Andenes and kept continue our road. How the weather could be like that. When we arrived to the most Northern point of Europe, North Cape it was a little snow L We couldn't spend so much time there also we didn't camp because of cold. And we couldn't find a place to stay because they were closed or fully booked. We had to open the tent somewhere on the road. And first time I broke down. I got so cold and couldn't feel my fingers anymore. I was just complaining myself to what I was doing here. Ferry was also cold but he was so calm down. He set up the tent and boil a water for coffee and for put to our feed. This is the way, keeping us on the road. Who break down first other one stays calm and helps….
Next day we woke with sun but still it was cold. We decided to pass to Finland and go down fast towards Africa. Because we made our first goal to went the North Cape. We were on the road almost 2 months. Each day we learned a lot about our self, ride motorcycle, leave in the tent…. etc.
GS