It doesn't happen so often to see alone women rider on the road by motorcycle from Turkey. Especially, if you don't have that much experience to ride, most people love to give you a lot of bad info and comment.  I didn't ride a motorcycle almost 9 years. My dream was travel around the world by motorcycle. Most important part in this dream is to go to Africa. If I'm to scared to ride alone in Europe how I can make more than 200.000 km around the world.
 He just bought his motorcycle and need to practice in Holland. Also, I need to trust myself to ride. So, we decided that I could ride Turkey to Holland alone and he can ride motorcycle in Holland to get ready our trip. I suppose that it's not a clever idea to hit to road at the same day when you get to driver license. J Also, he must wait to first 1.000 km of the new motorcycle and go back to the motorcycle mechanic.
First day in Turkey;
03.July.2016, I packed my motorcycle, which is Honda CRF 250L, after say bye bye my family I started my journey. In the beginning feeling was strange because I had a lot of bad things in my mind like if I fall down, if engine problem, if have a problem…. etc. After a couple of hours I started to enjoy. Feeling wind on my face and riding towards my dreams.
 First night, I slept Turkey to Bulgaria border in Edirne. It wasn't to bad to make 280km in a day with 250 cc motorcycle after 9 years later.  
Second day in Bulgaria;
Next day, I entered to Bulgaria and keep continue to Sofia what is close to the Serbia border. I didn't have a plan to see countries in my mind because I don't remember how many times I visited all countries. Just focused to ride motorcycle and learn more abut my Honda CRF 250L limits.
One of the break times, I stopped the motorcycle and got off. At the same time my motorcycle was on the ground. I suppose that I couldn't open the leg well or stop position wasn't good. I couldn't lift it up and nobody around.  I was thinking what I could do. In a second, I heard a motorcycle sound and he stopped next to me. Oh my God it is huge man. J He tried to asked me with body language that I am ok any accident. I was ok just motorcycle fell down. He lifted it up my motorcycle like he was taking cotton from the ground!
I arrived to the hotel, which Ferry booked for me and send reservation. When I wanted to check-in they told me that my reservation for the next day.  Do you think that he was thinking I couldn't make 350 km in a day? I was going to him to start our journey of life therefore I was riding everyday a lot I suppose… 
Anyway, they were so helpful and I could check-in….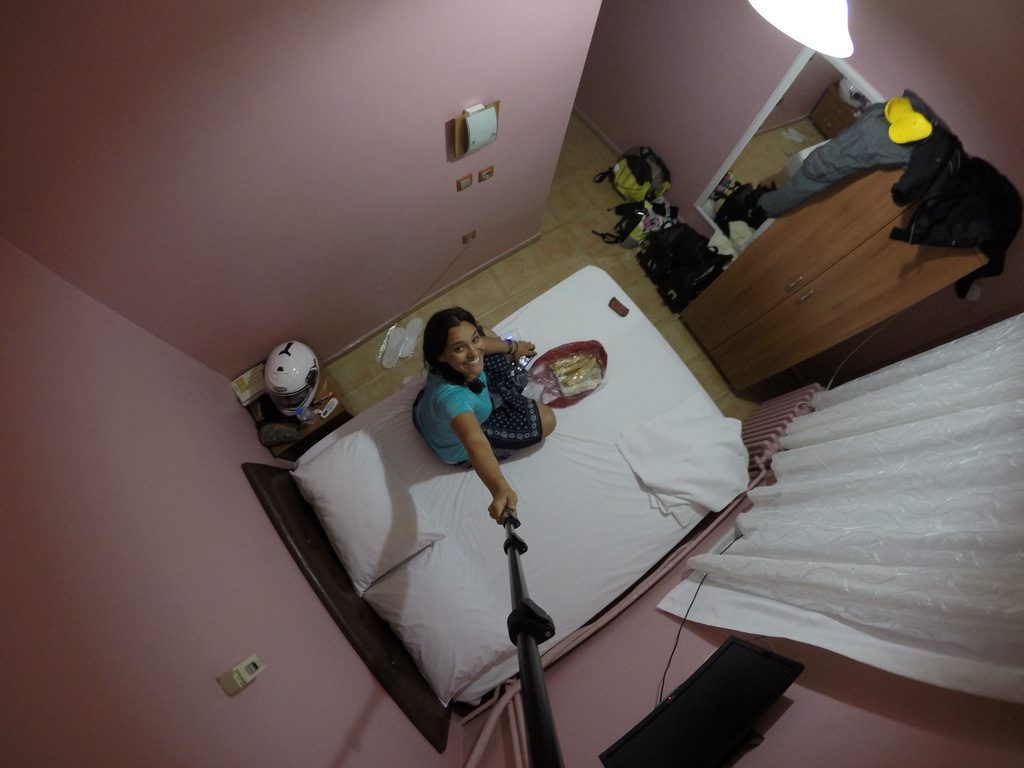 Third day in Serbia;
 I woke up early to get ready to ride. Before I leave from the hotel I called him and I had to change my plan. Because he is more crazy than I. It didn't matter rain or bad weather he was just riding motorcycle in Holland north to south to make 1.000 km as soon as possible. Then he wants to come Hungary or Austria to meet with me. Maybe, I didn't ride 9 years but I made more than 20.000 km before and took a lot of lesson to ride. No way! He can't come to pick me up somewhere, I would go to him. J
 Yeap… I made 570 km in a day and arrived to Serbia-Hungary border.  After that I promise myself that I never ever ride so long like that again because It wasn't comfortable.  You can't speed so much and the sit is not for a long journey. I arrived a little village before dark. I found a little guesthouse to sleep a night.   
Fourth Day in Hungary
I was on the motorcycle 3 days and total I made 1.200 km already. When I woke up in the morning all my body was hurting me. It could be great if I could get rest today. I called Ferry to say I don't want to ride motorcycle today. I was feeling that first time I went to GYM and use my muscles, which I never use before. That's way I have all muscles pain. He was fine to I want to get rest. He can come to Serbia if I wait him there 2 days. I really don't know who is crazier. Because he already made 700 km in two days. Where you can go in Holland for 700 km! He made same road maybe 20 times in a day, like he can ride the road when he closed his eyes as well.  
What should I do? I took painkillers and hit the road again. I couldn't believe myself what I was doing. Pushing my limits so much. That moment, I was thinking that I am crazy. When I came Africa I understood that it was a good thing that I pushed myself there and saw my limits because Africa has been pushing you more than this sometimes.  
When I was in the Hungary at the border it started to rain and nobody allow to me pass in front. After I got wet, I came to passport control. It took only 5 minutes to enter Hungary. I waited more than one hour to stop the rain. I found a bus, which was going Austria from Turkey. They gave me food and coffee.
I bought my vignette and followed my road. Serbia-Hungary to Hungary-Austria border was 360 km. It took 6 hours. When I found a place to sleep I just put my head to the pillow and fell a sleep; no food, no shower… 
Fifth Day in Austria and German;
When I woke in the morning it took a couple of minutes to understand where I was. Just tired!
I found Wi-Fi and called Ferry. He said that he just leaved from the technical service. Wow, he made already 1.000 km. Also, he said that he was leaving from Holland to come Austria. I just told him " Are you crazy! How can you make more than 1.000 km in a day?" I was trying to find middle of the way which like he could leave from Alkmaar next day and go to Frankfurt so I could go there in 2 days.  Do you think that he could listen to me?  He wanted to see me as soon as possible and ride together. No option to find middle!
 What happened? I was on the road from Hungary to Nuremberg. I passed Austria very fast and than keep continue to Nuremberg where the hotel was.  I made 570 km and he made 760 km in a first day his motorcycle journey. 
 When I arrived to the hotel Ferry was already there. He came 30 minutes early than I.  All night, we talk about motorcycle how much he is exciting and ready to go North Cape and after Cape Agulhas to make the Cape-to-Cape road. We can discover the world easily by motorcycle….etc. Sound is amazing. Because I was looking forward to go to Africa.  But I just told him. Let's go to sleep first and than go to the North Cape.
 What can I say more? I was so tired because I made 2.130 km in five days. I said myself I never ride 500 km again with motorcycle in my third day and I made again on my fifth day!
 GS