After the North Cape our plan was to go to Turkey through the east of Europe. We have been learning to make a plan. 🙂
We didn't do that much things in Finland. Just went from north to south in Finland and passed to Estonia. And we traveled around the other Baltic countries, Latvia and Lithuania.
*** You can also watch our short video about Europe trip, just click 🙂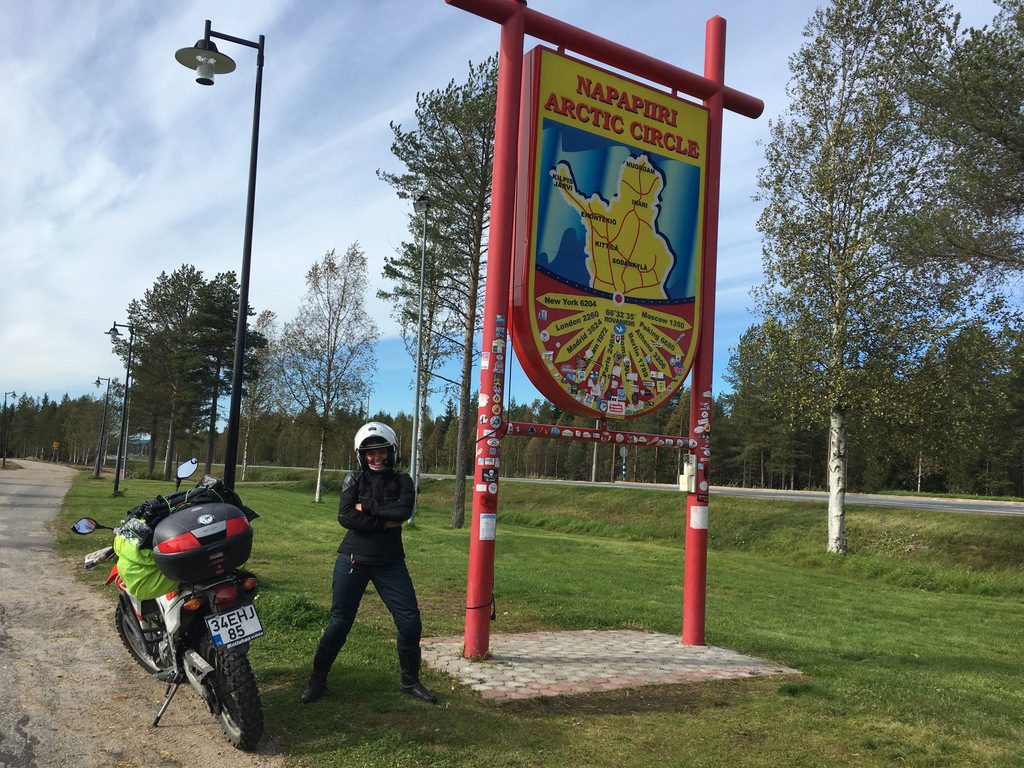 When we were in Tallinn Ferry lost his wallet. He didn't carry that much money in it but motorcycle register and driver license was in it. We couldn't find anywhere. He decided to apply again new papers and send somewhere in Europe. We were trying to go to Belarus. Of course we couldn't enter it. In the border they said that he is fine inside to Europe without papers but no way to enter Belarus without paper. We just tried… 🙂
Meeting nice people on the road…
Estonia, Latvia, Lithuania and than Poland. When we entered to Poland we saw that my chain had a serious problem, didn't work to back rear tire because than chain has already lost profile. We went to Honda deal in Olsztyn. We met Gregory who could speak German a little, Ferry too. Gregory said that he has to change the chain but can't do that at the same time because they don't have the right chain. We could wait a day but we need to find a spot to go camping. When we told it to Gregory he didn't allow us to go and called his wife. Marta was in the mechanic service in 15 minutes to pick us up to go to their home. They are amazing couple to spent time with them. Next day, Gregory fixed the motorcycle also checked up well. But we couldn't leave because we wanted to stay with them more and enjoy every moment. 🙂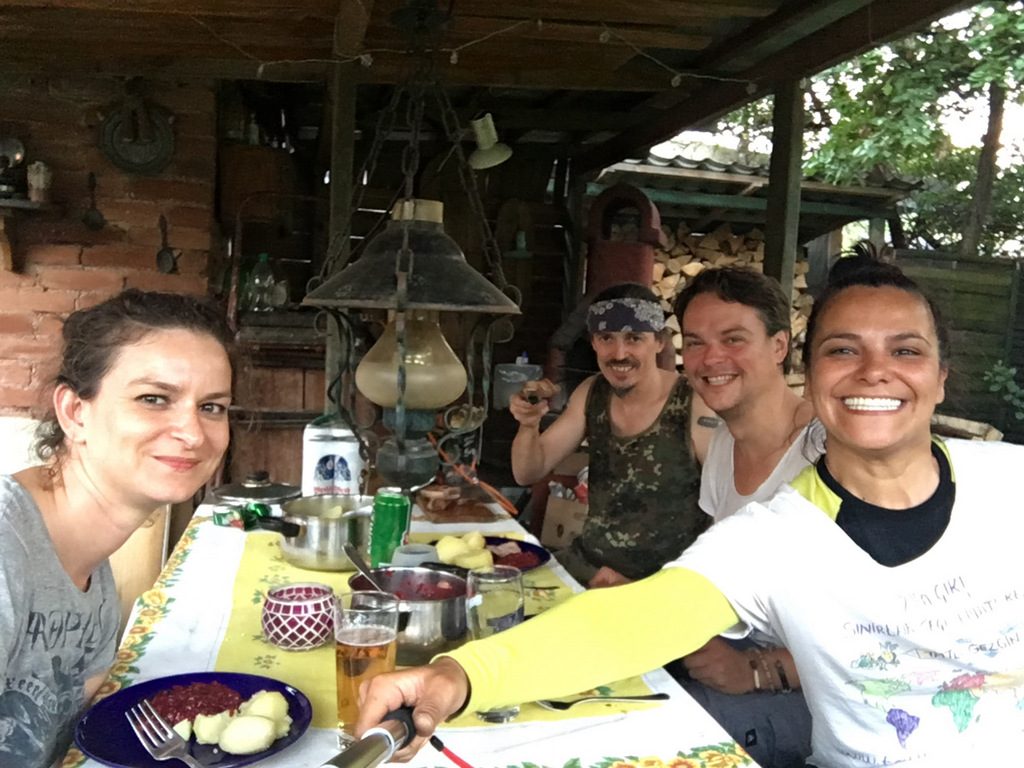 You never lose anything on the road! 🙂
When we were there my phone was ringing but I didn't check it. Because the number is belong to Norway and nobody knows our number to call. Must be wrong number. Called more than 5 times, same number! I asked Ferry to his wallet that he put our number in it. He said we had Norway number card info in it. The calling number is from Estonia. Maybe, somebody was calling us about the wallet, why not…
Ferry called back the number. The call was from Holland Embassy in Estonia. Somebody found our wallet and gave to the police who waited a week. Nobody asked there fore they decided to give the wallet Holland Embassy because has important document in it. The embassy was asking to Ferry how he could travel without papers. 🙂 After talk a while he told me that The Embassy sending his wallet to his address in Holland.
At the same time his father called us and gave a good new, which he sold his apartment. We need his papers and also sold the home. We changed our road again went to Holland from Germany.
We slept on the highway in Germany. 
We know that you can't camp everywhere in Germany and hotels are expensive. The road is so far. When I made two times 570 km in a day I got so tired and we have 900 km in front of us to make in a day. We never loose anything, just try. When we go home we can get rest….
Of course, we couldn't make it. We made 700 km. Maybe we could go more but German highways are so crazy for me. No limit for speed. Cars go so crazy. I never understood what passed next to me in a second. J I wasn't feeling comfortable to be on the road with my 250 cc motorcycle when cars make 300 km per hour. We stopped a parking area but we couldn't wait until morning without sleep. We can't open the tent there as well. End of the night, we opened our hammock next to our motorcycle and slept inside a couple of hours.
Holland Again
We stayed in Alkmaar a week. When we decided to go back Holland we bought some parts for the motorcycle and parts for the motorcycle on Internet. He sold the house, we got rest a little and visit his family to said bye bye again but this time for our Africa journey….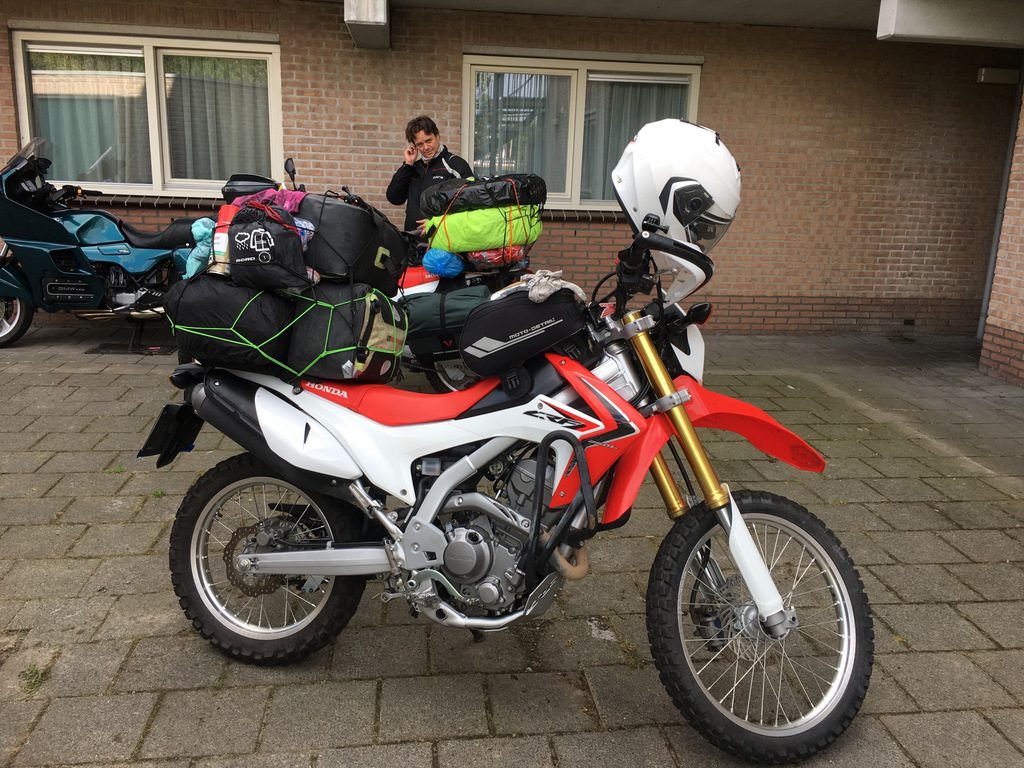 Tires are expensive in Turkey. If we change them in Holland we would make 5.000 km or more in Europe still. We need good profile for our tires in Africa. So, we decided to carry tires on our motorcycles to Istanbul, Turkey. It took two days to figure out how we can carry everything on the motorcycles. 🙂
Hit the road again.
We passed again Germany. It was fourth time. I suppose I passed all big highways in German east to west, south to north. We passed Czech Republic, Poland and arrived in Ukraine.
Every year, I go to travel somewhere with my father to see new things together. I invited my father to Ukraine for a week. He came to Lviv. After a couple of days he took a train to Kyiv. Ferry and I ride our motorcycles and met my father there again. When he was going back to Istanbul We gave everything to my father to carry Istanbul what we don't need on the road until Turkey.
It was a stupid accident…
After Ukraine we passed to Moldova. It is beautiful and cheap country. We spent a week there and then a couple of days more because of me. I collected nuts from the trees. When we were in the hotel I tried to open them with a knife. I was going well until the knife cut my hand very deep. It was blood everywhere and I couldn't stop it. Middle of the night Ferry found the owner but couldn't communicate because of the language. Good thing she was Italian and I can speak a little Spanish, means we can understand each other. She called an ambulance. They did everything well but I can't ride motorcycle with bandage on my hand because my glove didn't fit. We had to wait a couple of days before my skin closed well.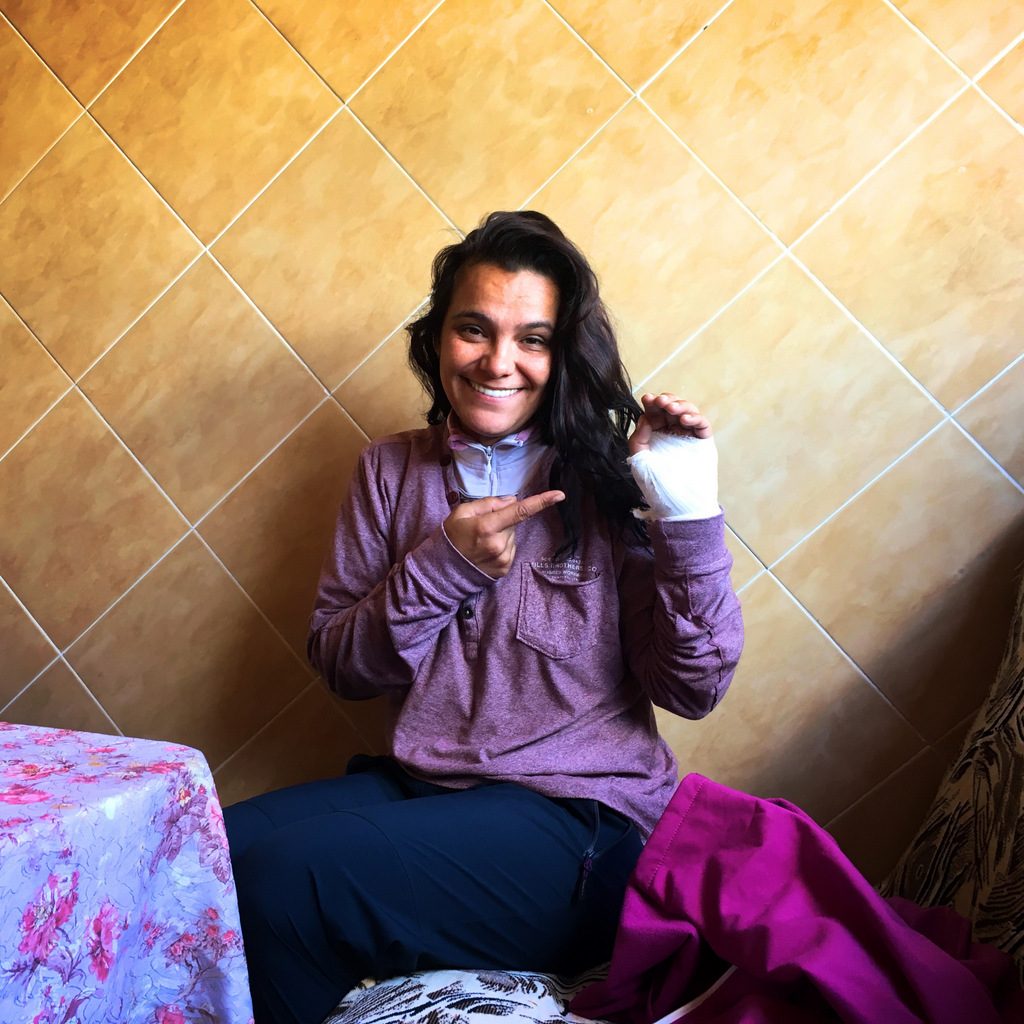 Going Turkey
We decided to go to Turkey as soon as possible. Because if something happened to my hand I would like to be in a hospital and explain all details in my own language. When my hand was hurting me It wasn't easy to go fast of course. Therefore slowly we passed through Romania and than Bulgaria and arrived to my home. We waited almost three weeks until the doctor said we can keep continue our journey everything is fine.
At the same time we changed our seats, had a screen for our Honda CRF 250L. We went everyday to my friend's mechanic service to learn about mechanic. I was more watching because of my hand Ferry was working everyday with them.
When we where ready to go to Africa it was the beginning of November. If we pass Balkans we can be in Morocco middle of December, which means we cannot go to Atlas Mountains because of the snow. Also, November and December are not a good time to ride Balkans because of the rain and cold.
Okay, we skipped Balkans and go to Morocco directly. We have a plan still to ride motorcycle in the Balkans. Just we will do that later.
We ride from Istanbul, Turkey to Igoumenista, Greece in two days and we took boat to Brindisi, Italy. We ride in Italy to the Civitavecchia harbor to take a ferry to Barcelona. We went to Barcelona to stay for 5 days but stayed there a week because of Ferry's carnet had some problem and we waited to arrive in Barcelona. Anyway we were lucky with the weather and had a nice place from Ferry's friend to stay, we really enjoyed Barcelona.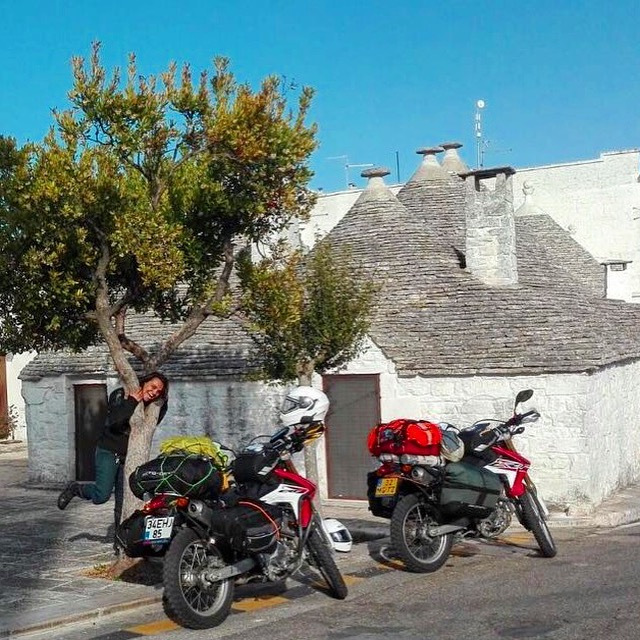 13 of November, we were on the boat to start our Africa journey by motorcycle…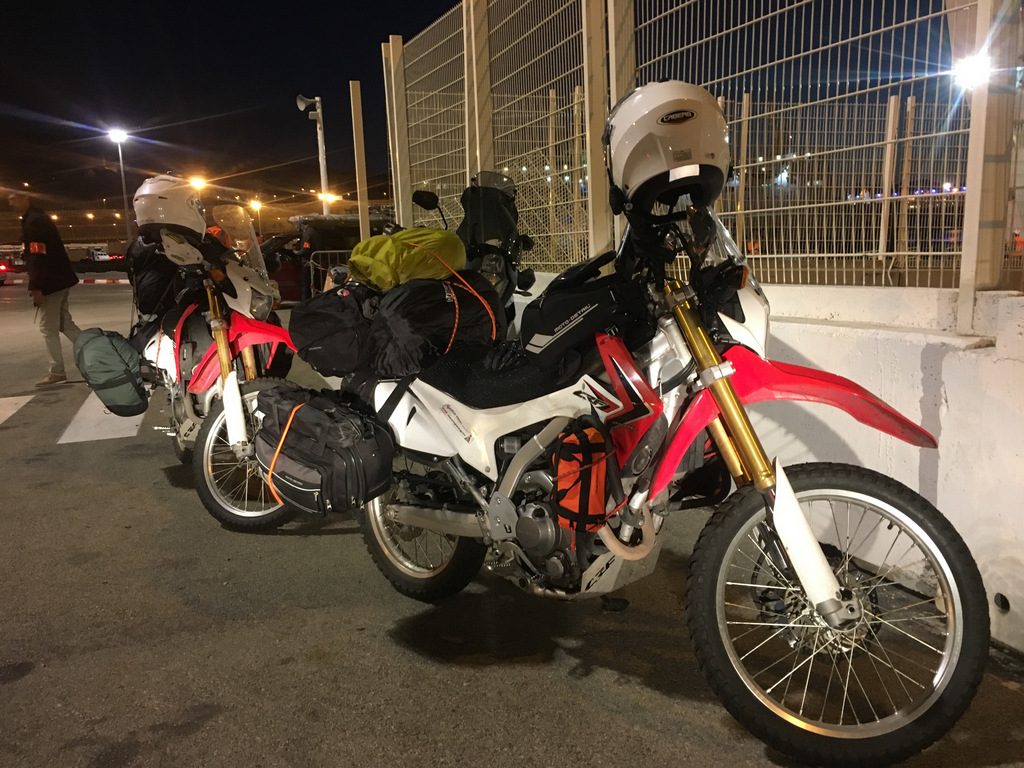 GS