We are in Africa more than fifteen mounts and we really wanted to go to Malawi to get rest for a while. We heart a lot about white sand beaches, amazing lake and beautiful Malawian people. To be honest, who says Malawi is beautiful we definitely agree about it.
Enter Malawi and visit Kasunga
We arrived Malawi from Chipata, Zambia which was easy border crossing. Also, we apply visa for Malawi in Zambia.
Easy way to go to Lilongwe first and than visit Lake Malawi. But we choose to ride a little inland and wanted to see around before enjoy with white sands. So, our first stop was Kasunga. We found a small, nice also cheap hotel to stay. We just arrived there and started to crazy rain. We stayed in the hotel and couldn't do anything. Therefore, we decided to stay one day more to see the village.
People were so friendly. When we were walking around people was so happy to see us in their village. We went to shopping, talked people, visit bazaar… etc. And we found a nice little restaurant for dinner. Always, possible to find restaurants in the capital city or big cities but so hard to find in a little village. It was really nice taste.
Most people are cycling in Malawi. Some is good for it but some doesn't. So you need to be careful when you ride or drive. Suddenly, they can be in front of you. They also use the bicycle as a taxi (including number plate).
Ride motorcycle in Nkhotakota national park:)
After Kasunga we were going to lake Malawi to find a place to stay a while. We came to a door that was closed and writing "you are entering wildlife reserve." We were surprised because we didn't know that the road goes directly through a national park. The security came and opened the door with a big smile. He told us that it is Nkhotakota national park and we have to pass in it because the road passes there. And he was explaining us they have a lot of big elephants on the road. Lion could be anywhere. So, we can't stop we must keep on riding.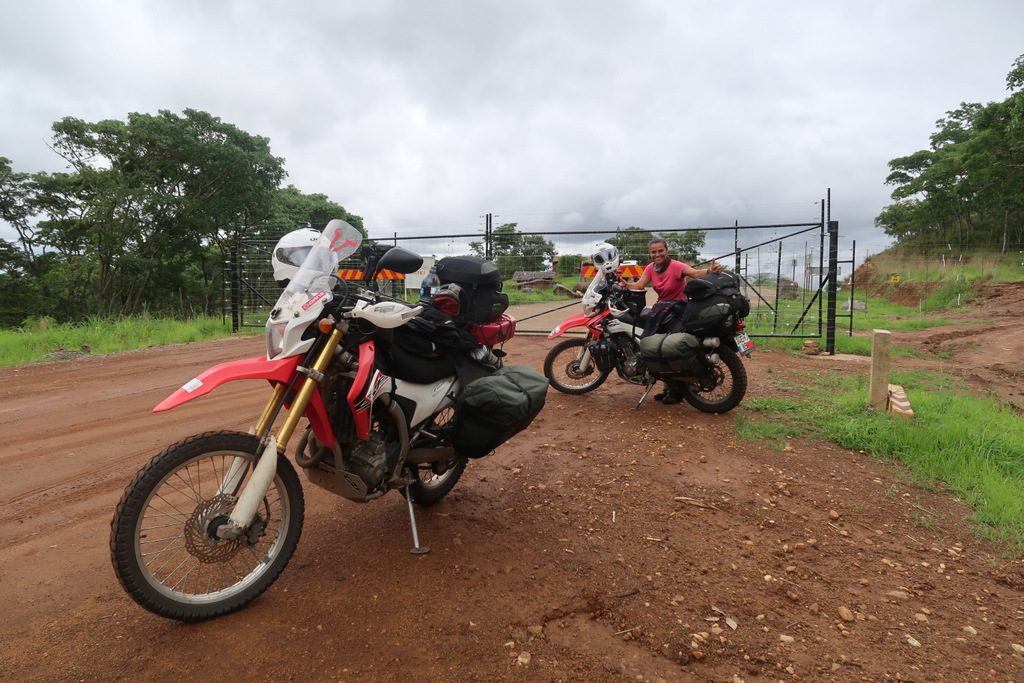 Interesting! Until Malawi, any national park never allowed to us go in. Now we must pass. J Already we had rain and the road it's not a tar road. We learned that it's a good gravel road and we can go easily. Of course, I don't want to get stuck in the soft sand and say 'HELLO' to a lion.
Ok; don't stop just go and than when arrive to exit say the security to call we arrive safely. Which he told us, he must know we finish the road or not.
It was 35 km and took an hour. Because, we didn't ride so fast. J Our one side was saying 'see a lion can be amazing', other side was saying 'are you crazy? What can you do if you see one in front of you' End of the road we saw some Elephants and buffalos also baboons.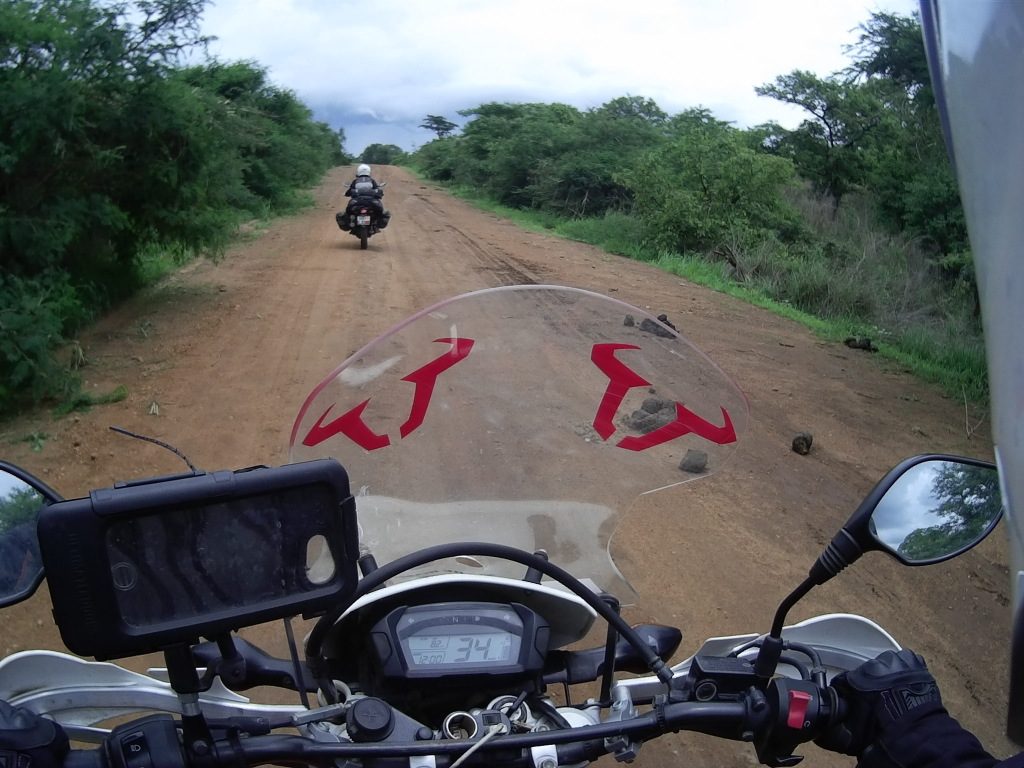 When we arrived at the exit door she was smiling and saying we are late. Who open the door for us to enter the park he already called her and ask if we arrived or not.
We like the rain or hate the rain! 
When we were in the park the rain was already started. And than it was a crazy shower. We couldn't find any place to stop and we had to ride 100 km to find a gas station. We were totally wet and didn't know what we should do. It pass one hour but the rain didn't want to stop.
We learned that if we go to Kande bay we could find a little cheap place to stay. If you want to go a place, which is popular of course room price are not cheap. When we arrived to Kande bay He went to the reception to learn the prices and I was looking around. I saw some camping site has roof and weather was wet but not cold. So, we can camp as well and get everything dry. He came back and said that shared bathroom is 35 USD, it is to expensive for us. I showed him the camping site, we could stay there no problem. The price was 7 USD pppn. Better than room price and we can eat dinner as well because we can't pass our daily budget. 🙂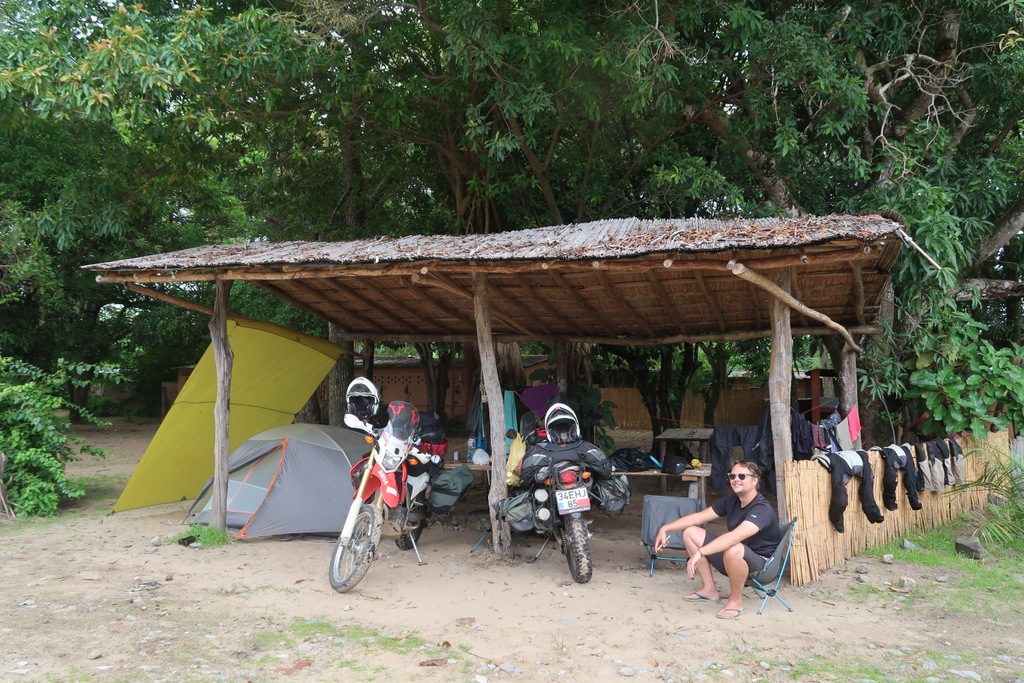 We stayed two days to dry all our clothes and enjoy a day with the lovely white beach. But we didn't want to pass New Year's eve there.
When we were going to Nkhata Bay we met a American couple (Chris and Kathleen) on the road. It was raining so we couldn't talk that much but we a had break together at the gas station. We decided to go to the same place and talk about journey.  All night we share our experiences and told about Colorado. 🙂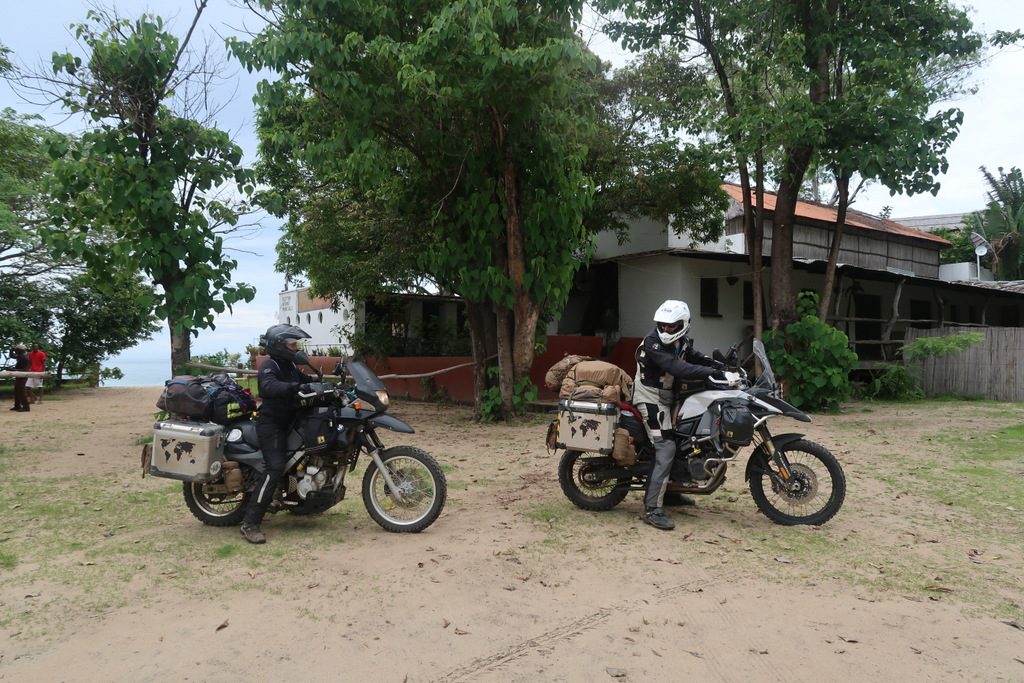 Where can we go now, tomorrow is New Year eve!
We came to Malawi to get rest and enjoy. Therefore we wanted to stay in a room on the beach but we must find something in the budget. We knew that Nkhata Bay is so famous and prices are not cheap. We decided to stay in a room for two days after that stay in our home (tent J) It could be fine if we could be next to a beach.
We ride 50 km and arrived Nkhata Bay but all nice places were full who was empty wanted 45-50 USD per night. We were really upset and disappointed. We didn't know what could do. We ride 30 km more to Mzuzu but nothing around. We stopped and started to talk. I was going to cry. Not because of only we didn't find a place for new year eve because of after 15 months in Africa something can be so much to handle it.
We decided to go back around Kande Bay to stay next to the beach. So we turn back all the way. End of the day, we made 160 km but we were same point where we started. 🙂 We saw a sign to La Exotica. Why not, just try! We went there and find a nice room include breakfast for 28 usd and private bathroom. Of course we booked it for three days and enjoyed our New Year eve.
Nkhata Bay is really nice stop.
Finally we arrived to Nkhata bay and went to Mayoko Village. We booked a room before when we went the first time for two days. It was 35 USD with share bathroom. It is really nice place and chalet was ok. We just sat on the balcony and enjoy with the view to rest. Two days passed so fast. We decided to stay a couple of days more because it was so nice. We just set up the tent and the rain started crazy way.
We couldn't move to the tent and some tent was like in the lake in 10 minutes. He went to reception to say we were going to the tent but waiting for rain to check out. No way to rain going to stop. 30 minutes later, she came to us, who work in the reception, said that we could stay in the room with camping price, which is 10 USD. We were really so surprise and happy. The owner didn't want to we stay in the tent when the rain was like that. We stayed another six day there. We could eat every day dinner in the restaurant, went to boat trip, swim…etc. It was wonderful.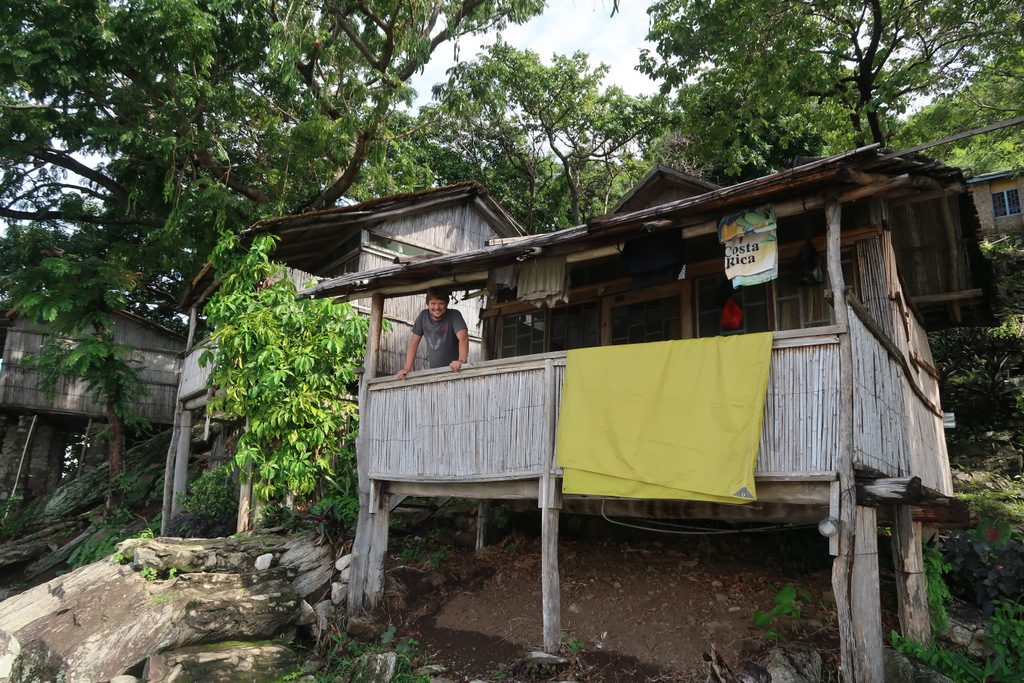 Going Mzuzu.
After eight days enjoy in Nkhata Bay we went to Mzuzu, which is just 50 km far. We must shop because we didn't have any food. Just finished to shopping and started to rain again. The rain season is really crazy here, please keep in your mind. We decided to stay one night. And met Paul who is from Kenya and has been working more than a year in Malawi. He wrote us on our blog, Facebook to if we go to Mzuzu he wanted to meet us and buy us dinner. We met him and passed lovely evening. Talk a lot about Kenya and our trip. Also we ate so nice dinner.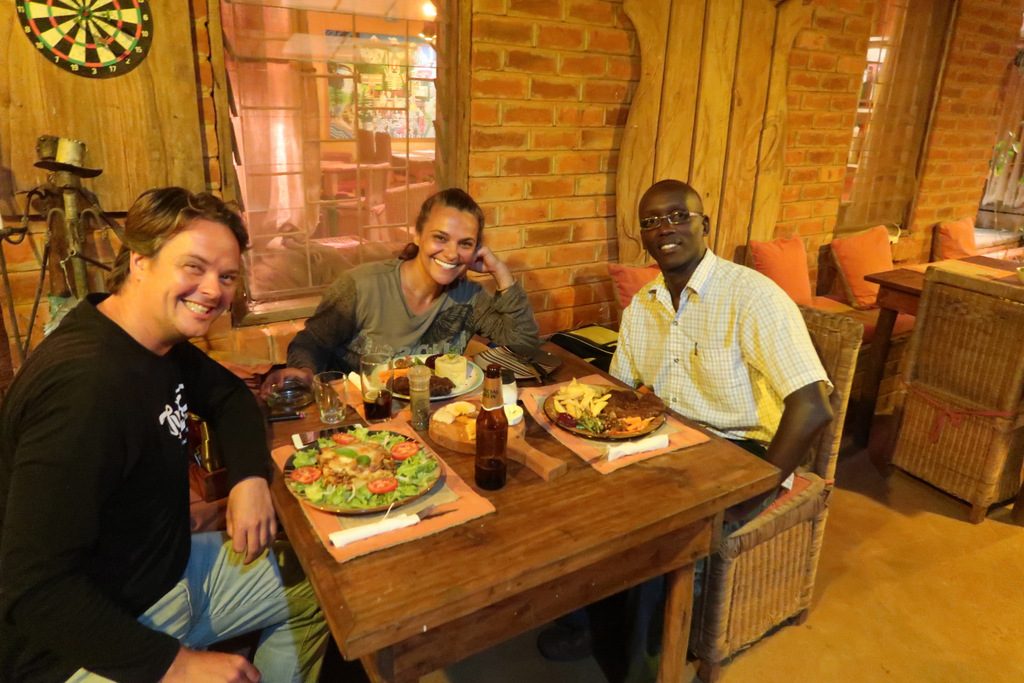 Next day, we woke up with rain and didn't stop until noon. So, stay one night more and see what would happen next day. We made our mattress like a seat in the tent became a cinema room for us. Just enjoy with movie what else could we do more with rain.
The owner, who is from Italy and ex-overlander, couldn't sleep last night well because he was thinking about us how we could manage the rain. So, he told us we could pass to a chalet with same price. Yeap, we did. It was amazing to see how much owners are friendly and helpful in Malawi.
Nice view from Mushroom farm if you can go.
We learned that one of the highlights in Malawi is camping up the mountain at the Mushroom farm, here you are just next to the cliff with an amazing view over the lake. Also we learned that the road towards it is extremely bad. As we told you before we are in the middle of the rain season in Malawi.
After the rain in Mzuzu we where a little scared about the road, would it be doable for us? We ride 140 km from Mzuzu to the turn to Livingstonia, where our road started. We only had a little bit of rain on the road but when we arrived the sun was shining, so we decided to go up. We ride a couple of 100 meters up the hill when her motorcycle decided to not ride uphill anymore! Wow, this was a shock, this is not good. We decided to go back down, as it was impossible to go up, we needed to find a place to camp at the lake. We found a nice place called 'Hakuna Matata Camp' owned by a old South African called Willie.
Our problem with the motorcycle is the clutch pad, we knew this was coming at one point and now we needed to change it as soon as possible. Unfortunately Malawi is not a real motorcycle country and when staying at the beach near the lake there is no clean place to work. So we decided to go towards Tanzania as soon as possible. Here we can find a place to do the work and if we need we can find someone to help us.
Last stop in Malawi before leave…
From there we stopped once more in Malawi at the Flouja Foundation Camp, this is a school run by a Dutch couple. It was a nice place at the beach again and for us very nice, the first place in Malawi with free Wi-Fi. We enjoyed the place when it was not raining and made our self ready for a new adventure in Tanzania, this time including a big technical issue on the motorcycle…
Just a small note about our feeling; We have passed 27 countries in Africa until now. If we look a country to live in Africa it can be Malawi. If you ask where can we leave in Malawi? We can tell around Lake Malawi.
GS-FS