We arrived Rusumo falls, Rwanda-Tanzania, border. We were thinking enter Rwanda is free in 2018, no visa fee any more because we read some news about it. Also we looked to their page but it wasn't very clear. We figured out on the border that Rwanda changed visa rules 2018 for only visa for arrival therefore we paid and enter Rwanda (visa detail on the arrival) Please remember that Rwanda is also in EATV visa.
We were thinking, we would be riding a good tar road and arrive at the capital city, Kigali so fast. We ride dirt road first 100 km. fully dust than we arrived Kigali.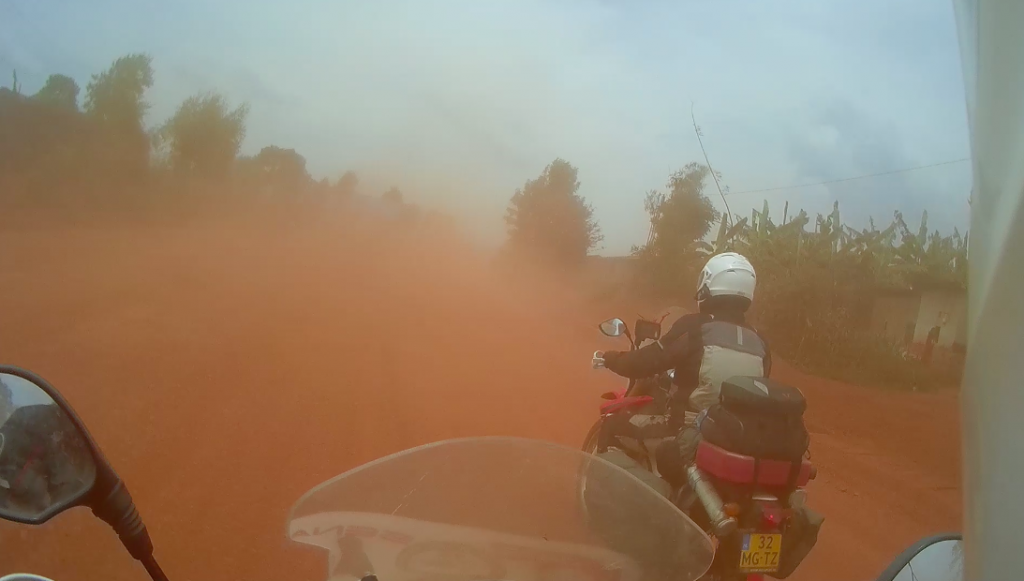 The capital city was look like so organize and clean. Because the country doesn't use plastic bags and they always clean everywhere. Also, Rwanda has one rule for ride motorcycles we haven't seen any of other African countries, expect Namibia and South Africa. Not only motorcycle taxi drivers has to use helmet, customer has to use a helmet as well and they can't carry more than one customer. 🙂
We just stayed one night in Kigali and next day we arrived Gisenyi which town is next to Goma, DRC. Why were we riding so fast in Rwanda? Because, we booked our Gorillas adventure and climb Nyiragongo Lava Lake in Virunga Park, DRC.
We so much enjoyed riding between Kigali and Gisenyi because of the mountain roads where amazing with corners and altitude to go up and down. People were also so nice as well. They were so interest and curios to talk with us. We visited some villages on the road and also went to a bazaar to buy fruits.
When we were in Kigali we were thinking everything is really expensive in Rwanda because of supermarket prices. But buy something on the street or village bazaar wasn't like that. Of course water is a little expensive because I suppose only tourist want to buy it. 🙂
After stay 3 days in DRC we turn back Rwanda and stayed in Gisenyi one day more. Lake Kivu is very famous in Rwanda, which they called holiday beach in Rwanda. We couldn't enjoy that much because of rain season, we had most of time dark clouds and rain.
We are not lucky on the east cost of Africa because we didn't come on correct season, just wet season started. Therefore we didn't want to spend so much time in Rwanda. But of course before leave from the country we decided to go a little inland and leave from main road. So, we saw the amazing face of Rwanda, landscape and dirt mountain road was wonderful. We end up the day in Byumba. We found a little local motel, which was 10 USD and enjoyed with cheap local food.
Next day we were on the Katunga border to pass Uganda. We stayed in Rwanda only 5 days. We can tell that if you stay touristic area hotels and food will be expensive. If you have your own vehicle just leave main roads and enjoy with Rwandan landscape and local food.
GS