One of the hottest place on the earth is Hottest place on the earth : Dallol Ethiopia, which is most people call  Danakil depression or Danakil Desert. 🙂
I don't know how I can explain Danakil Depression because it gives a feeling to you like you went another world, not belong to planet earth.
Hottest place on the earth : Dallol Ethiopia | Danakil Desert
Dallol is in the North East of Ethiopia in the Afar Region. Do you know this is one of the driest, lowest and hottest places on the earth? Welcome to the Danakil Desert which is 100 meters below sea level and the temperature is almost the same all the year round, 45-55 degrees.
In one place there are more different things to see, which you can not see some where else in the same region or the only place on earth; Desert, active volcano – magma (lava lake), Slat flats and lakes, Dallol- sulfur lakes. All of them are so special in the world to see.
Dallol Ethiopia : Let' s start with Erta Ale (active volcano)
It is 613 meters above sea level and one of the six active lave lakes in the world. It has more then one magma (lava) lake. It had erupted several times between 2005 and 2017. After the last eruption, the magma is lower inside the crater then before, therefore it gets so much foggy so you cannot see the magma very well now. And if it is so much windy you can have a hard time to breath because of the smell (the smoke is toxic and very unhealthy).
After we visited the Nyiragongo volcano in Congo we decided to visit Erta Ale in Ethiopia as well because both of them are one of the incredible and dangerous volcanos.
After leave the Abala to Afdera road to go to the Erta Ale volcano, the nightmare could start because only 13 km drive to reach El Dom campsite but it took two hours. You must pass sandy and all lava stones road. Please, keep in your mind that you cannot go alone to the Erta Ale volcano!
We got a little rest in El Dom campsite and ate dinner. Our drivers and guides were getting ready to hike. They were taking beds and water from the car to make sure we have enough water and bed top of the Erta Ale volcano. Our camels were already ready to carry our water, bed, sleeping bags (in a case if the weather cold up there) Also, you can hire  camel if you don't want to walk. Some people had their own camel. 🙂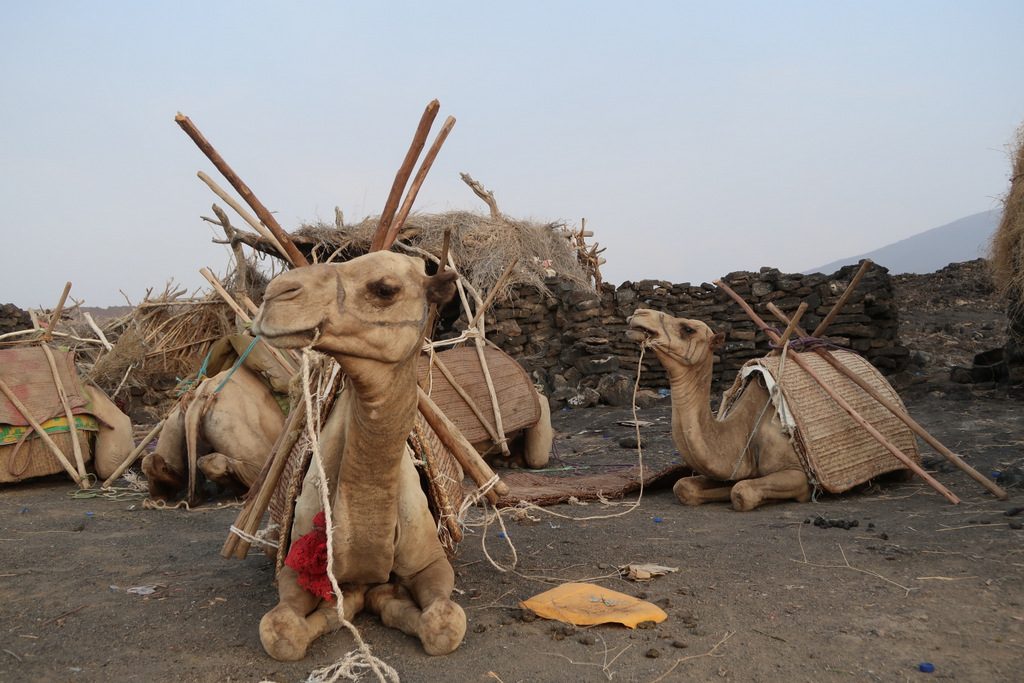 In the night we started to walk to the Erta Ale crater. Why do you need to trek in the night to the volcano? Believe me you don't want to walk under the sun, This is one of the hottest and driest place in the world. It is around 4-5 hours to walk. When we reached the top it was so much foggy and smelly. If the wind changes the direction it was so hard to breath.
So, some people skipped to be on the top of the crater and look down to see the magma lake and they turned back the Erta Ale campsite. We walked all the way up so I was a little stubborn to see magma. Here it was, I didn't want to give up!
See magma or not still the feeling was so strange because you can here something like strong waves from the ocean (like you are sitting top of the cliff and hear the waves smash into the reef. It was such so strange to hear). If it decides to erupt you don't have any change to survive. I can hear that you thinking it is too dangerous. Maybe it was. Believe me, I can't explain my feeling when I was there because there are no words to describe it.
We slept next to the active volcano, just outside on the hot ground. The campsite was a little far from the crater but when the wind was strong still we could smell all sulfur/toxic so strong. We just sleep a couple of hour and we started walk again around 5 am. This time we were walking in daylight to see around.
We watched sunrise on the road as well.When we had a break we could see each other how much tired because we didn't sleep well in the night and very short… It is the way to see special things.
We arrived El Dom campsite. After breakfast we said bye to the Erta Ale volcano and left to see other special places in the Afar region, Ethiopia.
Dallol Ethiopia :  The Camel Caravan, Salt Canyon, Flats and lake
This is one of the nice things to see in the Danakil Depression. When we were there it was cloudy so we where not lucky with the sunset and salt lake reflection. Still it was enjoyable. Feeling was a small version of Salar de Uyuni, Bolivia.
The Afar people work on the salt flats. They break salt and make salt bricks; each is around 4 kilos. When the sunset comes they are loading the salt bricks to their camels. Each camel carries around thirty salt bricks. It will take two days or more to reach the nearest village where they can sell the salt. They can exchange salt with food or other supplies there or sell the salt bricks. On the road, they guard their camels from bandits when they are close to the Eritrea border.
Loading camels is an old tradition for some Afar people because by truck is easier to carry more salt bricks but most Afar people wants to keep continue their traditional; The Camel Caravan. This is also because they pass through the mountains by some remote villages who really need the support of the caravans for their supplies.
Our plan was to see the Afar people how they can cut salt but we arrived there on Thursday just before sunset. Friday is a holiday for them, they have only one day off in a week. That's why we saw only the camel caravan during sunset.
Hottest place on the earth : Dallol sulfur lake (springs) is not belong the earth.
It is really hard to describe Dallol. It is look like hot spring but it has acid liquid in. Believe me the feeling is so strange when walking on it because we know that it is so hot and acid. If anything breaks under your feed you don't want it to touch your body. Therefore, you must listen your guide and don't jump! Just walk slowly and enjoy it.
How the color can be green, yellow or different brown in Dallol? The magma heats groundwater moves up towards the surface, it dissolves salt, sulphur, potash and other minerals and deposits them in the Dallol craters. So, the landscape is of green acid ponds and iron oxide, sulfur and salt desert plains.
We sat a while and look the landscape, which was unbelievable. We can't believe that we were watching sulfur pods and has acidic liquid around us. Please remember that, you can not visit Dallol alone like Erta Ale volcano! This is one of the most amazing places we have ever seen and this is the only place in the world to see this, there is no other place on earth with volcano activity on a salt mountain.
We stayed Hamedala village to visited The camel caravan, slat flat and Dallol. We slept outside under the stars. Middle of the night it was still 40 degrees. We left from Hamedala around 5:30 am to visit Sulfur lake of Dallol, yellow pound and the canyon. Dallol is about 130 meters below sea level and therefore it is one of the hottest places on earth, there is nearly no humidity and it gets easily over 45 degrees celsius.
If you want to visit Danakil you need to know before go what you take/carry with you; 
You are going to one of the hottest places in the world. So, you need sun cream and a hat.
You will sleep outside on the Erta Ale crater and in Hamedala or on the road you don't have toilet. So, you need to carry your toilet paper, wet tissue and hand cleaner.
The smell is really so strong in Erta Ale and sometime it's hard to take a breath, it is toxic as well. We can highly recommend having a mask because; a buff or scarf wasn't enough in Erta Ale Volcano.
You will be hiking in the night after dinner and walk back early morning before breakfast. So, you should have some snacks with you and a headlight or torch.
If you have any heart or blood pressure problems it's not recommended to go to the Danakil Depression because of the hot!
Don't worry about water or food. The companies carry more than enough.
Nice to have flip floppers with you to get rest your feed sometimes 🙂
Carry small backpack with you! If you have plan to walk Erta Ale volcano you need to carry your personal stuff with you. The camels only carry bed, sleeping bag and water to use top of the crater.
No electricity! You should carry external charge with you for your camera, phone…etc. because you cannot find a place all the time to charge and depend on how many days tours you have.
We went four days tour with ETT Company. We slept first night on Erta Ale Volcano, second night Abala and last night in Hamedala. We met some backpackers during the tour and they told us they went with ETT tour in other cities and they help them for transport or other tours in Ethiopia. Also, we saw some other people who has their own tour like two days Erta Ale or only Dallol sulfur lake tour. We met a German couple on the motorcycle they had a private tour with ETT and went to the Danakil Depression by motorcycle with them.
We ride to Mekele and started our tour from there. First time, we didn't want to ride motorcycle because it was so hot 🙂 we wanted to enjoy with the landscape and area don't fight with the hot. To be honest, it was such an interesting experience for us because after a while we were sitting in a car with ac and just looking around. 🙂 Also it is cheaper to go with a 4×4 tour then with your own motorcycle, we learned it is even possible to go by bicycle.
GS