We read Nyiragongo volcano is one of the most dangerous volcanoes and world's largest lava lake also the most voluminous known lava lake. It was one of the amazing things we did in our Africa journey by motorcycles.
Nyiragongo Volcano: World's largest lava lake
It is just 20 km far from the Rwanda border in Virunga National Park, DRC. It is 3470 meters high from the sea level and the last part is so steep to climb. The main crater is about two kilometers wide. Last erupted in 2002. But they warned to be erupting in 2015 and 2016.  We are luck to nothing happened when we were there. 🙂 After read about dangerous, largest…etc we decided to go there for our anniversary.
You can watch short video before read all detail if you like :
Nyiragongo Volkano Hike :
We arrived at the hiking point around 8:30 am after paperwork we met our two guides who gave us all info about hiking and the volcano. Each group can be maximum 22 people because only eleven huts on the crater to sleep and each one is for two persons. Our group was 16 people.
We started to hike around 10:30 am and arrived to top around 16:30 pm. The hike or climb is divided in a total of four parts. We had little break at the end of each section and listen our guide carefully for the next section.
First part was an easy walk in the forest
and than second and third part was mud and lava rocks. So, we had a little trouble to climb sometimes because of it.
Last part was the hardest part of me because it was so steep and windy. If you are lucky with the weather you should enjoy with the view.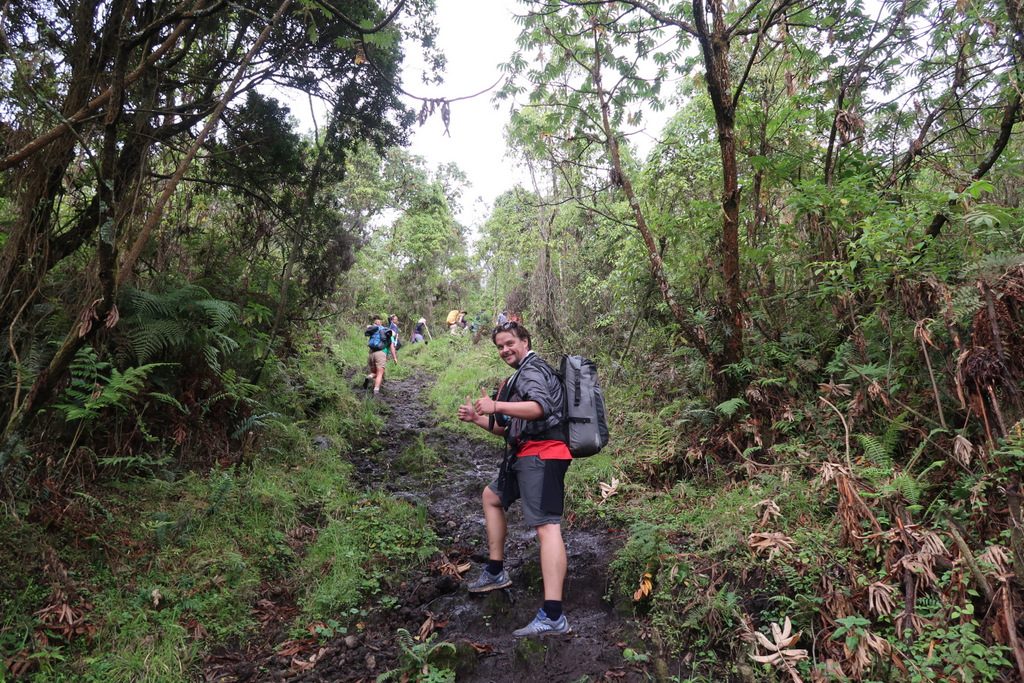 When we arrived at the top of the Nyiragongo volcano we went first to our huts to change clothes. After that we climb a few meters to see the Lava (Magma) Lake. It was almost sunset therefore it was so hard to see something, just smoke but we could feel the hot from the volcano.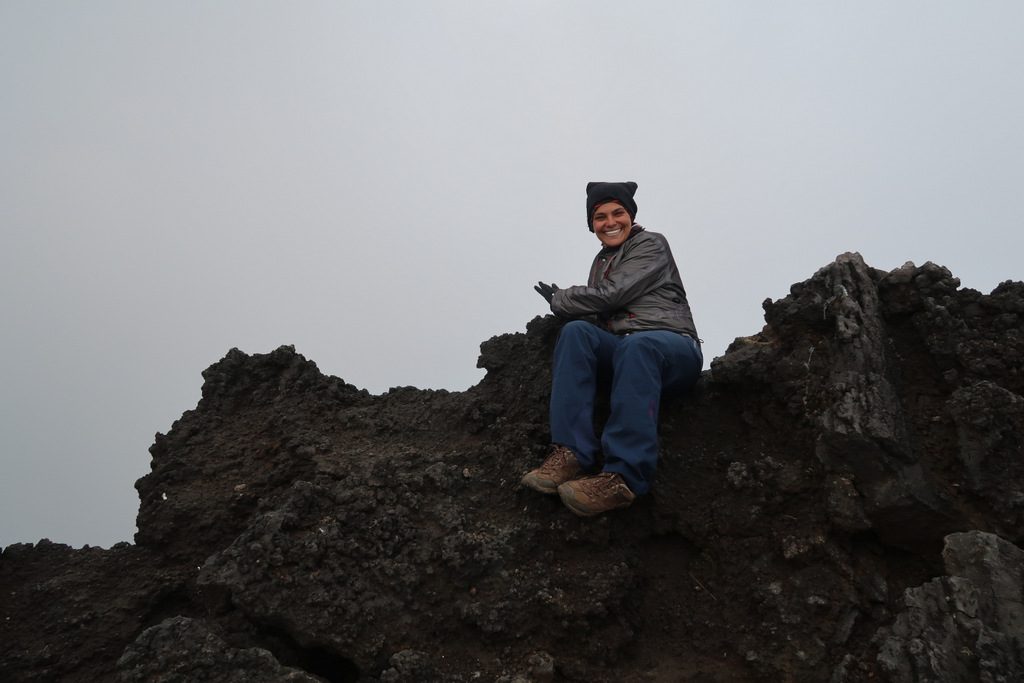 We just walked around a little and enjoyed the view after that we had dinner. We carried all our stuff up our self so we made our own dinner.
Finally, it was dark and time to see world's largest lava lake. It was beautiful, amazing, and incredible…. Magma was moving, sometimes burning, sometimes coming fire…etc. Seriously, no word to say how much gorgeous!
At the top it was so cold and windy. Therefore, we were going to our hut to get a little warm sometimes. And than go back to the crater to watch again.
It was midnight and time to celebrate for us because of our anniversary. We celebrate our second year. He carried a bottle of wine to the top. 🙂
To be honest, we didn't want the time pass and stay how much we can stay up the crater. But it was almost sunrise time. We made a coffee and walked around the crater. We were looking in the crater to see how much smoke can come more with the daylight.
At the same time we were watching the sunrise on the other side it was so beautiful.
After breakfast we started to walk down around 6 am. Walk down is always so easy for me but he had some trouble for it. 🙂 We finished the hike in 4,5 hours.
It was so amazing things for us to do; Nyiragongo Volcano and the gorilla's trek in Virunga Park. You can read about gorilla trek and also you can check about the costs, Nyiragongo volcano hike price?
!!!!IMPORTANT NOTE!!!  Your security is most important thing for Virunga park. Before book your journey to there you should get contact with them and learn the security detail.  Even if after book if anything can happen they can cancel the tour and pay back money.
GS