It was one of the great things we visited on tribes of Namibia, which is San people, Bushmen tribe in Ju/'Hoansi. They are one of the interesting people to see in Africa.
Bushmen Tribe | San people : Who are them?
San people (Bushmen) are indigenous hunter-gatherer people representing the first nation of Southern Africa. They live in Namibia, Angola, Zambia, Zimbabwe, Botswana and South Africa. Also, They are known one of the oldest indigenous populations in the world. They have been living around more than 150.000 years with small family groups.
Every bushmen tribes don't have leaders or chiefs. If anybody wants to leave from the small group he can leave anytime. San people don't care to get rich or their personnel possessions; everything is for share together.
They were mobile always, just followed water, edible plant and game. Therefore, they never be farming or keep animals. When they were moving place-to-place they just carried their personnel possessions.
San women gathered edible plants and water to cook or drink when Bushmen hunted. They made hand-made arrows, knife, etc. to hunt. Also the women take care about the kids and make their jewelry from plants, seeds, etc.

You can watch a short video about our journey:  BUSH SAN PEOPLE, NAMIBIA

Ju/'Hoansi , Grashoek
We wanted to visit San people – Bushmen tribe without any tour just by our self. When we were searching where we can visit Bushmen we found Ju/'Hoansi (Living Museum), Grashoek, Namibia. They have been keep continue their tradition and sharing with tourist. They run the place with their self. We saw that you can camp there and stay how long you want. Price was also cheap when you compare San people tours.
The Camping was 50 N$ pppn in JuHoansi. Please don't think it is the best camping place. You can open the tent on the sand under the threes. They have toilet and shower but they do not have enough water. If you want to stay longer you should make sure you have enough drink water and food.
They have a lot of different activities with different prices. We stayed two days there and did a daily activity, which was 150 N$. We spent all day in the village. (You can visit their website to more info:  http://www.lcfn.info/juhoansi )
San people showed us how they can make a fire, what they use for it.
We learned how bushmen can make their hunting stuff and how they hunt.
San women showed their handcraft which tree or seed they use for it and how they make it. Also, they gave a gift.
When the sunset was coming we watched their traditional dances. They have many different dances for  rain, sick, sun, welcome, etc.
In the night we sat next to the fire and listen to the old people's interesting stories from hunting, moving place to place.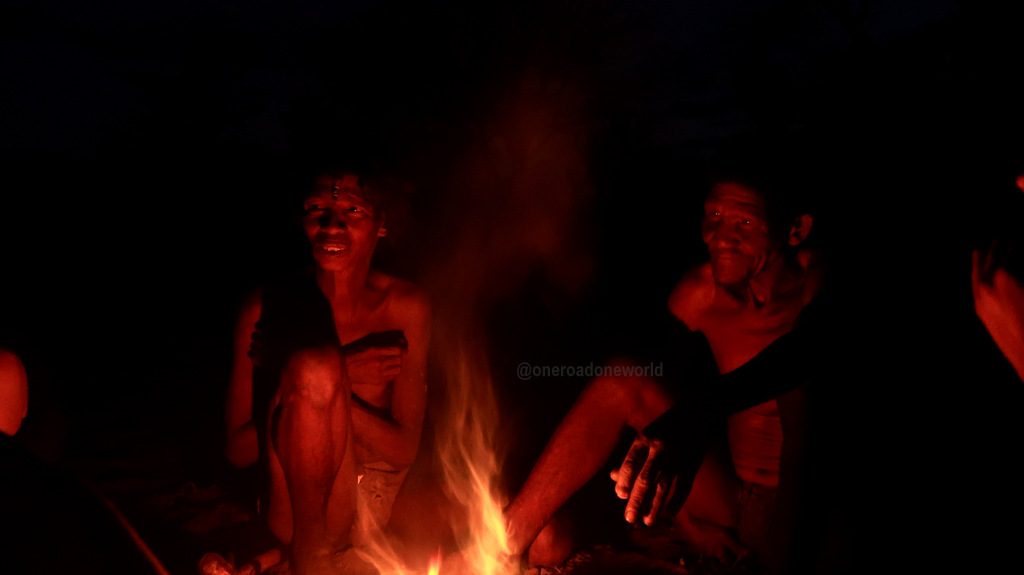 One of the young San man can speak English very well. Therefor he was translating everything for us. If you are interested we can recommend visiting them to learn their culture and history. At the same time, you can help their community as well.
Bushmen Tribe | San people video
It's an 80 km ride on a gravel road and the last 6 km are sand, doable with a 2-wheel drive as well. If you are not on your vehicle We didn't see any public transport so most likely it's hitch hiking from the main road. (GPS : -19.24479 , 19.23921)
If you are traveling Namibia we can highly recommend to visit tribes of Namibia at less one of them. But please make sure that where you will go don't one of the commercial tribe village.
GS