Ride motorcycle in Ethiopia with the gorgeous landscapes and mountain roads, meet Ethnic groups in the Omo Valley, see interesting culture and lifestyle, losing yourself in another world which is the Danakil Depression, enjoy traditional food, visit historical places, go trekking…etc. All of them are in one country, Ethiopia.
We wanted to go to Ethiopia from Lake Turkana but the rain season didn't allow us because of all river crossing (You can check it in Kenya stories). We had to go Moyale but it took two weeks before we could pass the border because there where protest and the country was choosing primary minister. We had to wait for sure the Moyale border was safe.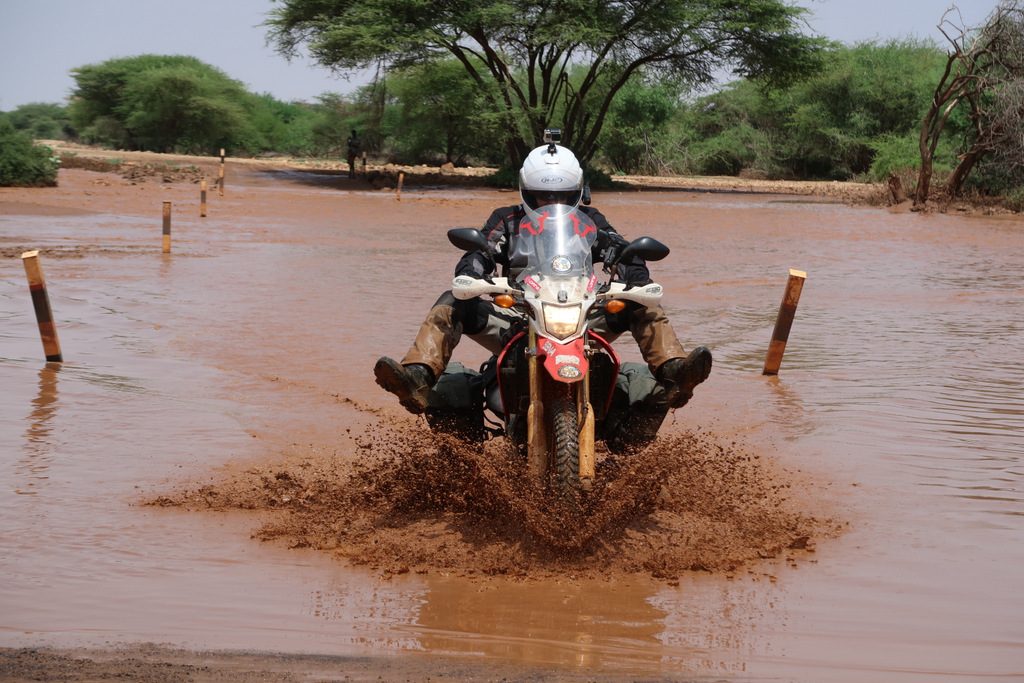 We were on the border in the afternoon and it took only one hour for the border crossing. We don't like to ride motorcycle in Africa when it is dark because of the roads, no lights and there are animals and humans crossing the roads or walking on the road. Therefore we stayed our first night in Moyale. Next day in the morning we were on the road to Konso.
We heard a lot of stories about the Ethiopian roads, like it is so busy, no privacy, kids throw stones…etc. We decided to not stop so much on the road if it is not necessary. Also who was riding motorcycle in front of us they said that fuel was problem and black market price is crazy. We carried extra fuel with us from Kenya but we found easily just before Yabelo in the gas station.
We arrived in Konso late afternoon. We stayed there because our plan was go to Low Omo Valley to see the ethnic groups there. We just enter Konso and we found a small pension with secure parking. So we didn't think more just jump in. 🙂
We found a petrol station before the turn to Jinka and got our tanks full again. After pass some donkey roads we came to mountain roads. We didn't think that the road could be beautiful like that. It was a tarmac road; of course you can see potholes sometimes, with nice landscape.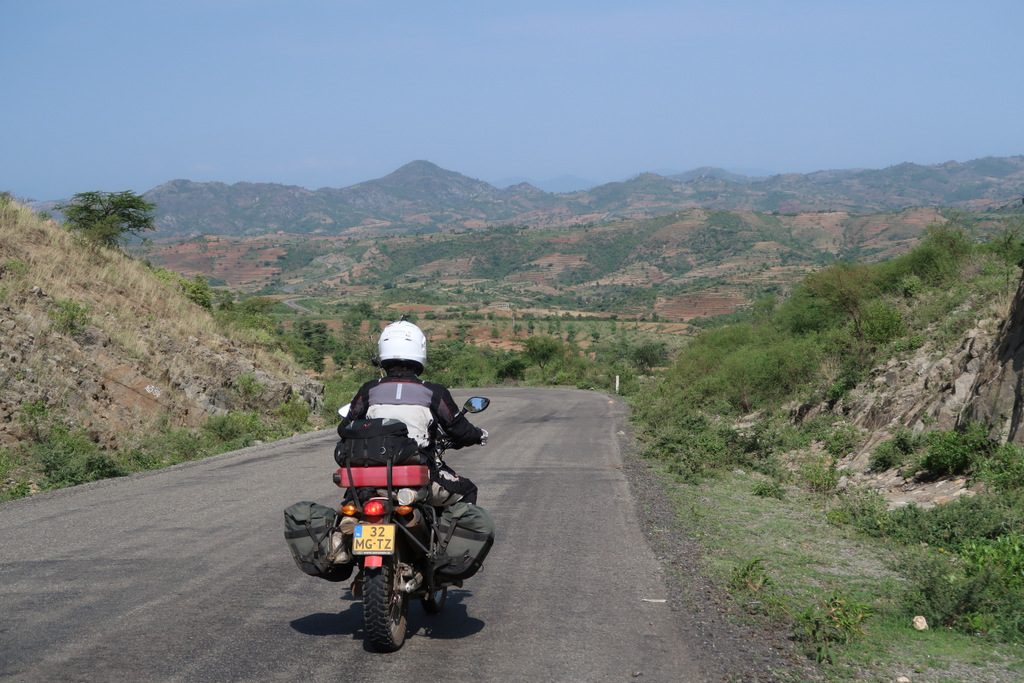 We arrived in Jinka before afternoon. We found a pension and stayed in the city center. We stayed around 8-9 days in the Omo valley and visited Jinka, Key Afer, Turmi, Omoratte to see Ethnic groups of Kara, Hamer, Mursi, Ara, Dassenech and Banna. To be honest it was an incredible experience for us. Some way was nice but some way was feeling upset about their life. We wrote another two articles about the Omo Valley;
1- About Omo Valley, where can you visit ethic groups?   2- How can you travel in Omo Valley by yourself? About roads, hotels, foods, village entry fees…etc all prices.    We hope you can enjoy when you read the articles and it can be helpful.
After the Omo Valley we arrived in Arba Minch. Our plan was to visit the Dorze people village and see the Chencha market. But we couldn't. 🙁 I was not feeling well and we got rest for two days in Arba Minch. Yes, sometimes what I really want to see I need to skip because to be healthy on the road is most important I think. Also, we were thinking to go to Hawassa and stay next to the lake, it didn't happen as well. Because when we were going to Arba Minch we heard that Ethiopia has new primary minister. It could be celebration or possible protest we didn't have any idea. We were thinking that it is a good opportunity for us to go to Addis Ababa as soon as possible and see what happening there. We made 500 km in a day with our 250 cc motorcycle and Ethiopian roads. 🙂 We arrived at the Holland house just before dark. It was very nice to meet some other riders after a while on the East coast of Africa.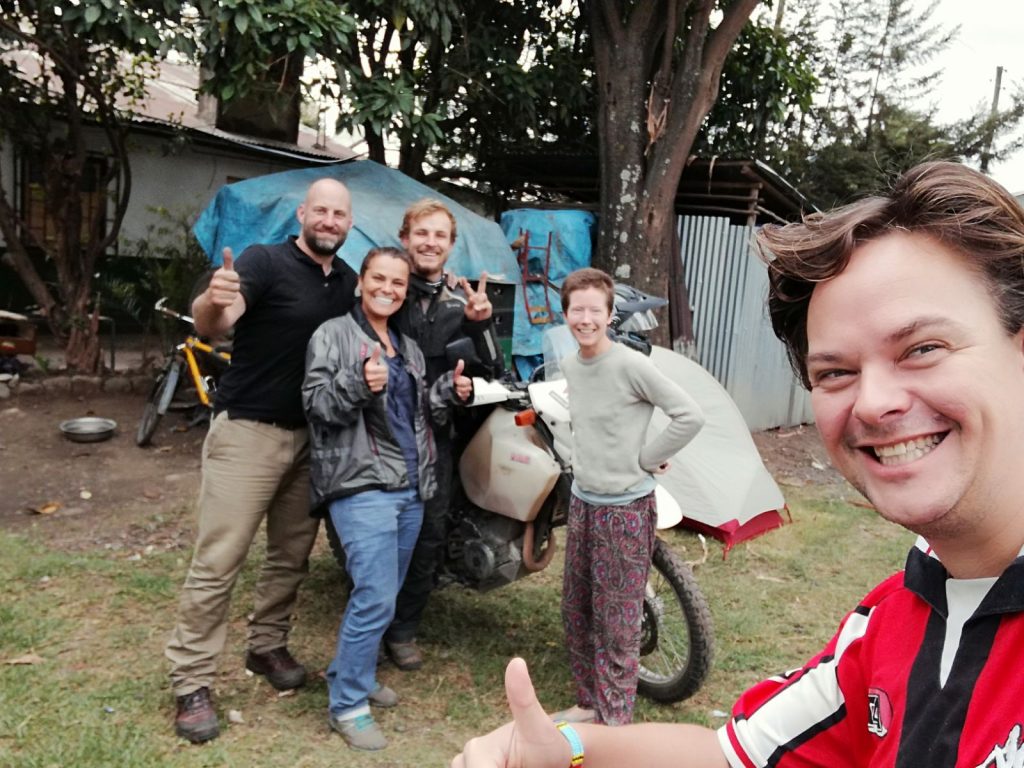 We stayed 11 days there. We didn't do that much we just got relax. We did have some interviews for a news channel and newspaper. Of course we enjoyed talking with our new and old friends. Also we apply Sudan visa in Addis Ababa, which was easier to get as what we were thinking.
I must tell one think about traffic in Addis Ababa. You should be careful when you ride motorcycle or car because anytime anywhere can be accident. Because, most people do not follows traffic rules or light!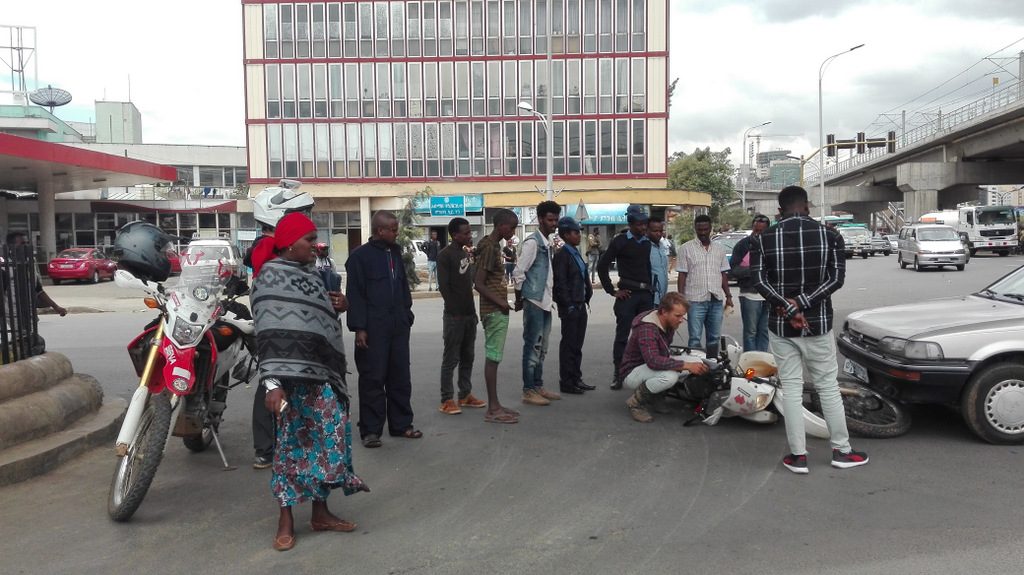 Finally we got ready and hit the road again to Lalibela. The weather is crazy in Ethiopia. It was so hot in the Omo Valley and than we were sleeping with a blanket in Addis Ababa. When we were going to Lalibela some part of the road was so hot again. But suddenly it was getting cold again when we were going to top of the mountain. Of course don't forget the rain. We couldn't go to Weldiya. When we arrived Kombolcha it was already 5 pm and it was raining. We wanted to stay there but we couldn't because the hotel we found they gave an extremely high price. We stayed max around 400 birr but there they were telling us 1000-1500 birr. We learned later if you check in with foreign passport price would be like that. Local people can pay 500 birr. 🙁
Lets ride to Dessie, only 25 km far, and find more option. It was same but we had a person number from a company, Yapi Merkezi. We called Huseyin and ask him for help. He found the best hotel in the area, which is around 2000 birr they booked hotel for us and we paid only 700 birr. It was still out of our daily Africa budget but after got cold and wet it was great to stay in a five stars hotel. We have no idea when we stayed in a hotel like that before in our world trip 🙂 Next day we pass from Mersa and stop there for lunch and met Huseyin who helped us last night. We enjoyed the lunch and talked a lot for a couple of hours than we were on the road again.
When we arrived Dilb village where you can turn to the Lalibela road it was already 4:30 pm. Some people were complaining about the road how much bad. It was only 66 km but cannot be fun ride in the dark. We found one Tour Company's car on the road and we asked the driver. He said that we could easily make it in two hours. The road is bad for car but easier for motorcycles. He was right. We arrived Lalibela in two hours. The road was so much fun to be honest and landscape was great. Only some kids wanted to throw stones 🙁
We stayed in Lalibela three days. We visited old churches, walked in the historical place and saw the Lalibela market. It was nice to see area. But a couple days is enough.
Our next stop was Mekele because we were so curios to see the Danakil Depression. We looked the map which road we could ride and we decided a more challenge one. 🙂 We don't have GPS just maps.me and we got lost. 🙁 We were trying to look at the map where we are but no road on the map. We turned back and tried to find a way. After that we came a road, which is thinking a road because we don't think so any vehicle passes there. But I made it to turn and pass from the mountain.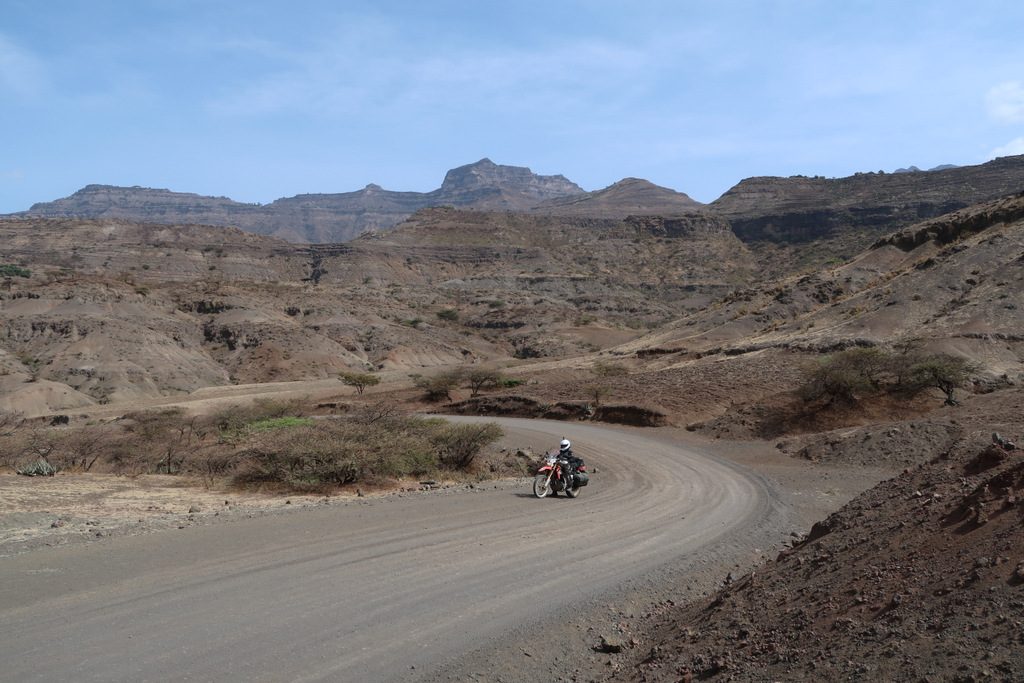 Finally we were on the tarmac road on afternoon and 165 km on front of us to Mekele. We could still make it before dark. Do you think so? In ten minutes, the rain started it was worse than shower and the road got like a lake. No place to stop and hide our self, so we keep riding. We arrived in Mekele in the dark totally wet. But important thing was we made it! 🙂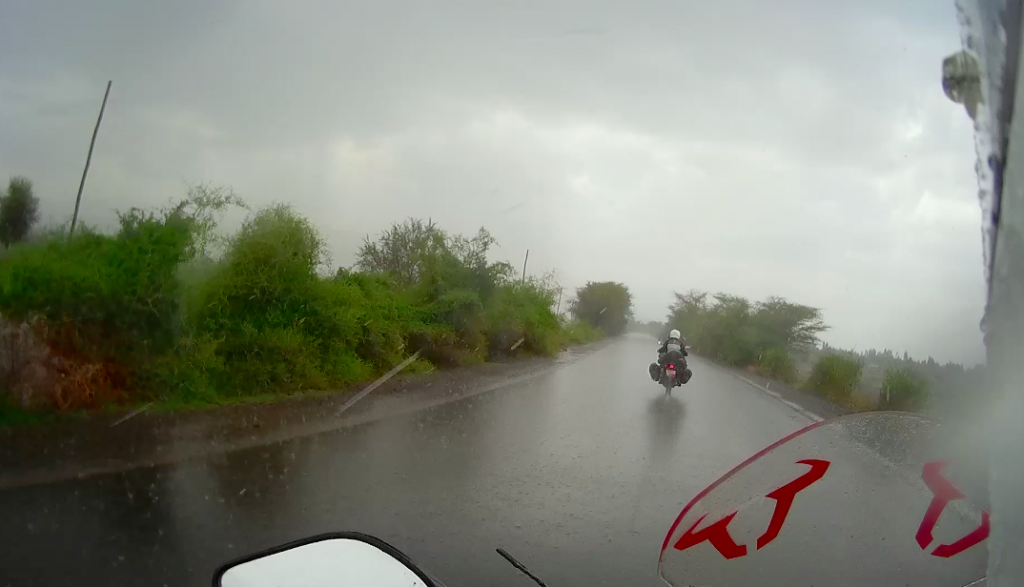 You can imagine how much we were tired and slept like a baby almost until next day noon. We want to go Danakil therefore we must find a tour company to go there. We walked around Mekele and found some. We like one of them and decided to go with them four days Danakil Depression tour, which were going Erta Ale, Dallol. Sulphur spring, salt lake and canyon. You can find our Danakil journey and the place story in another our article.
When we turned back from the Danakil tour we were so tired. And we didn't want to stay at the same hotel where we stayed before because they don't have running water and we desperately needed a shower. But we had a small room there to put all our stuff in it and use security parking for our motorcycles. We just paid 130 birr for the room and parking. J We went there and said them we will keep the room one night more and than went to another room. We are so rich right? 🙂 Two different hotels two rooms one night we paid it. It was total 400 birr anyway…
Mekele is so different than other places we visited so far in Ethiopia. We were more relaxed and enjoying walking around in the city. Nobody disturb you on the road, we walked everywhere in the night, nobody cheating the price because we were tourist. We really like to be there. We can tell you if you go to Ethiopia you will see how much different people behavior is in different regions. Mekele is the capital city of Tigray Region.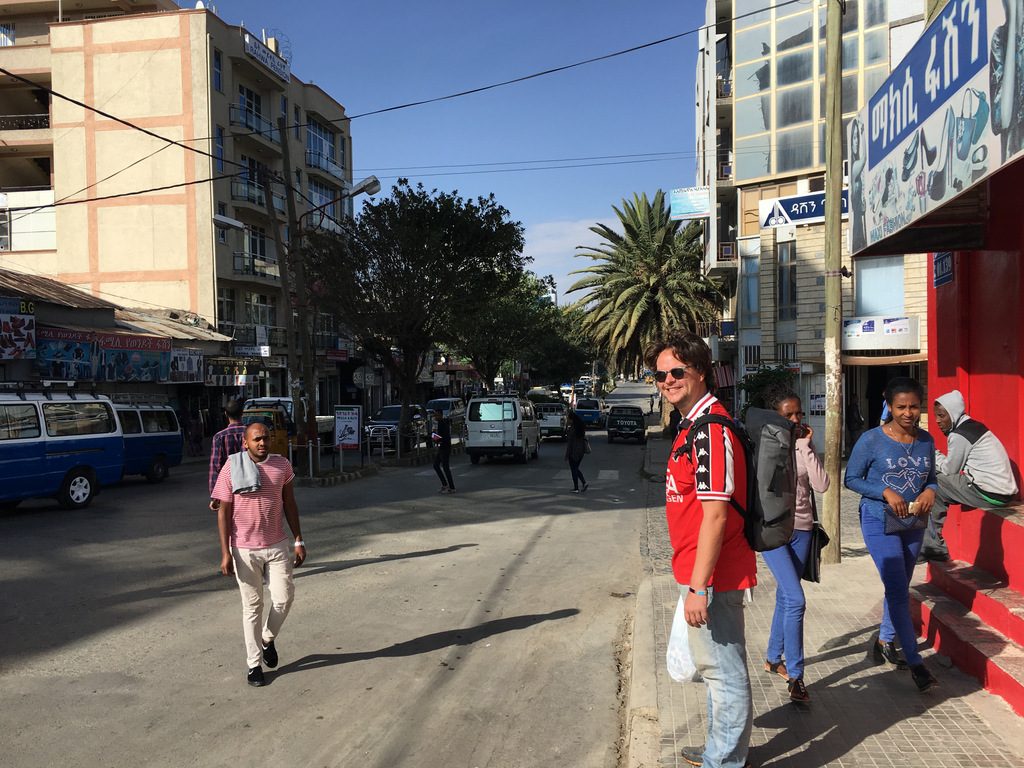 After Mekele our next stop in Ethiopia was Axum, this city is still in the Tigray Region and we had the same feeling as in Mekele. We were planning to visit some churches and baths of Queen Sheba but we couldn't because after change the weather a lot in Danakil and mountains road we got a little sick. Rest was the best option for us. You can get so much enjoy around Axum especially if you ride motorcycle in Ethiopia Mekele to Axum road is one of the nice mountain road in Ethiopia.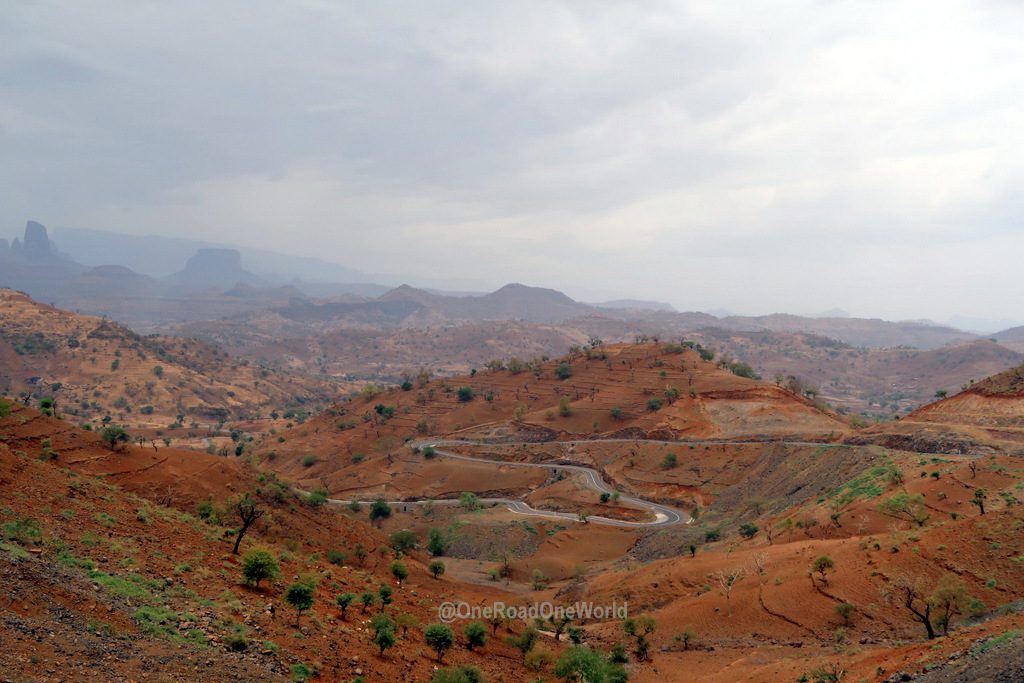 After get rest three days in Axum we hit the road again towards Debark. We heard from many riders that the road to Debark is the best road in Ethiopia. We were so curious to ride motorcycles there. We can tell that it is on of the amazing road in Africa.
The day started with fun but? He started to complain about his motorcycle when the motorcycle is climbing the mountains: 'My motorcycles doesn't want to go!' The problem was look like clutch pad because he was complaining similar problem, which I did with my Honda CRF 250L in Malawi. L We arrived Debark almost in the dark. End of the day we had sometime hard time when we ride motorcycles but still we enjoyed with the landscape.
Debark to Gondar is just a few km each other. So why did we plan to stay in Debark? Because we wanted to ride motorcycle in Simien Mountains National Park people say the Simian is on of the most beautiful ranges in Africa and it is on the world Unesco World Heritage list. Also, we could visit Gelada monkeys there. If you are lucky you can see Ethiopian wolfs, black and white colobus and Hamydra baboons as well in Simien Mountains.
But we had to skip. 🙁 When one of the Honda CRF 250L had a clutch pad problem we didn't want to ride in the park. Another option is hiking Simien for a couple of days. We were thinking that we are tired but at the same time we knew that we wont come back Africa for a while because we have a lot of road in front of us to ride motorcycle and discover the world. So, push our self to hiking.
In the night, I was wearing my jeans to go out dinner I felt that my nail broke or something from to toe. No pain but feeling was weird. No way, you are kidding me! My nail took out totally from the skin, no pain no bleeding. I knew that I would have some problem with my toe and nail after Kilimanjaro because some part I couldn't walk there with pain. What should I do? Ride motorcycle is another problem. We just closed the toe with antibiotic cream. Yeap, we didn't have any alternative more to go Simien Mountain. No motorcycle clutch and no nail! 🙁
After all, still we were lucky because we saw Gelada monkeys next to the road. We stopped and watch them a while. When we were riding to Gonder we were still smiling and happy to how much we were lucky when we had a lot of unlucky things in a week. 🙂
We stayed a couple of days in Gonder to change clutch pad, engine oil and also make sure for my toe got better a little before go anywhere.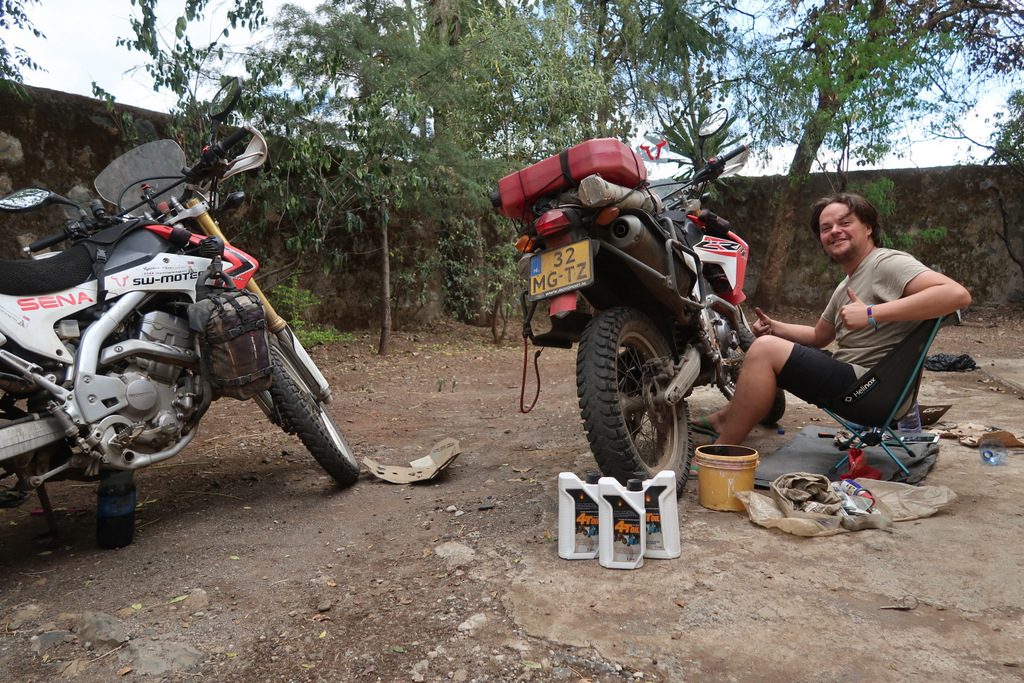 Our last destination could be Lake Tana, Blue Nile falls and Awira Amiba. We started to talk about it to go or not go. We got our Sudan visa 15 days ago in Addis Ababa; we had no idea that we had only for 15 days more or when we are on the border they will give us again 30 days. My toe had problem when I was wearing the motorcycles boots. We were feeling tired after 1,5 years in Africa. Also, we didn't know what was waiting us in Sudan because we knew that there is a fuel problem and it was getting more and more serious day by day. Yes, we started Ethiopian journey so lucky to spend time in Omo valley, Lalibela and Danakil. We didn't miss any mountain roads to ride motorcycles. We suppose that it wasn't the end of the world if we couldn't see Simien Mountains and Lake Tana. At the same time, it could be a reason to come back Ethiopia again :). To be honest, we could come back here and spend three months because Ethiopia is an impressive country anyway….
Our decision we are going to Sudan… After stayed three days in Gondar we tried to hit the road again to Sudan. 🙂 Woke up early morning, got ready and started to ride now we only need petrol. We wanted to carry how much fuel we could carry because we are not sure where we could find petrol in Sudan. After two hours search we could find petrol in Gondar. Lucky day! 🙁
By the way, Gondar is capital city of Amhara Region. We really so much enjoy there as well like Mekele. Walk on the street day or nighttime; sit anywhere to drink or eat was so nice and comfortable.
You need to know before go to Ethiopia;
Ethiopia use their own calendar and time. They are 8 years behind us with local calendar. So, I was young when i was there. 🙂 One year is 13 months and last months is 5 or 6 days depend on February. Also, if you ask the hotel when the breakfast starts they could tell you 12. It means 6 am in the morning.
It was April 2018 when we took the bill from the hotel.
Ethiopian food is really nice. We can recommend to try local food especially meat.
Also, their juice are so nice when the weather is so hot or you need to fresh up. Juice are more smooth without ice. You can eat your juice. 🙂
Of course Do not miss to drink Ethiopian coffee. You know that Ethiopia is famous with coffee in Africa.
You always carry extra fuel with you in Ethiopia if you have small tank like our motorcycles Honda CRF 250L. Find petrol doesn't so hard if they have electricity because the pump work with it. When we were there Ethiopia had electricity problem and cut off a lot. Possible to find on the black market but the cost will be high.
GS